Published: October 20, 2015
SPRINGFIELD, OH | AirTrim introduces the MITS-AIO/2- MX portable trim collection unit to chop and collect PSA matrix and edge trim from PSA label presses.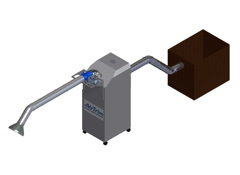 The newest offering in the "Move It Trim System" includes control, trim intakes, duct, fan, silencers, cutter, and dust filter. The air/material separator is a separate unit to allow the most flexibility for location and sizing considerations. Shredded output is fed through ductwork to a collection hopper.
The unit is built around a proven Lundberg Tech cutter technology designed to cut the most aggressive adhesive found on label matrix. In addition to allowing presses to operate more hours per week, the unit is said to allow faster press speeds and to potentially reduce raw material costs.
"This is ideal for smaller PSA label manufacturers that desire more production efficiency but often lack the funding resources for larger, central systems," says AirTrim president Robert Patton. "This portable technology improves production efficiencies on specific presses, at very competitive prices. Flexible rental options are available to prove the technology on-site and eliminate risk."
Weighing approximately 500 lbs and mounted on heavy-duty lockable casters, the compact design allows operators to move unit easily from one machine to another, wherever needed within the facility. Movable pneumatic matrix removal systems generate significant payback, company says, often less than 12 months.
This email address is being protected from spambots. You need JavaScript enabled to view it.