Published: October 12, 2015, By Claudia Hine
Digital and flexo processes are used to create Meguiar's Paint Protect prime label.
The Tag and Label Mfrs. Inst., Gloucester, MA, celebrated the work of association members with its annual awards ceremony on October 11. Awards were announced at The Broadmoor in Colorado Springs, CO, during TLMI's 2015 annual meeting, themed "Empowerment—Employees and Leadership."
Entries were judged in six classes:
Flexography & Letterpress
Multi-Process
Offset Wine & Spirits
Flexography Wine & Spirits
Digital
All Other (including Screen & Gravure)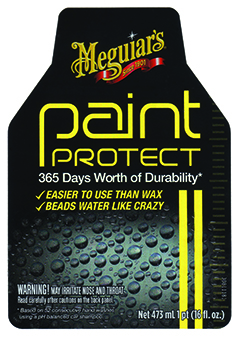 Talented employees certainly were responsible for producing the following Best of Class winners:
BEST OF SHOW & BEST OF CLASS–MULTI-PROCESS
WS Packaging Group, Green Bay, WI, takes home the big prize, Best of Show, for Meguiar's Paint Protect, the prime label for an automotive product. This is also the Best of Class winner in the Multi-Process category.
The label substrate is holographic foil with UV coating. An HP Indigo WS6600 press is used for digital printing. Kodak plates are used for flexo printing.
Achieving the 5-mm lift on the screen tactile while keeping registration of the spot gloss varnish around the type and water droplets is difficult through the multiple processes.
BEST OF CLASS–DIGITAL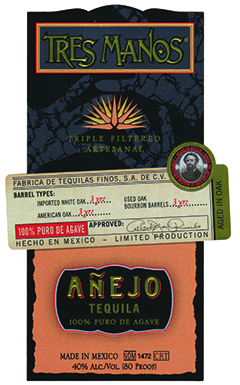 Collotype Labels, Sonoma, CA, earns digital printing honors for Tres Manos, Añejo Tequila, entered in the Wine & Spirits–Digital Printing/Toner–Color Process Prime category. Printed on an HP Indigo and finished on the ABG Digicon, the label achieves the vision of the graphic designer and meets client expectations. Avery Dennison supplies the substrate and adhesive.
The production sequence was printing, foil stamping, embossing, flood UV matte varnish, spot UV gloss varnish, and die-cutting. The challenges to overcome include aligning the foiling, embossing, and die-cutting to the preprinted Indigo process over a large label with a special shape.
Additional suppliers include Metal Magic (plates), Harper Corp. of America (cylinders and rolls), Kocher+Beck (dies), and Siegwerk (inks and coatings).
BEST OF CLASS–OFFSET WINE & SPIRITS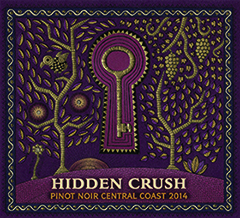 Collotype Labels North American Wine and Spirits, Napa, CA, wins Best of Class–Offset for its Hidden Crush, 2014 Pinot Noir wine label, entered in the Wine & Spirits–Offset–Line & Screen/Tone–Prime category. A Gallus TCS 250 press is used to print the Fasson substrate with inks and coatings supplied by Siegwerk.
Challenging aspects of this label cited by the converter are uncoated paper, seven offset colors, hot foil stamping, overprinting, silkscreen varnish, flexo matte varnish, flatbed sculpt embossing, flat die-cutting, all one pass.
Additional suppliers include Universal Engraving (dies), AGFA (plates), Gallus Screeny DW (screens), and Harper Corp. of America (anilox rolls).
BEST OF CLASS–OTHER
Inland, La Crosse, WI, is recognized for the Goose Island Bourbon County Stout beer bottle label. It was entered in the Non-Pressure Sensitive–All Processes/Cut & Stack–Line/Prime category. Fuji plates are used.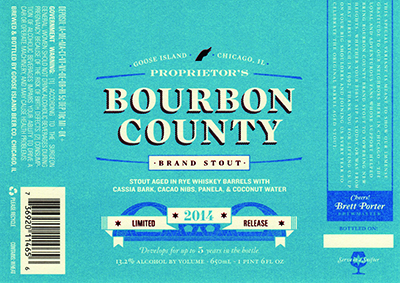 Because this label is manufactured using a multi-process printing method, there is a special challenge to overcome regarding registration. While manufacturing the label during the offset process, Inland needs to ensure that the registration is lined up perfectly for the foil stamping process.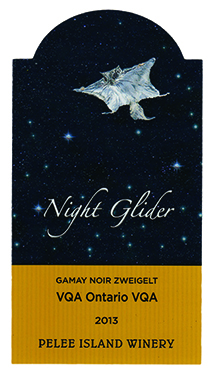 Additional suppliers include Kurz (foil), Flint (inks), and Unisource Worldwide (substrate).
BEST OF CLASS–FLEXOGRAPHY–WINE & SPIRITS
ASL Print FX Ltd., Vaughan, ON, Canada, takes the top prize with Night Glider, 2013 Pelee Island Winery label. It was entered in the Wine & Spirits–Flexography/Letterpress–Color Process–Prime category. ASL is challenged to create a night sky that glitters with "diamonds in the sky" without taking away from the flying squirrel brand image.
Avery Dennison substrate is printed on a Gallus RS330 press with Kodak NX plates. Sun Chemical and Actega Wit supply inks and coatings. Additional suppliers include Kocher+Beck (screens, cylinders sleeves, and dies) and Actega Wit (adhesives).
BEST OF CLASS–FLEXOGRAPHY & LETTERPRESS
McDowell Label & Screen Printing, Plano, TX, takes the top spot in the Flexography & Letterpress–Promotional category for "The Curse!" This store handout promotional label is created on a pressure-sensitive silver board material supplied by Fasson and printed on a Rotopress with DuPont plates.
The converter reports that the tricky part, along with the tight register die-cut, is to blend the process image along with a heavy solid black background.
Additional suppliers include RotoMetrics (cylinders and dies), Harper (anilox rolls) and Actega-WIT (inks and coatings).
HOLDING THE GAVEL
Judges for the 2015 TLMI awards were:
TLMI also awarded 12 first place prizes for International entries. For a complete list of winners, visit http://www.tlmi.com.