Published: August 26, 2015
Paint manufacturer Caparol will be launched its new lacquer line in August. This quality brand opted for a packaging that makes a striking impression on shop shelves. No expensive metal pots—but an in-mold label (IML) packaging with an eye-catching look: the label combines Verstraete Matt IML and Metallic IML in an innovative way.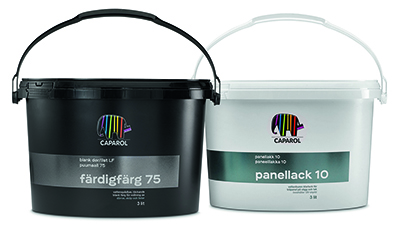 No metal buckets, but polypropylene
Per Törnqvist, marketing manager, DAW Nordic AB, explains: "Why did we choose IML packaging? The production cost is lower than for metal buckets, and IML also offers more look-and-feel options. IML packaging is also better for the environment: the packaging and the label are of the same material and can therefore be fully recycled. Choosing IML therefore offers a win-win situation for both the customer and for us, the manufacturers."
Combination of Matte and Metallic IML
Per Törnqvist: "When launching our brand new lacquer series, it was crucially important for us to stand out between our competitors and other enamel paints. That is precisely why we opted for labels with a Matt IML + Metallic IML lacquer combination. The stylish artwork was specially designed for our look-and-feel combination and is unique in its kind. Our IML labels are unseen and that provides us with that extra competitive edge on the shop shelf."
Tight packaging of premium lacquers
"We are launching on the market our new line of lacquers as a premium product. That is why we opted for sober, modest artwork that radiates prestige and quality—a perfect match for Caparol's image! We use this pitch black background in Matt IML for all covering products in the series. For the varnishes, we have opted for a snow white background in Matt IML—a white canvas against which we highlight the differences. In both product series, the contrasting Metallic accents in the design sharply highlight the differences between the products," according to Per Törnqvist.
Verstraete IML: guaranteed quality
DAW Nordic AB, Jokey Group, and Verstraete IML collaborated with each other on this project. Jens Uellner of the Purchase Dept. of the Jokey Group: "A thorough knowledge of materials, advanced research, and quality control have made Verstraete IML the world's leading supplier of IML labels. Thanks to their high quality, IML labels always have optimal workability."
Per Törnqvist: "DAW Nordic AB has also selected Verstraete IML as its partner for IML because of the excellent quality of the labels. Accurate execution is crucial for this combination concept. Only then can you obtain the right look, and the packaging adds value to the product and the brand. We have full confidence in Verstraete IML in this regard."