Published: February 10, 2015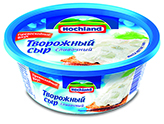 MALDEGEM, BELGIUM | Hochland is continuing to convert to in-mold label (IML) packaging in Russia. The company has been using IML-decorated packaging for its products for several years. This concerns Almette and Fetaxa, the processed spread cheeses family of Hochland in rectangular tubs 200 and 400 gr. This time it was Hochland cream cheese's turn to switch to a new packaging: from a directly offset-printed container with a thermoformed lid to an Orange Peel IML label. The supplier for this new packaging is Weener Plastic, based in Saint Petersburg, Russia. The IML labels for this project, as for many other Hochland's products, are produced by Verstraete IML.
This new IML packaging of Hochland cream cheese is very attractive thanks to photographic image quality, bright colors, and more realistic and tasty-looking artwork elements. This helps the consumer to associate the packaging directly with a natural content of the product. Both the container and the lid are decorated with an IML label, which means that more information about the product can be placed on the packaging. Thanks to the new high quality packaging, Hochland cream cheese stands out more on the shelves and consumers simply love it.
The changeover was implemented exactly as planned, and from the beginning of 2014, Hochland cream cheese has appeared in the shops in its new packaging. Weener Plastic and Verstraete IML have joined forces to achieve the timely, seamless transfer requested by Hochland. Moreover, the labels from Verstraete IML are consistently of a top quality, which is essential for such an established and leading brand as Hochland.