Published: February 05, 2015
TROY, OH | Spinnaker Coating, a manufacturer of pressure-sensitive paper and film products for the printing industry, and ITW Thermal Films jointly announce they have received British Maritime Standard 5609 (BS 5609) Part 3 certification (Laboratory Performance of Printed Labels) for Spinnaker's 3.3-mil Durable Polypropylene with SFA adhesive using ITW Thermal Films B324 black and B324R red resin ribbons. The certification applies to the facestock, adhesive, and print combination.
"This certification not only strengthens [our] line but also indicates our dedication to assisting label converters with products suitable for oceanic travel," says Julie Billing, roll product manager at Spinnaker Coating. "We chose this particular construction for certification because it is a reasonably priced versatile product, has great printability, and is available on our Trimless program with a low minimum of one 3 inches x 5,000 feet roll."
Marlee Fink, technical product manager (aka The Ribbon Doctor) of ITW Thermal Films, says, "ITW responded to the needs of our customers by developing the B324R red resin specifically for GHS and BS5609 certification. B324R is a durable, bright red resin which complements our long-standing, UL-recognized black resin, B324. An important feature is that each ribbon transfers at the same speed and printhead temperature on the cab Technologies XC4 and XC6, dual-head, thermal transfer printers."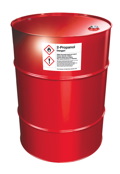 The BS 5609 standard is a drum and barrel test designed to certify that a label will stay affixed to an aluminum drum for at least three months in sea water, so that contents are identifiable in the event of a shipwreck. Spinnaker, which says its product is already in compliance with BS 5609 Part 2 (Marine and Laboratory Performance of Label Base Materials), sees the addition of the Part 3 portion of the certification as a big win for label customers. While not required for all GHS applications, end-users who will be labeling chemical drums that will be shipped over the ocean will need this standard, and the red ribbon specifically is essential for the new GHS labeling standards.
This certification was received using the cab XC6 printer and would also be recommended for the CAB XC4 printer.
This email address is being protected from spambots. You need JavaScript enabled to view it.