Published: October 10, 2014
DUBLIN, IRELAND | St James's Gate in Dublin is home to one of the world's most popular stouts, Guinness. Established by Arthur Guinness in 1759, the company is rich in heritage and boasts a legacy of brewing Innovation. The latest releases from the brewery are Guinness Dublin Porter and Guinness West Indies Porter, inspired by brewers' diaries from 1796 and 1801. They are the first results of "The Brewers Project."
"The Brewers Project" gives Guinness's enterprising brewers license to explore new recipes, reinterpret old ones and collaborate freely to bring exciting beers to life."
Constantia Flexibles–Label Group reports it is delighted to have worked with Guinness's owners, Diageo, on such an important project. Printed on a pressure-sensitive paper substrate, the labels retain authenticity, complete with the trademark harp and Arthur Guinness's signature first introduced in 1862.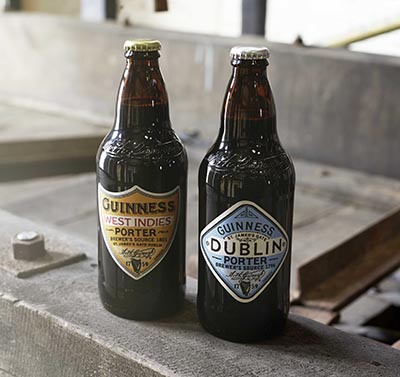 Paper substrates are becoming a popular choice within the pressure-sensitive labeling portfolio. The natural, craft look is a key emerging trend to which the paper substrate lends itself perfectly. Constantia Flexibles–Label Group offer a vast range of material options while still retaining the efficiencies of the pressure-sensitive system.
In order to combine a vintage feel on a modern coated paper substrate, the labels are finished with a unique matte varnish incorporating a masking effect over the colors. Both labels are die-cut into completely different shapes to portray heritage as well as individuality.
Guinness Dublin Porter is inspired by the 1800's working man's beer, whereas Guinness West Indies Porter is based upon a recipe to maintain freshness on long sea voyages. Both craft brews have a distinctive taste and bring something different to the popular Guinness beverage.
Head of innovation for Guinness, Nick Curtis-Davis, said, "As beer lovers' tastes and the beer landscape itself evolves, it is important we continue to stay at the forefront of beer innovation…. Our two new beers, DUBLIN PORTER and WEST INDIES PORTER, are examples of this innovation and demonstrate the exciting things our brewers are continuing to do with stout."
This email address is being protected from spambots. You need JavaScript enabled to view it.