Published: January 14, 2014, By Nsenga Byrd Thompson
TVC One is a printing and label company committed to bringing a diverse portfolio of business services to its customers. From branding and design to print production and management to fulfillment and distribution, TVC One provides complete packaging solutions to clients serving a host of markets.
TVC One was founded as the small print house, The Venture Corp., in 1993. Founder and President Gary Dunlap—along with VP Barry Washam and VP Jay Fair—have grown TVC One (whose 2011 name change brings together the company's print and label entity, TVC Label, under one brand vision) into one of the largest printing and label companies in the Southwest.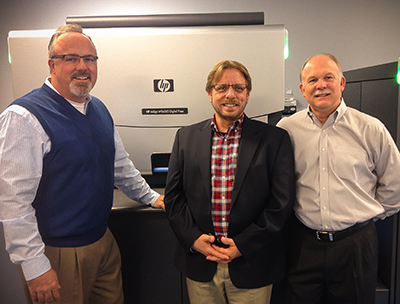 A crucial piece to the TVC success story has been the growth of its label business, TVC Label. According to Dunlap, that growth hasn't just been about printing a variety of prime labels. Instead, Dunlap believes the driving force was finding its stride in Texas's untapped high-end label market.
"What I saw was a real fragmented market," recalls Dunlap. "There was one really high-end label company that was above the rest. What we found is that you can be a regular prime label company and be like everybody else, or you can strive to be on that higher end. And what that does is open doors for you."
Along with understanding that there was a definitive niche to be filled in the marketplace, Dunlap explains that, within that small circle of high-end printers in the region, there was an opportunity for TVC Label to break out and differentiate itself.
"Knowing that nobody had been in the digital market and nobody had the real ability to turn a high-end seven-color label that is pristine—with no plates—we knew that with the right equipment, we could play in that market."
Weighing the Digital Advantage
TVC Label always had a strong presence in the market as an eight- to ten-color HD flexographic printer, with particular muscle in the shrink sleeve market. So why break into a technology that has been viewed by many as unequal to flexo? Jay Fair, VP of manufacturing, admits the attraction to digital wasn't love at first sight.
"The older generation of digital presses—the widths and the speeds—just never made sense for us. It didn't make sense in a production environment. They were just too slow," Fair says. "You weren't getting enough off press for it to make sense to go digital."
But over the past few years, Dunlap began to see sizable advances in digital technology that he believed could make a viable companion to his flexo operation and give TVC Label the competitive edge.
"Finally in the latest generation of the newest technology, we are seeing speeds that make sense," says Dunlap. "If I don't have to break down my press in my flexo room, and I can just take a job to the digital press and print it, I can keep my flexo presses doing what they are designed to do. Digital made a lot of sense to us."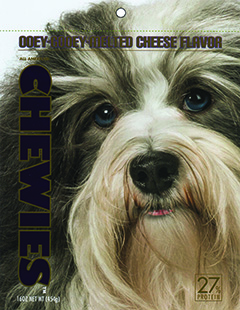 Enhanced Finishing Capabilities
Once the technology became attractive to TVC Label, Dunlap was led to the HP Indigo WS6600 press. This high-volume digital production solution for medium-run labels and packaging allows the company to maximize the full frame size to print multiples for better runs. The press operates at 98 fpm for four-color jobs, and produces up to 295,000 sq ft per month. The WS6600 also allows TVC Label to add random text or bar codes to labels and tags and greatly enhances its finishing capabilities, which include foil, ultraviolet varnish, laminating, and die-cutting.
Dunlap reports that previous concerns with moving to digital, such as speed and efficiency, have been addressed with HP Indigo WS6600. "Just with our general production, it's helped us be more efficient, and it's allowed us to help our clients with prototypes," he says.
VP of sales, Barry Washam, sees digital as an opportunity to add new business. "A good client, a pickle company, came to us and said they were pitching Walmart on ten new items and needed labels. We were able to do a prototype right off the digital, and they were able to place an actual label on their product samples and pitch it to Walmart. They saw it, liked it, and it turned into business for us," describes Washam.
Labeled for Growth
As the first installation of the HP WS6600 in Texas, Dunlap is enthusiastic about the new opportunities digital can bring to TVC Label. It's one more giant step in the right direction for this growing company that has received two consecutive Tag & Label Mfrs. Inst. (TLMI) awards for high-end labels produced on the WS6600.
And it hasn't just been about equipment investments. TVC Label's recent expansion of its Lewisville, TX, facility and its merger/acquisition with MEI Label in Tulsa, OK, also have opened new opportunities for the collective companies. It also opened the doors to even greater talent with label industry veterans, like Lynn Higgs, CEO and president of MEI Labels, says Dunlap. "We are working together to grow and develop our businesses."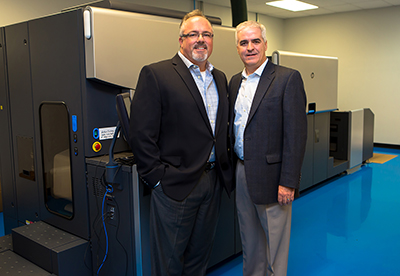 For Dunlap, growing TVC Label into an elite company is about bringing in elite personnel and building a cohesive group. "It's not any different than a successful NFL or NBA team—everyone in the league is talented, but there is only one champion—and champions always have the right chemistry! We have the right chemistry, the right team, and the right equipment, and we will continue to acquire great people and new technologies that improve our offerings," says Dunlap.
"We are pinning our ears back, and we are basically in the acquisition mode. Our collective partners are looking at acquiring dynamic businesses that make us better. Especially of interest is packaging-related companies; we are looking at pouches, shrink sleeves, and some of the wider widths than we do here," reveals Dunlap. "In terms of equipment…HP has come out with several different options for shrink sleeves and paperboard boxes. I think going wider is our ultimate goal.
"It is exciting—both growing organically and acquiring companies to be a part of our future. We have a lot to look forward to this new year," Dunlap proudly predicts.