Published: October 25, 2013
AWA Alexander Watson Assoc. reports on a recent seminar on pressure-sensitive label release liner issues and opportunities.
Every year during the busy autumn season of packaging industry shows and conferences, the release liner industry takes a day out to analyze its present—and its future—in pressure-sensitive labeling. It was Europe's turn this year to host the AWA Label Release Liner Industry Seminar, and a healthy number of participants from every level of the value chain convened in Brussels in late September.
Considerable dichotomy surrounds label release liner today. Its quality and performance are not in question—as leading brand owners confirm through their continuing preference for pressure-sensitive labeling for premium products. Equally, release liner—whether paper- or film-based—is fully recyclable and sustainable. It is, however, at the end of its working life that label release liner finds itself lacking an appropriate and unified modus operandi for transitioning it back into the processing chain for recycling and re-use.
Optimistic outlook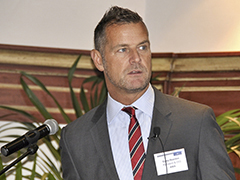 Opening the Label Release Liner Seminar, AWA Alexander Watson Associates' president and CEO, Corey Reardon, confirmed that business in the roll-label sector "continues to be optimistic." Globally, growth in the use of release liner across all its market segments averaged out at 4% in 2012.
The Asia Pacific region showed the greatest growth, at 7.1%, but this is a significant slowing down on prior years. South America and new arrivals in the growth markets, Africa and the Middle East, both evidenced growth rates of 4.5%, while North America (at 2.1% growth) and Europe (at 1.9%) both just managed to match approximate GDP growth.
Summarizing issues and innovations
Among its broad-ranging activities, UPM-Kymmene is the world's largest manufacturer of release base papers. Mikko Rissanen, product manager, Paper Business Group, examined the global trends impacting release liner, their implications for the business and its technology, and product and sustainability issues and innovations. The scarcity of some raw materials, particularly platinum, and the resultant high costs, he showed, continue to create problems across the value chain, as do the issues of sustainability, global competition, and market instability and volatility.
Material innovation, renewability and recyclability, a cost-efficient production process and supply chain, and technical service and support from suppliers that are viable for the long term are the key challenges for the future, he said. As well as showing UPM-Kymmene's strong actions in the direction of recycling and re-use, he highlighted possible future technological pathways in product innovation such as downgauging, "clean" liner, and improved/optimized compatibility of liners and silicones.
The label maker's viewpoint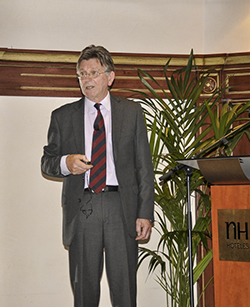 "A label maker's perspective" on label release liner was provided by Alan Hazlewood, group quality and technical support manager for major multinational label and application technology providers, Skanem AS, whose focus is on primary product labels, and 99% of whose production is in pressure-sensitive labels. Overall, he said, the company is "very happy with the quality of today's liner. Our liner mix is roughly 53% honey glassine, 41% white glassine, and 6% film [of which 70% is PET]."
Skanem's requirements for release liners are technically clear: standardization between suppliers and across grades; consistency in thickness (for die-cutting), in strength (as an unsupported web), and in curl (for label layflatness); and controlled siliconization in terms of coat weight and process control (avoiding voids and inclusions) for optimal release.
Analyzing the major challenges facing the label end-users, he underlined that "my market is very, very conservative—it reacts in a very slow way," and three areas at user level create challenges to change—brand management, purchasing management, and operations management. Still, the major change drivers in Skanem's experience are related to net price improvement and environmental/sustainability impact. For on-press running and high-speed, reliable label application, Skanem find that glassine liner is the answer, with film liners providing solutions in specific market niches, but with some performance "watch outs."
Recycling must, Hazlewood said, "be disciplined and stand up economically." The fact that matrix waste is located at the end-user site and at the end of an extended supply chain makes achieving this mission difficult.
The option of linerless label materials is one with which Skanem already has experience, but while there are many indicative savings to be made by taking this route, it has its limitations because of label shape restrictions. Hazlewood's market prognosis is that price parity across the release base options is opening up competition, with market-specific performance requirements and sustainability issues playing an increased role. "Long term," he showed, "all the options will be on the table," with glassine losing some market share to alternatives; PET establishing itself as the global film liner; and linerless growing in appropriate markets and continuing to innovate. He did not rule out the possibility of new, additional options.
The laminator's viewpoint
Moving from the viewpoint of a label converter to that of a laminator, Robyn Buma, global procurement director, paper, for Avery Dennison, broadened the competitive context to include glue-applied labels and the rate at which their users switch to pressure-sensitive. The economics and the requirement for very high-speed application are the defining factors. "Sustainability in the pressure-sensitive label industry is a slow trend," she said. "Europe is much further ahead in this respect than North America, and additionally, there is no "pull" from the end-user market. Our industry needs to take a position."
In release liner for pressure-sensitive labels, Buma underlined the importance of finding "a way to differentiate" for laminators—through alternative products that can deliver cost reductions, "delighters" that can deliver problem solving, even for tiny issues, and true innovation , "which," she said, "is incremental but not huge. The term is used too loosely in this industry!"
Buma highlighted additional major market success drivers—product quality to meet end-user requirements and globalization—with the rider that you need to understand where you can play and where you can't.
Technical wizardry
Success in the release liner industry is very much dependent on technical mastery, and seminar delegates heard two in-depth stories on this topic. Geoffrey Debaugnies, senior application engineer and technical service professional from Dow Corning, discussed the company's new Ultra Low Platinum Advantage release coatings on its Acti-V glassine and SCK release papers. The coating "offers a competitive formulation, plus high-speed performance, for price-sensitive bulk roll-label applications," said Debaugnies. He added that, comparing the coating and Acti-V release base to current standard constructions, "platinum could be reduced by over 75%."
Designing adhesives for optimal release performance was the topic addressed by Henkel's Ingrid Brase, market segment director, pressure-sensitive adhesives. Her paper, jointly written by colleague Pete Walter, described an in-depth technical study in which ten hot melt adhesives of varying chemistries were evaluated in conjunction with a single UV-cured silicone release formulation. She went on to outline a resultant case study and then summarized the outcome. Her context was the requirement to deliver a label that the end-user can efficiently dispense—and her conclusion showed that it is essential to balance label performance needs with release requirements, and that release performance requirements need to be considered in relation to adhesive formulation as well as silicone selection.
Heineken's viewpoint
After lunch, much to the delight of the participants, the seminar agenda featured a paper from a global label end-user. Dennis Bakx, global category buyer, packaging materials, for Heineken Global Procurement, focused from a brand owner's viewpoint on sustainability and recyclability in beverage labeling. With more than 250 brands and 165 breweries in 70 countries, Heineken is the world's third-largest beer brewer in an increasingly consolidated market environment. Heineken also is committed to "brewing a better" future through sustainability, with four particular priority areas in focus: water, CO2, sourcing, and responsible consumption. Bakx showed how this commitment tangibly delivered results in 2012 on a variety of important internal and external fronts.
What, then, are his requirements for release liner? With an emphasis on film liner, Heineken is looking for reductions in liner thickness—or, indeed, linerless label stock; bio-based and biodegradable plastics; the delivery of overall environmentally responsible performance; recycling and re-use; and—eventually—a global supply chain-wide approach.
Bakx is very well-informed on current activities and options. He showed that his company understands the high value of PET liner, and how the company is moving from "collection in recycled industrial waste" to "collection in the plastic waste stream." But, he underlined, this is not easy. A clear European supply-chain-wide approach is currently missing, and needed—as is a one-stop-shop partner for Heineken in this arena—in Europe and, potentially, globally. This view has considerable relevance for the label release liner industry seminar participants because, after all, a minimum 95% of all Heineken beer bottles are pressure-sensitive labeled.
A silk purse from a sow's ear
The question as to how you can actually make a silk purse out of a sow's ear is one that is familiar to Calvin Frost, CEO of Channeled Resources Group and long-time campaigner for responsible use of valuable materials, including used label release liner. Frost's presentation pulled no punches and addressed participants directly. He asked: "Why don't you force the paper industry to use a percentage of recycled release liner fiber in new release liner?"
There were, he said, 360,000–400,000 tonnes of "spent" paper release liner available for repulping and 20,000 tonnes of PET/PP spent liner for reprocessing in Europe in 2012. "And how much did we repulp and/or re-melt in Europe in 2012? Under 30,000 tonnes. That's about 7% of available spent liner."
He illustrated the various ways in which the physical logistics of waste packaging, transportation, pre-processing, shipment, and delivery can be, and are already, achieved efficiently. His call to action was for an industry forum to focus on change in this critical area of activity, to really "define the problem and provide solutions," Frost said, adding that the key is to have them "embraced by the top people in the industry."
FINAT recycling project
The European pressure-sensitive label association, FINAT, has established a release liner recycling project that embraces "best practice" across EU environmental policy, the EU Packaging and Packaging Waste Directive, and the label industry's corporate drivers, such as retailer and brand owner "green" initiatives. Mark Macaré, FINAT's public affairs and recycling project manager, updated delegates on the current status. He indicated that there are, indeed, commercial solutions available today but that "critical mass is needed."
He identified the bottlenecks in the label industry's recycling chain, particularly the problem that spent liner is generated downstream, where collection creates a logistical challenge and there is lack of awareness and urgency among label end-users. Echoing Calvin Frost, he indicated that pan-European "ownership" of the problem is essential, and invited delegates to partner FINAT in promoting the "exploration, development, and availability of alternative secondary materials solutions" and in bringing together expertise from inside and outside the industry to establish a blueprint for implementation across Europe.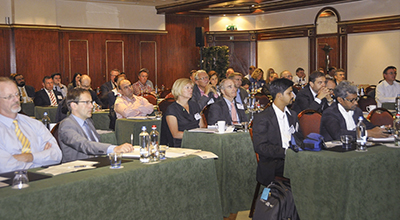 Linerless today and tomorrow
In one sense, the day's agenda could be summarized as "Linerless—or less liner?" In fact, this was the title of the paper presented by Mike Cooper, business development director of linerless labeling experts Catchpoint Ltd.
Illustrating pressure-sensitive labeling's penetration into key end-use segments in Europe and North America, he highlighted the fact that food and beverage represent the lowest penetration, yet the largest markets. Linerless labels could help, Cooper showed, delivering a summary of activity in the label printing, die-cutting and application arena—many of which were being shown at Labelexpo, which opened in Brussels on the day following the seminar. While acceptance of the improved performance level of linerless labels has so far been slow, there is certainly evidence of real innovation here.
Concentrating on one of those advances, Roelof Klein, commercial manager of the Maan Group—specialists in gluing and surface treatment technologies—showed how his company's Inlinerless system can print, silicone coat, and adhesive coat linerless label material, ready for application, in one flexible production run, and using groundbreaking cutting and marking technology, create an increased variety of label shapes and optimize reliability on the labeling line.
Valuable sharing of views
Corey Reardon closed what had been an energetic day of discussion and debate on industry-specific topics that, he said, "are stepping-stones on our industry's walk into the future." He thanked seminar sponsors—platinum sponsors UPM and gold sponsors Bluestar Silicones, Boise, Dow, Dow Corning, Evonik, Siliconature, and Wacker—and invited participants to enjoy further networking over cocktails.
Joining participants at this pleasant concluding event, Dennis Bakx of Heineken succinctly summed up the day's proceedings. He said, "I shared my requirements and at the same time learnt more about the industry. In our production cycle, after application of the label, the release liner becomes a waste material, and I am looking for possibilities to do something smarter with it.
"I am happy to see the industry is putting more and more focus on sustainability and look forward to the [joint] extra steps that we can take and that also need to be taken.. In the end, I expect that a supply-chain-wide approach will indeed prove to be the most effective outcome."
AWA Alexander Watson Associates continues its focus on release liner with the AWA Global Release Liner Conference and Exhibition 2014, taking place in Amsterdam, March 20-21, 2014.