Published: October 22, 2013, By Claudia Hine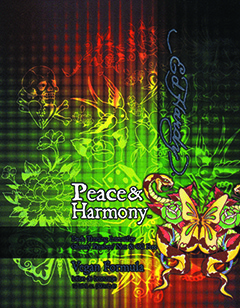 SAN ANTONIO, TX | The Tag & Label Mfrs. Inst. presented awards for its 2013 label competition during a gala dinner at the association's annual meeting at the JW Marriott, San Antonio Hill Country Resort & Spa. In total, TLMI presented 68 first and second place awards plus one best of show and six best of class. Of the 47 first place awards, 13 are for international entries.
McDowell Label & Screen Printing, Plano, TX, has the most to celebrate, taking home 12 first place, four second place, two best of class, and the best of show award.
Best of Show
Entered in the Roll to Roll–Color Process–Prime category, "Peace & Harmony" wins Best of Show and Best of Class honors. It features brilliant colors, tactile doming effects, and foil—all utilized to enhance the health & beauty end-use label. Smooth screen tones and heavy color laydown were incorporated in the same process, flexo printed to ensure a no-overlap look.
Best of Class
McDowell's second Best in Class award came in the Wine & Spirits–Flexography/Letterpress–Color Process–Prime category. The first place winning Ten High Kentucky Bourbon Whiskey neck label incorporated many different elements. Tactile varnishes and a unique "sandpaper" finish were needed to give this non-prime label an antique look and feel. It also required four-color process high definition vignette without hard edges.
HOLDING THE GAVEL
Judges for the 2013 TLMI awards are as follows:
Mike Buystedt, Flint Group Narrow Web
J. Page Crouch, Clemson University Mike Hang, Trinity Graphic USA Inc.
Jim Harris, ACTEGA WIT Inc.
Steve Lee, RotoMetrics
Ray Mackura, Avery Dennison, Fasson Roll North America
Michael Rivera, K Laser Technology (USA) Co. Ltd.
Steve Schulte, Mark Andy Inc.
Dilip Shah, Nilpeter
Paul Teachout, Harper Corp. of America
Robert Wray, Gallus Inc.
For more information, contact TLMI.