Published: August 13, 2013, By Jackie Marolda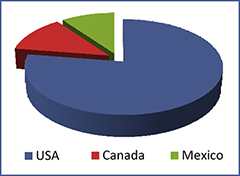 The North American label market spans three countries—USA, Canada, and Mexico—each of which has its own distinct characteristics, with the USA dominating in terms of overall label demand.
Together, however, they represent 21% of global demand for labels—behind Asia Pacific, now the world's largest label consumer at 36%, and Europe at 28%.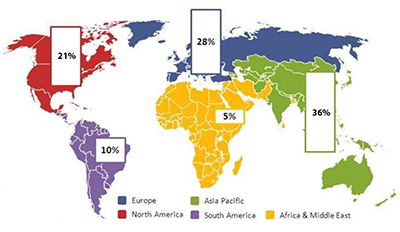 Pressure-sensitive—still first choice
Of the total demand for labels in the North American region—10,698 million sqm—most goes to the pressure-sensitive label format (49%). This preference is testimony to the flexibility of the pressure-sensitive technology, which can deliver high levels of sophistication in terms of label shape, multi-process imaging, and accurate, speedy automatic dispensing—particularly for premium prime labeling applications.
As "shelf stand-out" becomes ever more important for retail sales of branded products to attract the discerning consumer, pressure-sensitive labels continue to hold the lion's share of the market. Pressure-sensitive is also the preferred technology for variable information print labels—for example, track-and-trace/bar coding and in-store price-weigh applications, using thermal or uncoated paper stocks.
There still is room for growth (particularly in high-value, specialist areas like security and durables labeling), although the "new" technologies—sleeving and in-mold—are forecast to grow faster in the medium term.
Glue-applied labels: the industry's workhorse
North America still chooses glue-applied labels for 32% of its total usage. In Mexico, they still command the largest share of the market. Glue-applied labels do not have the complex pressroom requirements of pressure-sensitive technology, are ideally suited to long print runs, and may be printed sheet-fed or roll-fed on normal commercial presses. Therefore, they represent an opportunity for commercial printers who, today, are suffering from the detrimental effects of the growing online market and the reduced requirement for printed materials.
It is a fact that the packaging print market is the only market for printed goods today which, globally, is growing; and we forecast modest growth in glue-applied label applications in North America in the medium term. Automatic label application on the robust installed base of glue-applied labeling lines is fast, although the initial set-up can be costly.
Sleeves—shrink and stretch
Across the North American region, the shrink-, stretch-, and RFS (reel-fed shrink)/ROSO sleeve technologies have now taken a 13% share of the label market and will continue to grow faster than the overall market—although not at the dynamic rates experienced a few years ago. Their shelf stand-out, particularly on beverages (which represent the largest of the end-use market for labels across the region), coupled with their tamper-evident properties and ability to act as a barrier to any container damage or breakages, are driving their popularity with both brand owners and consumers.
Sleeves also offer head-to-toe decoration of complex container geometries. Sleeving, by its very nature, is primarily a film-based technology, unlike pressure-sensitive and glue-applied, which offer both film and paper labels.
In-mold labels: a growth technology
In-mold labels are the "new kid on the block," with just 2% of the North American market, but the technology grew an estimated 3.5% in 2012 over prior year. The complex manufacturing method, where the container is made and labeled at the same time, involves high-speed injection or blow-molding using robotics and expensive molds.
IML, however, is suited to high-volume container decoration and particularly the thin-walled margarine/yogurt containers that are popular today with brand owners since they represent reduced weight and, of course, reduced costs.
The availability of a knowledgeable, capable base of raw material suppliers in the region—both for polymer-based films and synthetic papers—has been instrumental in driving in-mold technology forward in North America. There is, though, a limited number of experienced printers working on in-mold labels, both around the world and in North America.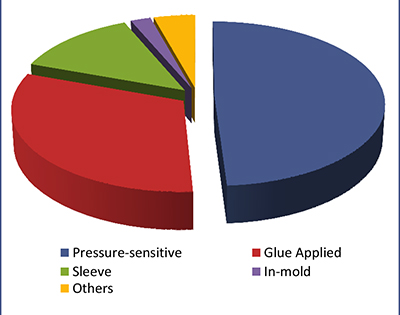 Current status
As North America recovers slowly from the economic crisis of recent years, some new macro trends are emerging in the label market. Hot melt glue-applied wrap-around labels and heat shrink sleeves are significantly challenging the main labeling technologies. Wrap-around labels are making strong inroads into a broader beverage sector than just bottled waters, taking in fruit juices and functional drinks, and also growing in the main food labeling market.
In the USA, pressure-sensitive labels are facing the current return from film-based labels on premium beers to paper-based labels, and even back to glue-applied labels to save costs. In Mexico, glue-applied is also benefiting from a move away from direct print on to beer bottles.
Even label print technologies are showing a shift in the direction of the maturing digital print technologies, which are gaining market share—particularly for multi-version labels printed on a generic template for application to a standardized container. This is particularly visible in the health and beauty care market.
Cost issues
High raw material costs are at the forefront of the agenda of both the end-user packaging buyers and their label converter suppliers. Rising oil and petrochemical prices, as well as prices of film materials, resins, inks, adhesives, and even paper and wood pulp (important because most North American labels are printed on paper) are creating a difficult route to profitable business for all concerned in the label industry value chain.
The environment
Environmental concerns are today playing an increasingly important role in that value chain, as brand owners publish corporate mission statements on carbon footprint and waste management. The Tag & Label Mfrs. Inst. has responded with its L.I.F.E. program, dedicated to helping converters and suppliers to find cost-effective ways to reduce their environmental footprint.
There are developing initiatives in the direction of waste collection, particularly for pressure-sensitive release liner and matrix waste, although in North America the majority of spent release liner still goes to landfill. Europe is more advanced in this arena than North America, and there are plenty of alternative options on offer today in terms of recycling and re-use, which we expect to see gaining importance in the countries of North America in the coming years.
Issues and opportunities
There are other concerns for the label industry—particularly the rise of flexible packaging and pouches, which do not require an additional label at all. But there are also a number of high-value opportunity areas such as "intelligent" packaging, using RFID or featuring time/temperature or sell-by date indicators, as well as an ever-increasing need for anti-counterfeiting, track-and-trace, and tamper-evident features. The food, beverage, and pharmaceutical markets are key targets, and the US FDA endorses RFID labels for use on drugs packaging. Such security options are ideally located on labels, in whichever way they are printed and applied. In fact, functional/security applications represent 6% of the North American label market, and a continuing high-value opportunity both for the suppliers of the raw materials and for the label converter.
Looking forward
AWA Alexander Watson Associates forecasts medium-term growth for the North American label market overall of just below 2%, with in-mold labeling growing fastest, followed by sleeving, pressure-sensitive, and glue-applied labels. Labels—a key component in today's dynamic packaging print market—continue to offer a growing future in North America.
AWA Alexander Watson Associates has recently published a new edition of its detailed North American Label Market Study. Full details are available via the company's website, www.awa-bv.com, where it is also possible to order the report online and to browse the extensive portfolio of AWA published research on the converting and packaging markets.