Published: July 31, 2013, By Claudia Hine
When Labelexpo Europe opens on September 24, more than 550 exhibitors in seven halls at the Brussels Expo are planning to thrill attendees with dazzling substrates, equipment, and supplies that will improve efficiency and profitability. Show organizer Tarsus Group expects a strong turnout that will top the record-breaking crowds seen at the 2011 show.
Breaking from its traditional Wednesday to Saturday format, the 2013 edition will be held from Tuesday to Friday, September 24-27. Roger Pellow, managing director, says, "Having surveyed 2011's exhibitors, 84 percent of them said they would prefer the show to be held during the working week. Historic visitor figures support the move too; showing a small decline then static visitor numbers on the Saturday, while the weekdays have steadily experienced significantly increased footfall."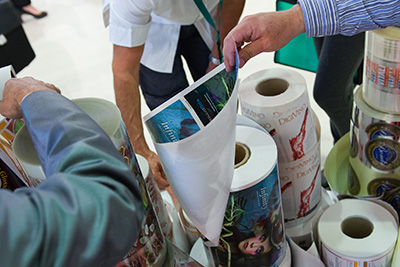 Special exhibits
The Inkjet Trail will lead you down the path of inkjet technologies offered by six manufacturers: Durst Phototechnik, Domino Printing Sciences, EFI Jetrion, Epson Europe, Heidelberg Linoprint, and Stork Prints. Each will produce a selection of food, pharmaceutical, and industrial labels using the same sets of origination on the same range of substrates. To see them all, just follow the trail around the show floor. Origination, color, and die-cutter files are being prepared by Esko, while UPM Raflatac, FLEXcon, and Herma will provide paper, film, and foil substrates for the range of labels being produced. For comparison with toner technologies, Xeikon will produce the same label designs.
Print Your Future in the Patio is where HP Indigo and its partners will demonstrate how they are driving innovation in labels and packaging. New features of the HP Indigo WS6600 digital press will be shown, along with the wide format 20000 and 30000 digital presses for flexible packaging, folding cartons, sleeves, and wrap-around labels. Seminars on a variety of topics will take place in the Experience Theatre.
Package Printing Workshops will be held in Hall 12 where Xeikon will showcase digital printing of cartons using a 3500 model, and Nuova GIDUE will produce flexpack on a Combat M3 flexo press. The 30-minute sessions will take place at 11:00 a.m. and 3:00 p.m. on the first three days of the show and at 11.00 a.m. only on the final day.
Says Lisa Milburn, managing director of the Labelexpo Global Series, "…there is nowhere better to source new technology, improve your supply chain management or learn about maximizing value-added services that will help keep your business ahead of the competition."
Booth Descriptions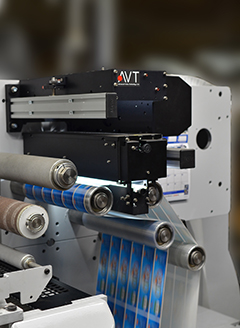 Advanced Vision Technology (Booth 6H60) will introduce its Hologram Inspection System, which combines traditional print inspection technologies, holographic foils inspection, and hologram print applications. The system, comprising a combination of unique illumination and optics, debuts as the first 100% inspection system that can inspect all foils and holograms without the need for a second or third optic head on a printing press or doctor machine.
Also featured will be its new ZeroSet Automated Inspection Workflow, developed in cooperation with Esko. It addresses market needs for inspection on shorter runs and better support for digital printing presses. Operators do not need to define inspection system data nor print information during the printing process. This unattended operation greatly diminishes the likelihood of mistakes.
The ZeroSet closely corresponds with HP Indigo Print Your Future concept to be demonstrated for the first time on HP Indigo's WS6600 press.
Also introduced will be the next generation of AVT's PrintFlow print quality database. PrintFlow 2.0 features an upgraded user interface, a new roll map display, and expanded production management capabilities. In addition, AVT will showcase its signature PrintVision/Helios II 100% inspection technology for both press and rewinder.
Also on display: Workflow Link that utilizes information directly from the press inspection database to automatically stop the rewinder, avoiding the unnecessary duplication of defective products; SpectraLab, an add-on module that provides absolute color measurements, and PrintFlow Server, which allows users to store, backup, and monitor all aspects of print quality from one access point.
Collano (Booth U75) will be presenting innovative specialty adhesives for labels, adhesive tapes, and specialty packaging. It has developed a rubber-based pressure-sensitive hot melt adhesive that possesses high initial tack and final adhesion, allows the simple application of film labels, and ensures reliable adhesion to the bonded surface.
The company will present a novel UV-curing solution for UV-curable pressure-sensitive hot melts. A collaboration with lamp manufacturer Heraeus developed a system that can yield 85% energy savings over conventional UV curing methods. The service life of Soluva UVC-Hotmelt Modules is exceptionally long at 10,000 hrs and saves on costly maintenance and replacements. The eco-friendly adhesives are solvent-free, adhere to a wide range of substrates and are suitable for self-adhesive coatings, even on heat-sensitive label stock.
Collano also offers specialty adhesives for security applications to provide tamper-evidence or proof of authenticity that can be used for protecting brands or sealing packaging.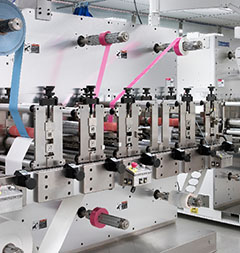 Delta Industrial Services (Booth 6J130), a designer and manufacturer of specialty web converting and packaging equipment, will run a challenging polyurethane film on a Delta Mod-Tech custom converter.
The system will feature a variety of processes including multiple rotary die-cuts, tight registration, and lamination capabilities. Other Delta systems may include additional capabilities such as semi-rotary, full rotary, and laser cutting.
Manufacturing solutions are custom designed and engineered for a variety of complex applications, including medical, pharmaceutical, label, security, RFID, packaging, and cosmetic products. Engineers will be on site to discuss specific application requirements.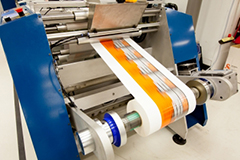 Domino (Booth 9F70) will launch its next generation full color digital inkjet label press. The new addition to the N-Series range will deliver maximum productivity benefits, greater variable data printing and color capabilities, and the highest definition output for an even wider range of applications. Live demonstrations include integration into a working AB Graphics Digicon finishing line as well as a separate standalone press. An integrated AVT quality inspection system also will be on display.
Building on the success of its N600i four-color digital ink jet solution, Domino's new label press will include cutting edge technology combining the productivity of flexo with the flexibility of digital printing. In addition, the new, modular solution will ultimately provide advanced color capabilities to deliver a much wider colour gamut to suit a greater range of label applications. As with the N600i, the next generation solution will incorporate a range of Domino's unique i-Tech intelligent Technology productivity-enhancing smart features designed to optimize printer performance and maintain the highest levels of productivity. These include Domino's CleanCap automated cleaning and capping station and StitchLink micro-motor controller technology that enables precise head alignment, reduces set up time and eliminates stitch lines. The new press will also include the ActiFlow ink circulation system that degasses the ink for greater nozzle performance.
Also on the stand: the K600i single color high resolution VDP printer, which will be integrated onto a rewinder. The K600i is designed to integrate digital variable data 600dpi print within existing sheet, web-fed presses and finishing lines and benefits from the inclusion of Domino's productivity-enhancing i-Tech smart features. Key to the appeal of the K600i is its ability to accommodate different print widths ranging from 108 mm (4.26 in.) to 558 mm (21.97 in.). This scalability is achieved by mounting a series of stitched print heads across a bar to cover the full width of the press or finishing line.
Erhardt+Leimer (Booth 11S65) will show its ELCAM Pattern Guiding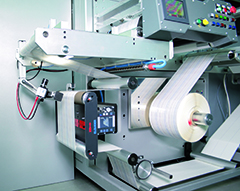 System that allows the operator to control the position of labels during slitting. The system also can simultaneously measure and control the position of the printed image in relation to the die and can be integrated easily into any digital E+L web guiding system and permits accurate positioning during different stages of production.
The camera-based ELCAM Matrix and Missing Label Detection System (MMLD) replaces the conventional arrays of ultrasonic or optical sensors and makes their complex, time-consuming setup superfluous; now a quick teach-in process is all that is required. After the teach-in process, the camera reliably detects any missing label or unremoved matrix. In case of a defect, the event is sent via a digital interface to the machine controller that stops the web in exactly the right position on the splicing table.
The Real Time Editing (RTE) process revolutionizes data processing in 100% inspection systems. During this process, inspection results are edited in real time on the printing press to achieve production-optimized finishing. Individual defects and areas of waste are defined depending on whether or not they are relevant. The total quantity and "good" counters are continuously updated, thereby reducing overproduction to a minimum. The Varnish Detection System is a camera-based system that detects defects in the transparent coat of varnish applied to labels after the printing process.
Esko (Booth 5B25) is launching Full HD Flexo for Labels at the show. It features adapted screening and standard operating proceduresfor the label and tag industry, and delivers very high quality with impactful solids, smoother highlights, and expanded color gamut. Full HD Flexo for Labels delivers enhanced print stability as well as a reduction of gear marks when using gear-driven presses.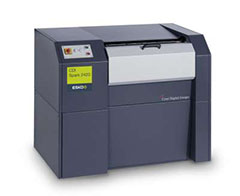 At the Flexo Corner, a dedicated section of the Esko stand, visitors will learn more about HD Flexo and Full HD Flexo through real-life production samples that demonstrate the quality and extended color gamut made possible by incorporation of Esko solutions. Also two CDI machines will be on display: the CDI Spark 4835 flexo plate imager and the CDI Spark 2420, the latest addition designed specifically for narrow web label converters.
On several workstations, Esko will highlight the latest version of its Suite 12 software portfolio for design, prepress, workflow solutions, and more.
Esko teams up with a long list of partners at the show including CERM, CHILI Publish, Dantex, Domino, DuPont, Durst, Epson, HP, Stork, and WINK.Esko's integration capabilities will also play a key role in the Labelexpo Technology workshop. Themed around inkjet and labels, this year's Workshop guides visitors to the stands of participating inkjet press manufacturers. Esko solutions are used for artwork creation, prepress and workflow for a series of labels to be produced on various inkjet presses.
Exxonmobil Chemical (Booth 5D80) will introduce three new Label-Lyte oriented polypropylene films designed to address market trends and key customer requirements for performance and cost. Solid white, 58-micron Label-Lyte 58SW247 OPP film delivers high yield and consistent quality. Label-Lyte 52LLC247 film offers a lightweight, white conformable facestock for pressure-sensitive label (PSL) applications. Label-Lyte 29LL410 film allows fast, high quality reel-fed labeling across all print technologies.
Also on display will be five films that are new to Europe, which after being launched at Labelexpo Americas last year, have experienced strong customer interest.
Flint Group, Packaging & Narrow Web and Flexographic Products divisions (Booth 5B45), will show a comprehensive product portfolio including nyloflex NExT, for flat top dots and surface screening, and nyloprint NExT, for a precise reproduction of finest relief elements and gradations. In flexible packaging, the nyloflex NExT Exposure enables an optimized ink laydown on press, and it exploits the potential to improve the highlights and fine vignettes. The LED-based exposure technology offers precise and reliable surface screening as well as the reproduction of the finest image details. In corrugated post-print, nyloflex NExT technology shows not only an improvement in reproduction but also a significant reduction of the fluting effect.
New on the market is the nyloprint NExT Exposure unit for letterpress plates, targeted to the high end segment of labels, tubes, cups, and can printing, as well as security and banknote printing. The latest generation of UV-A LEDs (>250 mW/cm2) allows a more precise image reproduction of the finest elements and gradations. Compared with conventional light sources, the high-power LEDs enable a virtual 1:1 copy of the digital data onto the printing plate. The exposing speed of the LED bars can be customized to specifically define dot shape and shoulder angle. Additionally, the finest highlights and open shadows increase the image contrast. The new technology can be used for all digital letterpress plates, regardless of plate thickness and format.
The company also will show the complete ink range of LED curing, EkoCure, and will provide an in-depth analysis of the benefits of UV LED technology.
Lithocure ANCORA is the newest product offering in the Narrow Web low migration portfolio. Combining outstanding press performance and excellent lithographic properties, this new range of UV offset inks meets stringent migration performance criteria for all types of food applications.
Harper Corp. of America (Booth11P135) is showcasing the Phantom QD ink proofing system as well as the new HEX division. The HEX division is made up of plate and bridge sleeves that adhere to OEM specifications and offer a long list of important features, including a patent-pending replacement notch system. Also on hand, the HIVE (high imaging volume engravings) anilox roll series.

INX International (Booth 9G38) will offer live demonstrations of the NW140 inkjet UV digital narrow web press. Powered by the JetINX printhead drive and ink recirculation system, this press delivers excellent performance with UV-LED cure single pass output up to 80 fpm on any label stock. It combines printing and conversion by using the Spartanics X140 laser die-cutting station to provide vivid color and can print 140 mm wide while providing easy separation of printed labels. It incorporates 12 Xaar 1001 print heads with six ink channels, a Phoseon Fireline 225 high efficiency, water-cooled UV LED curing system, and Integration Technology's air-cooled UV LED pinning system. The LED curing lamps are used for the white layer base and varnish to hold the inkjet drops in position before a full cure is added by another LED lamp.

Also featured are the series of three AquaTech ION Label water-based flexographic printing ink formulations. ION-P, ION-F, and ION-T are noted for strong performance, brilliant color strength, and outstanding transparency. They are said to represent a significant advancement for paper, film, and thermal label printing on anilox rolls up to 1500 lines per in.
IST METZ (Booth 5D45) will present both standard and LED UV technology in cooperation with Integration Technology Ltd., including the latest generation of ITL's water-cooled LED UV system Solidcure 2, installed on a flexo press. IST will show the new air-cooled product generation MBS-6, which represents the progress made in the sustained improvement of economic energy use. The system will be installed on various label presses at the trade fair.

iSys Label (Booth 12U108) will show the APEX 1290, a standalone short to mid run digital label printer and its new desktop digital label solution, the EDGE 850. These solutions are suitable for applications from custom water bottle labels or stickers for a special event. Features such as quick changeover technology, coupled with full workflow software allows operations to stage and print jobs in minutes rather than hours.
In addition to hardware, the company will show its easy-to-use label software: EDGE2Print and APEX2Print. The Harlequin RIP software package was developed exclusively for the company's digital label printers and provides full color management tools and a built-in Pantone Library. Also will show its optional variable data software package to create varying multi-graphic labels containing variable text, images, and bar codes.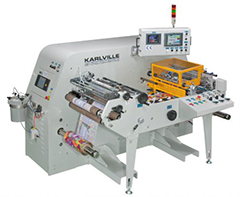 Karlville Development (Booth 7K100) will showcase its K2 Seaming Machine and new pouch converting concepts and technologies. Watch live demos of shrink converting technology. Also exhibiting K1 Entry Level Seamer and Steambox Pro in participation with HP Digital.

Company offers innovative solventless laminators with driven coating system and automatic turret unwind and rewind for high efficiency, consistent tension, and minimum waste during roll changes.

Kodak (Booth G930) will highlight its FLEXCEL NX system and SPOTLESS Flexographic Solution. The company is teaming up with MPS and Reproflex 3 for an exclusive day of live presentations to show visitors how to "Do More With Less" at the MPS booth (Q40, Hall 11). Continuous demonstrations will highlight how leading prepress and press technologies come together to deliver outstanding, consistent print quality at the lowest delivered cost. Demos will present how impactful offset-like quality can be achieved cost effectively with narrow web UV flexo without the use of spot color inks.
The designs selected, which target challenging applications in the personal care of household product sector, would normally require at least seven or eight colors to print with traditional flexo. The demos will print at 300 lpi without the use of spot color inks.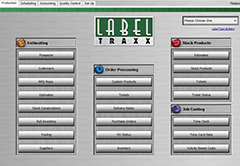 Label Traxx MIS (Booth 7N70) is an end-to-end solution specifically for label converters including estimating, job status tracking and intelligent scheduling, data collection and profitability analysis tools, roll tracking, label-specific purchasing, and integrated accounting. The company, which will be celebrating its 20th anniversary, also will launch Version 7 of its software at the show. This version utilizes the latest database engine technology which brings a number of new enhancements.
Label Traxx will be showing a new visual scheduling system that aids the scheduling of jobs across multiple pieces of equipment and helps to organize common jobs together to reduce makeready times. The tool can group press types together so that the scheduler can group jobs by their key drivers—for example, material types for digital jobs or by die for flexo jobs. Version 7 also introduces a brand new custom-report writing tool. The new version of Super Reports has a completely revised interface, with a vast number of new features including zooming of forms and unlimited "undo."
The new version is compatible with all existing super reports, including the 100s available online for customers to download and customize. The new version also features improved currency handling for forex transactions and a new ODBC driver is available for companies that wish to mine data for incorporation into other ERP or software packages. Improvements to the eTraxx digital storefront module also mean that label converter customers can get instant online quotes for a greater range of digital print technologies too.
Label Traxx MIS is partnering with HP Indigo to offer workflow solutions to label converters that buy a digital press at the show with special package pricing.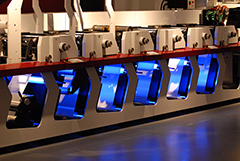 Mark Andy (Hall 5, Stand C10) will feature ProLED on the Performance Series P3 press. ProLED is an integrated, proven curing solution that uses LED for energy efficient UV curing. The system cures inks and coatings on a variety of substrates including thinner filmic materials, in most cases with no requirement for heat management.
Also on display will be the Performance Series P5 in-line press that will showcase its extremely flexible platform, integrating multiple printing and converting technologies including the Quick Change Die Cut platform. The unique cassette and cart system allows dies to be changed on press quickly, decreasing changeover times by up to 80%
The company also will show the updated Mark Andy VPM400 video plate mounter that features HD digitial cameras with ultra-high resolution monitors. Experts will share information regarding the Versa Max mid-web sleeve press.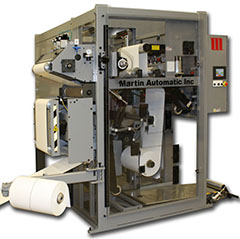 Martin Automatic (Booth 7K90) will have running demonstrations of the latest version of the MBS butt splicer with standard features that include ultrasonic sidelay sensors and spiral grooved rollers for unwinding and splicing many clear films, paper, p-s label stock, paperboard, tube laminates, filter media, and more. The frame and control enclosure have been optimized to enable the MBS to fit into limited floor spaces. The unit features a touchscreen operator panel for easier operation with expanded diagnostics. It matches that of the LRD rewinder, with which the splicer often is paired.
Martin also will demonstrate the latest LRD transfer rewinder, which accommodates 800 mm dia rolls, with larger models available.In addition to high visibility, expanded diagnostics, and easier operation, the new touchscreen control includes recipe functions so operators can quickly and easily store and recall the winding parameters of repeat jobs.
OMET (Booth 6H90) is celebrating its 50th anniversary at its stand. The company will present the XFlex X6 with offset groups with sleeves. The configuration presented is a mix of flexo and offset technology with light sleeves for rapid changeover, user-friendliness, and general ergonomics. Dedicated to packaging printers, the X6 offers low cost of prepress, the ease of ink management, and the inner process flexibility.
The XFlex X4 is called perfect for start-up companies with low investment budgets and inexperienced personnel. It offers increased productivity with a limited impact on the operation's overall costs. It will demo some interesting print jobs to enhance its potential in terms of quality and reliability.
OMET is integrating the Varyflex presses in larger widths, up to 850 mm. The objective of the major overhaul is to bring the multi-process, modular in-line machine in direct competition with traditional larger presses for package printing.
PRATI Co. (Booth C60, Hall 5) will feature its STARplus machine, an alternative solution developed for customers that do not need an inspection system. It uses a glueless technology during lane's hooking and uses labels (with optional ID) to close the rolls, which means savings for label printers in consumables and make the entire process clean and eco-friendly, while ensuring perfect tensioning of the finished reels. The STARplus off-line turret (four shafts) works in-line with any printing and converting machine. Its full servo technology makes it a fit for the new eco, very-thin materials.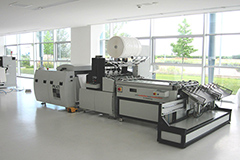 Also presented is the SA Dual Terret semi-automatic rewinding system, which fits to the latest generation SATURN and JUPITER models. Due to its double shaft, production outputs are increased by 50%. This automation cuts down the time required to remove the finished rolls and prepare the new operating cycle. It's being shown with the die-cutting unit for pre-printed and plain labels for working cycles optimization.
Officially entering the packaging industry, PRATI will show the brand new ALHENA IML series, which is focused on one of the segments most strongly affected by technological value-added: in-mold labeling. The ALHENA IML converting machine accommodates large mother reels, it's equipped with auto register die-cutting and a conveyor unit, which conveys the labels to the stacker, where they are automatically stacked to make packaging easier for the operator.
Schober (Booth 11R70) will feature rotary die-cutting technology especially designed for converting of digitally printed film and foil laminates, coated paper laminates, and composite materials. The Spider high-speed programmable robotic stacking and counting system combines acceleration, velocity, and precision at speeds up to 50 mpm (164 fpm), allowing stacking of various types of products within the same print image. Ideal for digitally printed in-mold labels, this technology allows nested product configurations with a combination of large/long and small products. The RSM-Digi/VS is ideal for use with OPP, PE, PS, PET, and more.
Available in web widths to 850 mm (33 in.) and die-cutting repeat of 1.220 mm (48 in.). A 100% product inspection system with defective product discharge is available. In addition to the robotic Spider delivery, other stacking/delivery devices available include M stack for short runs, S stack for longer runs, SM for awkward products, and SMA a fully automated solution.
Spartanics (Stand 9G38) will showcase the L350 Laser Cutting system that can cut configurations on the fly with speeds up to 100+ mpm. It offers options such as UV coating, rotary die-cutting station, rotary sheeting, hot stamping, lamination, knife slitting, and more. It is equipped with Optimization Software and XY registration as well as bar code automatic changeover capabilities.
Also showing the NW140 UV Inkjet Digital Narrow Web Press powered by JETInx. This system offers an all-in-one solution for today's print and label converters. It comes equipped with XAAR 1001 printheads that offer six channel print modes including white, CMYK, and clear varnish. The NW140 prints jobs in-line with the Spartanics X140 Laser Cutting Station. This system comes complete with low heat UV LED Pinning and Curing lamps as well as environmentally friendly inks.
For more product launches, click here.

Exhibitor List
Click here to see a complete list of exhibitors.
Show Hours
Tuesday, September 24: 10 a.m. - 5:00 p.m.
Wednesday, September 25: 10 a.m. - 6:00 p.m.
Thursday, September 26: 10 a.m. - 6 p.m.
Friday, September 27: 10 a.m. - 4 p.m.