Published: July 26, 2013, By Claudia Hine
Located in a bustling industrial park close to O'Hare Airport in nearby Elk Grove Village, IL, International Label & Printing Co. Inc. has a long history behind it. Founded more than 75 years ago, the company had been owned by Holocaust survivors since the 1950s. After the husband passed away in the late 1980s, his widow ran the business until 1993, when she sold it to the three current principals.
The partnership includes Mark Turk, president/CEO, Robert Gorzynski, executive VP/CFO, and Tony Dardano, executive VP sales and marketing. All three have roots in newspaper business, having left the Chicago Sun-Times in 1993 to buy International Label & Printing. The three are proudly celebrating their 20th anniversary this year.
The owners pride themselves on providing the highest quality products possible while offering their customers sound technical support and advice. The company culture is described as: Nice people. Tough standards.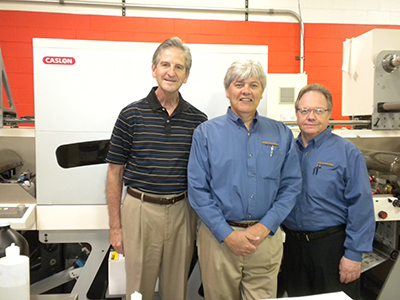 On the date of PFFC's visit to tour the 15,350-sq-ft plant in June 2013, the facility's 17 employees were busy producing high quality, flexo-printed, food and beverage labels in addition to one-color offset-printed paperboard signage for a national grocery chain. The company does a brisk business in pressure-sensitive labels for microbrewed craft beers, producing colorful labels for beer with such colorful names as "Bitter Biker double I.P.A." and "Unicorn's Revenge."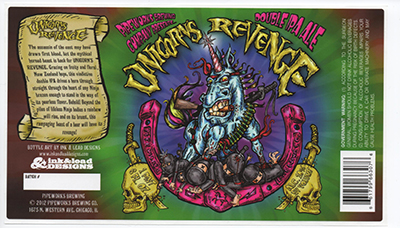 Combination Flexo/Digital Printing
International Label has equipment to run paper, film, and foil, as well as unsupported films and foils. "If it comes in a roll, we can print on it," says Turk. Printing is accomplished with water-based and ultraviolet inks. The company uses FFEI inkjet and Flint Group UV flexo inks. Substrate suppliers include UPM Raflatac, Acucote, Spinnaker Coating, Fasson, and Technicote. Dies are purchased from Rotometrics. MacDermid plates are produced on a JV Imaging Solutions processing equipment.
A workhorse 7-in. Mark Andy 2100 press, which came with the business, has been upgraded and is still running. Also onsite is an eight-color 13-in. Aquaflex, installed in 1996, and a 13-in. eight-color Nilpeter water-based flexo press added in 2005.
In December 2010, International Label installed its newest unit, a 13-in., seven-color Nilpeter FA-3 combination UV flexo/CASLON UV-inkjet digital press, which features a Xaar 1001 printheads. The CASLON module is made in the UK by FFEI. Operations Manager Robert Gerstung describes it as an "inkjet printer on steroids."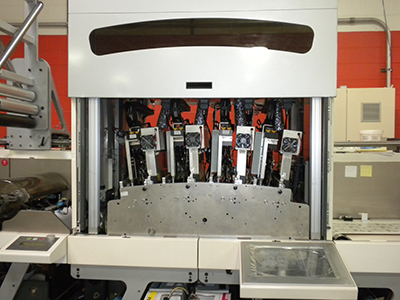 "We saw this in 2005 at a Labelexpo show, and we followed it pretty closely," says Turk. "We were the first label converter in North America to install the hybrid digital-flexo press. We've had a good relationship with Nilpeter.
"The press has two conventional UV flexo stations on the back end, then there's the CASLON four-color digital module, then there's another conventional UV flexo station after the CASLON," says Turk, "so you can preprint and also coat afterward. And if there are spot colors that need to be run in addition to the digital four color, you can do that."
Adds Dardano, "It's an inline press, so we can laminate, die-cut, perforate, sheet, and we can also print on the back of the web."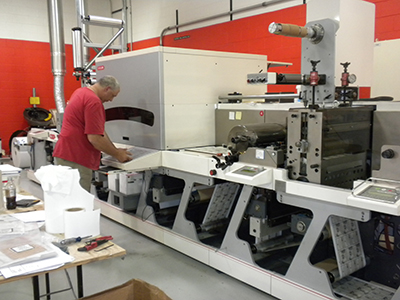 Graphics Excellence
The press does not require any substrate precoating, a critical feature for International Label. Corona treating with a Vetaphone treater is all that's required to produce the high quality images that are winning awards for the company.
[Watch video to learn more.]
In fact, International Label & Printing recently was honored by the Great Lakes Graphics Assn. with a total of four awards in its 2013 Graphics Excellence Awards competition, which received nearly 1,000 entries. Judging criteria included registration, sharpness of halftones and line drawings, richness and tonal qualities of color, ink coverage, and difficulty of printing.
A Best of Category award was presented for the Pipeworks Brewing labels. In addition, three Awards of Excellence were presented for two Pipeworks labels and one 18th Street Brewery label. The Pipeworks Brewing labels also earned Certificate of Merit awards in the Printing Industries of America national Premier Print awards competition.
"We are very proud of our entire team," says Mark Turk. "To have been recognized by the Great Lakes Graphics Association is a tremendous honor and is a nice reflection of the hard work our people put into their jobs every day. I would also like to recognize and thank all our customers, particularly Pipeworks and 18th Street breweries for their faith in our company to provide quality printing, which we hope will enable them to sell more of their products. The talented designers of the labels are also to be commended for their efforts."
Looking ahead, International Label is busy filling press time with contract printing work for other converters. Says Dardano, "We do work for some customers in the unsupported films, flexible packaging area, such as candy wrappers and other products."
"Printing has become a taboo word now," laments Turk, citing Rochester Inst. of Technology's School of Print Media changing its name to the School of Media Sciences last year. But with state of the art technology and award-winning products, International Label & Printing is showcasing the art that printing truly can be. PFFC raises a glass of micro-brewed lager and toasts to another 20 years of success for International Label.