Published: November 08, 2012
If a company has been in the highly competitive self-adhesive label business for almost 50 years, it must be doing something right. Multiprint Labels Ltd., situated at Swords near the Dublin airport, is fast approaching that landmark anniversary in 2014.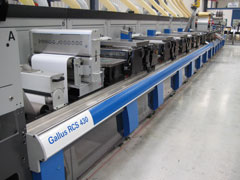 At the core of Multiprint Labels' business ethic is customer care, which extends from offering advice on meeting exacting printing and legislative requirements to supplying labels in a very short time frame when required. This is something that many Irish and UK supermarket chains appreciate. Morrisons, Tesco, Asda, Sainsburys, Marks & Spencer, The Co-operative, and Waitrose include Multiprint Labels on their list of approved suppliers. An impressive achievement is the high customer loyalty; in fact, the longest serving customer has been with Multiprint for more than 25 years.
Multiprint Labels started by supplying printed products for the food industry using letterpress printing in flatbed form in 1964. The company was producing a few labels as a side job when wet glue applications were at their height. In order to keep up with the ever-increasing demand for self-adhesive labels, it soon became evident that something would have to change. It was at this point that Multiprint made the decision to invest in a roll label press, a Ko-Pack, which was then the first in Europe. Very soon it became apparent that the current premises were not large enough to allow the company to expand. The proposed move coincided with the crash of many companies at that time, and so the current modern industrial unit became available and Multiprint moved in.
INVESTING IN GALLUS
In 1985 the company bought a Gallus R 250 press, which was the first to be installed in Ireland followed by two Gallus R 300 presses, all of which were being used to supply the food industry. The company had built its reputation in the food industry and a decision was made to enter the beers, wines, and spirits arena, as this was considered to be a stable yet growing market area offering many new opportunities. In 2001, Multiprint bought a Gallus EM 410 ten-color press to enter the health and beauty market and supply Proctor and Gamble.
The company, over the years, has been very successful in the wine markets, especially the keenly guarded Australian wines segment. The wines would be supplied in bulk and bottled in the UK. By using only six colors plus foiling, Multiprint was able to offer the same quality and considerable cost savings compared to the labels that were being produced in Australia using 12 colors plus foiling. In March 2010, Multiprint bought another ten-color Gallus EM 410 press to allow even more flexibility and capacity.
HIGH QUALITY LABELS, FLEXIBLE PRESS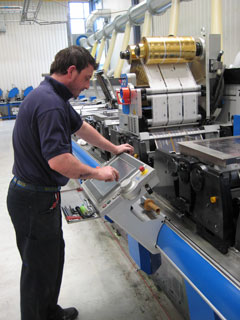 The demand for labels has been changing over the past few years from holding stock of regular labels to just-in-time (JIT) logistics, which means label jobs must be turned around in about three days instead of having the luxury of calling off stock. At the same time the decision was made to expand in a more focused way into the spirits, wine, and other high value markets. For these reasons, the management decided to purchase a new press. After considerable research, the decision was made to buy a Gallus RCS 430 flexo press with the potential for printing ten colors. The new press was installed in March 2012.
There is potential for utilizing ten flexo printing units or five offset heads or any combination plus an easy-to-use foiling unit. This new press immediately gave the company much more flexibility. With the option for adding screen heads and an embossing unit if required, the Gallus RCS 430 is printing high quality labels since a few days after the installation.
One of the very useful features of the new Gallus RCS 430 press is the ability to change printing heads without breaking the web, which saves so much time compared to the old days of 15 minutes on the Gallus EM 410 press and up to an hour on the AFM. Bill Smyth, technical manager, adds "With our excellent pre-press department, we are able to make the best use of the consistency, speed, flexibility, and economics of the Gallus RCS 430. It is all about relationships with your press manufacturer. We buy quality to last and the technical support to go with it. To be competitive you have to keep up with technology."
It is remarkable how quiet the new press is. In addition, the Gallus RCS 430 saves valuable makeready time and material with impressive color consistency, and gear marking is a thing of the past thanks to the servo drive motors. "A really nice feature, apart from being easier to use, is the new foil separator, which automatically separates the hot foiling unit when the press is stopped, this saves us so much time on the press," says Owen, a senior press operator. "The ability of having on-line help 24 hours a day gives us great confidence when running this new press" he continued.
Thanks to the comprehensive training regime at the Gallus factory and in-house at Multiprint, the operators have been able to get up to speed very quickly since the installation in March. "From a Quality Assurance perspective, it is important that instant decisions are made regarding quality, which is a lot easier with our new Gallus RCS 430 press," commented Ruth O'Hanlon, quality control manager. "Consistency of quality is much more dependable, even compared to our older presses."
Over the years Multiprint has consistently won awards for the quality of their work including TLMI (USA), EFTA (UK), FlexoTech, and the Irish Print awards. ISO 9001/2000, PS 9000, and food packaging accreditation ensures the highest standards will be met at all times.
Asked what milestones the company will have achieved in three year's time for its 50th anniversary, Bill Smyth commented, "We will expand our wine portfolio, be established in the spirits business in Ireland and Europe, and be a force to be reckoned with in the health and beauty markets."
With the investment in their new Gallus RCS 430 press and their absolute dedication to high level customer service, there is no doubt that Multiprint will meet those objectives with ease.