Published: September 18, 2012
DERRY, NH | Allen Datagraph Systems (ADSI) announces the launch of the iTech CENTRA HS Digital Label System, a solution built to manufacture label runs of 1,000–3,000 linear ft (305–915 linear m) of substrate for label convertors of all sizes. System combines the label printer with the iTech CENTRA HS Digital Label Finisher, introduced in 2011.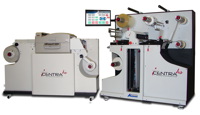 Company says this complete roll-to-roll solution fits the needs between tabletop label production and full-scale production with low ongoing operational expenses and reduced waste. Company says the LED toner printer images consumer-quality labels with durable, consistent color at 1,200 dpi X 600 dpi, at speeds to 30 fpm (9.1 mpm). Features a maximum width of 12.9 in. (327 mm) and maximum roll diameter of 14 in. (355 mm).
ADSI VP of sales and marketing Mark Vanover, says, "We have been very fortunate to partner with OKI Data Americas, who offered us a print engine that has exceptional print quality and keeps up with the speed of our finishing system. It's a compact, affordable, and easy-to-operate roll-to-roll printer."
The finishing system allows users to laminate, die-less cut, strip the waste matrix, and slit custom labels in one production pass. It can die-cut any custom shape and convert printed materials from any digital or analog print platform, including inkjet and thermal printers or a conventional flexo press in maximum roll diameter of 14 in. (355 mm) up to 14 in. wide (355 mm).
Print-to-cut registration is accomplished via the SMARTMark Optical Registration System. Multiple registration marks can be scanned to automatically adjust the cut file, compensating for any skew or scale issues that may have been caused by the output device or the material. The computer-driven cutting technology is capable of cutting multiple depths within the same cut file allowing for perforations or multilayer applications.
This email address is being protected from spambots. You need JavaScript enabled to view it.