Published: July 13, 2012, By Claudia Hine
Labelexpo Americas returns to the Chicago area September 11-13 at the Donald E. Stephens Convention Center in Rosement, IL. It is here that show organizer Tarsus Group promises "many label and package printing secrets will finally be revealed."
What has been revealed already is a two-day conference program that includes interactive panel discussions, a CEO roundtable, and break out sessions on digital technology, branding, package and label printing, and flexo and combined printing. PFFC Editorial Director Yolanda Simonsis is participating in an editorial panel discussion on the state of the industry.
For more conference details, click here.
ACHIEVEMENT AWARDS
A number of awards will be presented at a gala dinner at the Aragon Ballroom in Chicago on Tuesday, September 11. These include:
Label Industry Global Award for Continuous Innovation
Label Industry Global Award for New Innovation
Converter Award for Sustainability/Environmental Responsibility
Global Green Supplier Award
R. Stanton Avery Lifetime Achievement Award
Finalists for the Continuous Innovation award are Prati, Stork Prints, and WS Packaging. This award is sponsored by Labels & Labeling, Label & Narrow Web, and NarroWeb Tech.
Finalists for the New Innovation award are AVT (Advanced Vision Technology), EFI, and IPE (Innovaciones Para Etiquetajes).
Steve Lee, VP of technology at RotoMetrics, will receive the R. Stanton Avery award, which is sponsored by Avery Dennison. The judging panel said Lee helped grow RotoMetrics from a small, low-tech die supplier in a fledgling industry to being a global full-service supplier of a broad portfolio of products designed around converter needs.
ECOVILLAGE
With the help of Greenwood Fuels and Channeled Resources, the waste matrix and finished rolls being generated during various live demonstrations on the show floor will be collected for conversion to fuel pellets. Visit the Ecovillage on September 11 at 1 p.m. to hear from two label converters who are supplying their waste matrix to Greenwood and also from a paper supplier that is using the pellets to fuel its plant. Sponsors include Channeled Resources and Xeikon.
EXHIBITOR NEWS
Exhibitors have traded valuable secrets with PFFC on what to expect in their booths. Following is a sneak peek of their plans. To view the complete exhibitor list, click here.
Allen Datagraph To Unveil iTech Centra HS Label System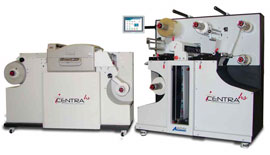 Allen Datagraph Systems (Booth 6115) will launch its iTech CENTRA HS Digital Label System, a complete digital solution built to efficiently manufacture label runs of 1,000-3,000 linear ft (305-915 linear m) of substrate. The system combines the new label printer with the iTech CENTRA HS Digital Label Finisher, introduced in 2011. The new component of the system is an LED toner printer that images consumer-quality labels with brilliant, durable, consistent color at 1200 dpi X 600 dpi, at speeds up to 30 fpm (9.1 mpm). With a maximum width of 12.9 in. (327 mm) and maximum roll diameter of 14 in. (355 mm)—and a wide degree of substrate flexibility—the CENTRA HS Digital Label Printer's capabilities are matchless in the industry.
"The iTech CENTRA HS Digital label System offers label converters the ability to manufacture labels in a complete, all digital workflow. From roll substrate to fully finished labels, in any shape without dies, the CENTRA HS is unparalleled in its capabilities," comments Mark Vanover, VP, sales and marketing.
Bielomatik Displays New Machines for RFID Converting & Personalization
Bielomatik (Booth 1046) will be unveiling two new machines for RFID converting and personalization. Its SpeedLiner, compact and modular in design, offers a wide range of product flexibility and an unmatched modular expansion capability. Features a hot melt glue application with precise weight control, a die-cutting concept with cylinder quick-change and integrated waste removal.
When it comes to personalizing large amounts of RFID labels and tags, the new SmartTwo is about to set an industry standard. Chip encoding at unsurpassed speeds opens the door to growing markets like garment tag personalization and encoding of mass transportation tickets. Operators benefit from an easy access to the machine, simplifying reel changes and shortening set-up times.
Bunting Simplifies Semi-Rotary Die-Cutting

Bunting Magnetics (Booth 347) will feature its magnetic spiral cylinders. These precision, patent pending cylinders—designed specifically to securely hold magnetic dies—assure semi-rotary die-cutter operators that the smaller magnetic dies often used to cut digitally printed labels will adhere firmly to the cylinder.
Printing Group Product Manager Michael Wilks says, "Digital label converters focus on short runs and quick turnaround, and thus jobs must be finished more quickly than generally possible with conventional rotary dies. The semi-rotary die-cutters complementing digital presses at many converters, however, often use magnetic dies, which do not wrap fully around the cylinder. By their nature, these dies may not lie flat, particularly if the die edge falls on a nonmagnetic cylinder area. Bunting Magnetic Spiral Cylinders, with their unique spiral magnetic construction, offer a ready solution to this problem. Because the magnets are laid out in a spiral, rather than a straight line, die edges are always held firmly in place."
Bunting also will showcase its complete line of coatings for its magnetic dies. The Repel coating is particularly effective and resistant to buildup when using 'booger' or 'tire label' adhesives. The Diamond coating quadruples the life of the die and is highly resistant to cracking and chipping. Black Diamond coating provides maximum hardness while improving performance on stamps and small images.
Bunting also is partnering with Xeikon during Labelexpo. Xeikon (Booth 6135) will print labels at its booth, and the labels will be converted off-line using Bunting dies and magnetic cylinders.
Catbridge machinery Introduces Innovative Slitter/Rewinders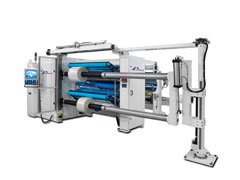 Catbridge Machinery (Booth 3510) designs and manufactures durable, innovative slitter/rewinders that maximize productivity. The company will be exhibiting various materials on its machinery to demonstrate suitable applications. For labelstock, the new Model 900 duplex center winder for 32-in. rewind diameters offers versatility, speed, and simplicity. The Model 901-40, a cantilevered duplex winder for 40-in. rewind diameters, features a patented dual tray roll discharge system. The Model 140-45, a high-speed salvage winder for 45-in. diameter rolls, provides splice, inspection, and slitting capabilities as well as easy roll loading and unloading. All machines are tailored to individual customer needs.
Color-Logic To Exhibit with Partners
Color-Logic's Process Metallic Color System will be on display at a number of booths. They include HP Indigo (Booth 3223), where Color-Logic representatives will be available, and the process will be printed live at the show. Nilpeter (Booths 3105 and 3205) will show flexo-printed labels using the Color-Logic process. Eckart Americas (Booth 5703) will have sample labels and shrink sleeves using Eckart inks with the Color-Logic process.
CGS-ORIS (Booth 5439) will display proofs and prototype labels produced with Color-Logic files; Roland DGA (Booth 6412) will show short-run and prototype labels using the process; and American Water Graphics (Booth 133) will exhibit various products using its inks.
Delta Industrial Services To Showcase Extreme Flexibility
Delta Industrial Services (Booth 3523) will feature a Delta Spectrum II finishing system running digitally printed labels. This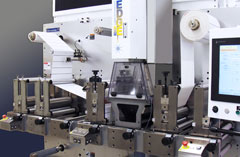 system features over and under laminating, tight tolerance rotary and semi-rotary die-cutting and inline perforation or sheeting. Delta also will be unveiling its high capacity (18-24 in.) converter. This practical extension of the Delta Mod-Tech line of converting systems was designed to provide a full modular platform for the manufacturing and finishing of wider webs and larger parts. The expanded web width offers a solid inline or offline finishing solution for digitally printed webs.
Delta will participate in the Labelexpo Laser Die-Cutting Workshop in Booth 6623 and will be at the Xeikon booth (B6135) taking part in an integrated production solution for short to medium runs.
Dilli To Show Latest digital Label Press
DILLI (Booth A547) will show its Neo Mercury NM-210 high speed narrow web digital label printer that runs at 164 fpm (50 mpm) and offers high resolution 1,200 dpi imaging. Features full color process with optional white ink. Print width of 8.5 in. (216 mm). Short turnaround digital production saves time and labor cost, and ink only pricing keeps operating cost down.
Dow Corning To Introduce Release Coatings
Dow Corning (Booth 3511) will introduce its Syl-Off Emulsion Silicone Release Coatings for Filmic Substrates, including Syl-Off EM7934 Coating and Syl-Off EM7935 Coating. These products will enable manufacturers to optimize release performance, lower costs, operate more profitably, and avoid the use of cleaning solvents.
In addition, these new coatings will offer a unique water-based solution for off-line coating or in-line coating during the film manufacturing process. They add value to the finished product and enable manufacturers to enter emerging markets.
The new flat-release Syl-Off Advantage series solventless silicone release coatings can help reduce the potential for web breaks after die-cutting and during label dispensing. The coatings offer very flat, stable release profiles couple with the cost-effectiveness of low-temperature cure at low platinum levels. They can be used on a wide variety of paper substrates.
Dow Corning 7651 Adhesive and Dow Corning 7652 Adhesive support the creation of high performance protective films for mobile device, touchscreen, and flat panel display applications.
Esko Will Demo a Range of Products, Services
Esko (Booth 5202) will demo a range of products and services that offer tag and label printers "Results that make you smile"—the company's campaign theme launched at drupa. "Over the past year, Esko has been developing a number of new prepress applications for label printers working with flexo, digital, gravure, or offset. We offer an extensive array of sophisticated software tools, flexo plate imagers, and finishing systems. All of our solutions have one objective: to help companies optimize costs, streamline workflows and improve quality and consistency," remarks Mark Quinlan, president.
Visitors can expect the commercial availability of PantoneLIVE support within Esko's workflows. PantoneLIVE delivers an end-to-end color management and color communication solution that, for the first time, addresses the needs and requirements of every single discipline within the packaging supply chain. The brand manager will see an accurate representation of on-press color early in the design process, while converters can be assured of first-time-right color proofing and easy-to-match color on press. Experience with beta sites that have been testing the solution show very positive ROIs. Esko recently developed an improved ink model that helps to predict how PANTONE colors interact and overprint on press. Using spectral analysis, the technology will produce an inkjet proof that shows an accurate representation of what the result of two overprinting spot colors will look like on the press.
ExxonMobil Chemical to demonstrate technology leadership with new films
ExxonMobil Chemical (Booth 829) will introduce several new Label-Lyte film technologies including a thermal transfer film that delivers high yield for improved economics and wide ranging print
and adhesive performance for pressure-sensitive labeling (PSL) applications.
There also will be a clear, lightweight oriented polyolefin film that offers excellent converting characteristics, conformability, and flexibility for PSL applications. The conformability and squeezability of the film enables brand owners to enhance point-of-sale impact.
Other new technologies on display will include a surface-printable OPP film delivering a consistent and attractive metallic appearance and high-speed press performance, as well as a clear, two-side-coated OPP film that allows downgauging opportunities for lighter-weight labels with a "no label" look.
GMG To Highlight New Cloud and Spot Color Solutions
GMG Americas (Booth 6408) makes its Labelexpo debut demonstrating solutions for the color management, proofing, and short-run production of labels. On display will be GMG OpenColor, a spot color tool for labels and packaging that extends color control and repeatability, and GMG CoZone, a comprehensive cloud solution for professional media and color management users that redefines how color management will be used in the future.
GMG will partner with a number of companies with software solutions at show. They include Roland (Booth 6412), Pitman (Booth 5403), HP (Booth 3223), A&V (Booth 929), and Nazdar (Booth 455). Beyond Mfg. will share GMG's booth and feature contract-quality, double-sided proofing on press substrates with varnish, die-cutting, and embossing--all powered by GMG color technology.
Hybrid Software Showcases Label Management Products
Hybrid Software (Booth 6314) will show its range of Order Lifecycle Management (OLM) software solutions developed to provide easy, comprehensive connectivity between web-to-print, MIS, and production systems that can streamline production and improve production efficiencies. They include Facelift for web-based custom job ticketing, Frontdesk, a web-to-print portal, and Fileforce, which connects multiple production sites within an enterprise.
New launches include Pipeline v2.0, an integration application that allows users to easily share job information from a wide range of otherwise disparate and disconnected graphic arts production systems. Taskforce Scheduler integrates with MIS and ERP systems to download a feed of jobs and due dates, then maps available resources to ensure jobs are produced on time. Proofscope Live is an online tool for remote softproofing and remote file corrections and last minute changes.
The company also will announce the use of its print management technologies as front end systems for two major digital engine vendors: OKI Data Americas (Booth 1350) and Xeikon (Booth 6135). The systems provide full production management for digital label printers including order management, production ticketing, graphics management, production output, archiving, and reporting.
Innolution Will Highlight Web Printing Control Solutions
Innolutions Inc. (Booth 3701) will show its innoINK ink presetting system that utilizes cloud computing technology to quickly upload the current job information to be processed. After only a few minutes, the ink presets are ready for downloading and use. Works on a wide range of coverage and substrates and is compatible with all types of heat-set, non-heatset, and UV-set offset printing presses equipped with motorized and non-motorized ink keys and ink sweep.
Also showing the CRC2K Color Register Control for monitoring and correcting color-to-color registration. It is equipped with video imaging technology and patented shape recognition algorithms that ensure the most accurate, fast, and reliable register control. The CCC Closed Loop Color Control rounds out the products featured at the booth. It monitors color on the printed web, adjusts press parameters and maintains color throughout the job run.
INX Intl. Offers New Inks systems
INX International Ink Co. (Booth 6451) will be introducing its new AquaTech ION Class Label ink systems in addition to showing its NW140digital narrow web press. Each aqueous ink system for paper, thermal, and film extensions is available in a plus + option for printers using anilox rolls of 1,000 up to 1,500 lines per in., as well as a process series component. The ION Class premium quality inks offer superior stability with a wide range of press speeds, premium resolubility, clean printing with excellent transfer properties and outstanding color strength.
iSys Label to Showcase Digital Label Presses
Visit iSys Label (Booth 6515) for live demonstrations of the EDGE 850, a short run digital label press solution printing at speeds up to 9.14 mpm (30 fpm/6ips). The EDGE 850 can print on a variety of die-cut, kiss-cut, or roll substrates. It is easy to operate using the EDGE2Print software and an auto adjusting form synchronization rewinder system, allowing operations to stage a job in minutes so you can say goodbye to ordering huge quantities of pre-printed labels. Designed for in-house production of labels, users will be capable of printing 2,000 labels in less than 20 minutes and have the finished roll ready for immediate application.
iSys Label also will be showing its flagship product, the APEX 1290, a digital label press for short to mid run production. With media print widths ranging from 3–12.9 in. wide, users can print, slit, and rewind 28,000 production-worthy labels in less than 37 minutes.
K Laser Technology (USA) Exhibiting Full Range of Foils
K Laser Technology (USA) Co. Ltd. (formerly AMAGIC Holographics) (Booth 1321) will feature its full line of KOLDfoils, HOLOfilms, and KASTINGfilm materials. The company's product range from more than 15 conventional colors, more than 48 decorative holographic pattern, both generic and custom security holographic patterns. All holographic materials are available in both silver or transparent versions.
Kodak Teams Up with MPS & R3 for Live Demo
Kodak (Booth 5606 ), MPS (Booth 927) and Reproflex3 (R3) will host a live demonstration to show the power of spot color reduction for everyday flexo print production, revealing how recent developments in prepress, plate, and press technology can drive outstanding efficiencies in label production without sacrificing brand integrity. The "Do More with 4" demo, which features Kodak Flexcel NX Plates and the Kodak SPOTLESS Flexographic Solution, will take place Wednesday, September 12, with presentations at 11 a.m., 1 p.m., and 3 p.m. at the MPS booth.
"Recognizing the value that SPOTLESS Printing Technology provides, R3 is delighted to be part of demonstrating just what a world without spot colors would look like," says Andrew Hewitson, joint managing director of R3, the UK-based pre-media specialists and leading proponents of a fixed color palette spotless workflow.
Mach III Clutch Introduces Ultra-Low Torque Clutches & Brakes
Mach III Clutch Inc. (Booth 1404) will showcase 19 new ultra-low torque additions to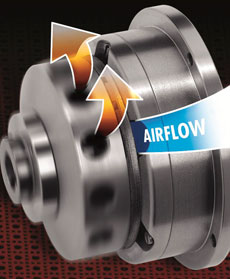 the SENSIFLEX rewind clutch and unwind brake line. Used to maintain tension on a web by holding back the unwind shaft and/or driving the rewind shaft, these products deliver smooth slip performance over the range of torque and output required. Models are ideal for label printing and narrow web processing conditions.
Design incorporates exclusive, patented actuator that engages smoothly at low pressures and provides maximum sensitivity to slight changes in air pressure for infinite control of torque output.
To preview a video demonstration of a SensiFlex clutch in operation, visit www.machiii.com/labelexpo2012. This same demonstration will be running live at the show along with demonstration of the heat dissipating air flow created by the patented SensiFlex radial cooling hole design.
Mark Andy Launches Digital Label Printer
Mark Andy (Booth 319) is launching the Mark Andy SRL 4.0, a digital label printer specifically positioned for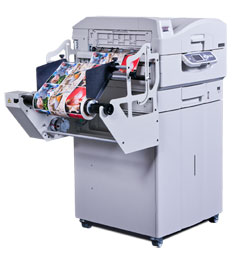 converters seeking an economical, responsive, and productive option for short run, high quality labels. The easy-to-operate, roll-fed, full color, toner-based machine accommodates 8.5–12.6 in. web widths and can print on a variety of qualified materials with no pre-coated substrate requirements.
The SRL 4.0 delivers high quality 600 x 1200 dpi images with variable data and high definition output and comes equipped with server and software system for a complete turnkey profit center solution. In addition, Mark Andy has off-line die-cutting and laminating solutions available that provide even more flexibility in a short-run label environment.
Mark Andy also will unveil its QCDC Quick Change Die Cut converting platform, which the company says is a completely new design in die-cutting technology that will drive extreme efficiency from faster die setup and changeover to precision cut accuracy to high speed matrix stripping. Available in a single- or dual-die station configuration, the QCDC allows for dies to be quickly loaded, automatically registered with servo technology, and running full production in a fraction of the time.
Martin Automatic To Showcase New Versions of Machines
Martin Automatic (Booth 811) will offer running demonstrations of the MBS splicer and the LRD rewinder.
The latest version of the butt splicer comes standard with a package of features, including ultrasonic sidelay sensors and spiral grooved rollers, for unwinding and splicing many clear film structures. The MBS now features a touchscreen control for even easier operation and expanded diagnostics. The updated LRD rewinder accommodates 800 mm dia rolls in the standard model, with larger diameter models available. Enhancements to the in-line slitter package enable quicker set up, fine tuning, and changeover between jobs. The LRD discharges finished rolls automatically, either by the standard doffing ramp, or onto an optional articulating arm through the front of the unit, if the product rolls require special handling.
"As the industry leader in roll-change and web-handling automation, we're known for designing simplicity, reliability, and the most appropriate advanced technology into our equipment," says Gavin Rittmeyer, VP of sales and marketing. "The newest MBS splicer and LRD rewinder are examples of how Martin Automatic continues to develop and enhance products that give converters and printers the greatest versatility and value for their investment."
MCS Highlights Eagle UV Inkjet System
MCS (Booth 6447) will be exhibiting an Eagle UV inkjet system – printing bar codes, numbering, and variable graphics in an 8.5 in. format on BOPP label stock at speeds over 300 fpm on a typical label rewinder. With 600 DPI resolution and print widths from 4.25–17 in., the Eagle is perfect for integration onto existing flexographic presses and rewinders. UV-Curable inks give the system wide substrate flexibility and a green footprint.
Nilpeter Unveils NEXT Initiative to drive innovation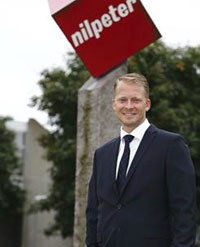 Nilpeter (Booths 3105 and 3205) will introduce two printing presses and unveil a new corporate-wide initiative that intensifies the company's focus on technological innovation and helping label and packaging converters to build competitive advantage. The initiative, NEXT, signals the company's intention to add value by optimizing the packaging-label printing process and generating opportunities for expansion into new markets. As a consequence, the company is strengthening its commitment to R&D as a basis for enhancing the program of FA and FB flexo and MO offset print-converting lines with smarter workflows and a broader palette of configurations.
COO Peter Eriksen explains, "Faced with the pressures of volatile raw materials prices and the trend to shorter runs, label and flexible packaging converters need smarter ways of delivering without compromising quality. We see the challenge becoming greater, as brand owners look for printing partners who have the versatility to offer a broader range of decorative solutions, with the identical look and feel anywhere in the world. Through the NEXT initiative, we are refocusing our resources, people, and expertise, to overcome these challenges and support the converter with long-term, competitive advantages. Our commitment is to empower the printer to thrive with lean, streamline processes, and the creativity to offer unique solutions in an increasingly integrated value chain."
OKI Data to Introduce Digital Web press
OKI Data Americas (Booth 1350) will debut the OKI pro511DW digital web press with the capacity to produce thousands of production-quality full color labels per day. It offers enhanced features and functionality including a Proactive server, Harlequin RIP, and Hybrid front-end software, plus a heavy-duty rewinder with a pre-assembled slitter. The unit supports variable data printing for optimum productivity.
OKI also will demonstrate the Kompac EZ Koat post-production supplement to the pro511DW, providing UV coating for rub-, fade-, water-, and scratch-resistant materials. It is capable of coating sheets 14.5 in. wide and virtually any length.
The pro900DP digital envelope press and pro 930 digital color printer also will be on display.
OMET To Debut Larger Width of XFlex X6 Press
OMET (Booth 3123) will stage the launch of the first XFlex X6 all-in-one-pass multi-process press in 530 mm width (20 in.). Marco Calcagni, sales and marketing director, says, "We have been working hard on this project for several months from the moment we felt the necessity among customers to capitalize the high-level productivity and low wastage benefits of XFlex X6 on a larger width.
"XFlex X6 is a miracle of flexibility [all-substrate press], reduced waste [the shortest web path on the market], minimized setup times and quick job changeovers ['easy change' system using light glass fiber or aluminum sleeves], plus the addition of advanced register controls [Vision 2], top-technology waste stripping and superb die-cutting [like Monotwin Cut]; all characteristics which have deserved the press the definition of benchmark printing system. Whatever the necessity: print higher volumes of labels or cope with a high jobs turnover, XFlex X6 is the right press to have."
Screen USA Will Showcase Hardware & Software Breakthroughs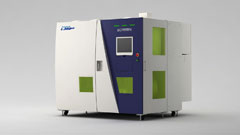 Screen USA (Booth 6347) will present the Truepress Jet L350UV inkjet label printing system that boasts photo-realistic quality, fast job turnarounds, and stable output. It accommodates a printing width to 12.6 in. and prints at a top speed of 164 fpm for label productivity of 173.2 sq fpm. Lamination, die-cutting, and other postpress processing devices can be connected inline. To provide a wider color gamut than is typical with the four-color process, the system uses Screen's proprietary high-definition UV inks. Optional opaque white ink further boosts color vibrancy while enhancing application versatility by allowing printing on transparent film and metallic foil.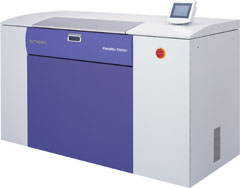 Also showing the PlateRite FX87011 digital imaging recorder that outputs narrow web flexo digital plates, letterpress digital plates, and thermal ablative film for the production of tags, labels, plastic bags, and specialty materials. A choice of 2,400 dpi, 2,540 dpi, and 4,800 dpi resolutions coupled with screen rulings up to 200 lpi enables consistently precise imaging.
EQUIOS workflow supports print-on-demand and digital plate production using a single interface. Drives multi-device output and controls all stages of production, from receipt of the customer file through delivery of the finished project.
SPARTANICS CELEBRATES 50 YEARS OF MANUFACTURING EXCELLENCE
Spartanics (Booth 6413) will begin its 50th Anniversary celebration with a monumental presence at Labelexpo. The L210 Narrow Web Laser Cutting System will be showcased in the booth. This system features bar code reading capabilities for instant job changeovers. Laser cutting offers 100% savings in tooling costs, 20% savings in job changeovers, and 20% savings in scrap materials.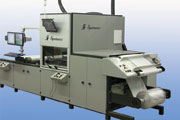 The company will participate in the Technology Workshop with the L350 Laser Cutting System. Features include proprietary XY registration capabilities, single source 400W laser, high-speed capabilities up to 100 mpm and converting options.
The Spartanics X140 Laser Station will be in the spotlight at INX Intl. (Booth 6451) where the newly redesigned NW140 UV Ink Jet Printer with in-line laser-cutting technology will be available for on-demand demonstrations.
SPEC Presents New Automatic Point Dispensing System
SPEC Inc. (Booth 5821) will be demonstrating the 2000EV fully automatic point dispensing system capable of dispensing into 1-gallon jugs or larger buckets. In addition SPEC will unveil its new SPEC-Weigh semi-automatic dispensing system and its new iblend ink formulation and management software. All SPEC dispensers provide extreme reliability and excellent batch-to-batch shade repeatability.
Sun Chemical To Introduce Range of Narrow Web Solutions
Sun Chemical (Booth 5413) will feature its Solaris System line of inks and coatings, which includes products for self-adhesive and in-mold labels to wrap arounds, shrink sleeves, tubes, and food and pharmaceutical packaging. The inks can be tailored to a printer's needs no matter what substrate is utilized. Special effect inks and sensory coatings within the Solaris range offer added benefits that enhance consumer brand appeal, such as interactive color shifting inks and SunScent coatings that engage the senses.
A GFI Mx12 Hybrid Dispenser will be on display. The Sun Chemical Dispenser Program allows printers to mix the exact amount of inks they need, reduces their inventory and waste, and improves color-matching consistency. The program can lower a customer's ink spend by 45%.

Booth visitors can explore brand protection options including an infrared coding solution called Verigard, a security system that adds a small quantity of taggants to inks, varnishes, or coatings for use in any print process on any substrate. Jim Reiman, the manager for Brand Protection, will speak on September 11 at 4 pm to offer solutions brand owners and converters can take to protect the integrity of their packaging and avoid counterfeiting.
Also introduced will be SunGraphics high definition flexographic plate technology, with Esko HD software and CDI high resolution imaging. Converters that utilize the HD printing plates can print with an image quality of up to 4,000 pixels/in., resulting in expanded tonal range and wider color gamut to produce sharper, more vibrant images and colors.
Techkon Teams Up with All Printing Resources
Techkon (Booth 536) is teaming up with All Printing Resources to showcase its SpectroEdge inline spectrophotometer, designed for flexo presses, that measures and maintains accurate color at production speeds to 1,000 fpm. It will reduce setup time, catch unacceptable color variations as they happen, and increase overall press run efficiencies.
ChromaQA is a new cloud-based color quality assurance software designed to provide both direct and remote access to pressroom color data, allowing print quality control managers to monitor color quality in real time on press locally or remotely. Also showing the new SpectroDens Premium complete with a high resolution color display.
tesa Introduces New plate mounting tape
tesa tape (Booth 5701) will introduce tesa 52018 for narrow web flexographic printing applications. The 15-mil foam plate mounting tape is designed for use with thick printing plates (0.067–0.107 in.) on narrow diameter cylinders.
The product is built upon a "super-soft" closed cell PE foam that harbors high elasticity or "memory" properties, thus ensuring a constant tape thickness and consistent print results throughout the print run. The softness level of the foam enables crisp, clean print production of fine dot patterns. The custom-designed foam backing is coated on both sides with a specially formulated adhesive system designed to securely adhere to both the printing plate and print cylinder upon initial contact, thus securing the printing plate onto the cylinder.