Published: January 11, 2013
GLOUCESTER, MA | At its recent annual meeting, the Tag and Label Mfrs. Institute (TLMI) presented Environmental Leadership Awards to Mitsubishi Polyester Film, Greer, SC, and The Label Printers, Aurora, IL.
The award recognizes TLMI member companies that have consistently demonstrated a commitment to progressive environmental practices across a range of areas including solid waste reduction, recycling, waste, or energy recovery, the implementation of new "clean" technology and/or processes, and the implementation of an education program.
Calvin Frost, CEO of Channeled Resources Group and TLMI Environmental Committee
Chair, says, "This is our tenth year in presenting these awards and recognizing our industry's leaders in environmental awareness and best sustainability practices. As an industry association, TLMI takes sustainability very seriously. Out of the multitude of entries we receive every year from companies competing for this coveted award, only two are chosen. This year's winners have both demonstrated true leadership in sustainability and green initiatives and the recognition they receive is well deserved."
The Converter Award for Environmental Leadership went to The Label Printers. The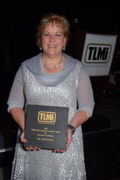 company created an audit team that identified 17 categories of waste that could be eliminated from their waste stream and developed a partnership with a manufacturer of engineered fuels allowing them to divert their matrix from landfills. The company became 100% landfill-free in their last fiscal year in addition to becoming a certified participant in TLMI's L.I.F.E. (Label Initiative for the Environment) Program.
Mitsubishi Polyester Film received the Supplier Award for Environmental Leadership for implementing energy conservation in power, water, and lighting in addition to developing a recycling initiative on a global scale. The company introduced a "zero waste to landfill" initiative in early 2012 and reports it is well on its way to achieving that goal. Mitsubishi introduced a closed loop system that is available to the entire industry supply chain and was one of the first association supplier members to achieve TLMI L.I.F.E. certification.
This email address is being protected from spambots. You need JavaScript enabled to view it.