Published: June 01, 2008, By By Claudia Hine, Managing Editor
KOLDfoil HXP line of printable holographic cold foils is offered in standard patterns such as rainbow and pillars of light. Line has been formulated specifically to allow ink adhesion of both water-based and UV-curable inks on the foil without primers.
AMAGIC Foils | www.amagicfoils.com
PFFC-ASAP 306
New generation of Duratool Eclipse Micro Matte films is reformulated to incorporate more environmentally sensitive solvents. Said to offer makers of printed circuit board and microelectronics measurably better chemical and scratch resistance.
Exopack Advanced Coatings | www.exopackadvancedcoatings.com
PFFC-ASAP 309
Clysar HP Gold is a clear, biaxially oriented, linear low-density shrink film specifically crosslinked to provide strong, durable seals and excellent shrinkage across a broad operating range, the company reports. Said to combine excellent gloss characteristics with premium printability.
Clysar | www.clysar.com
PFFC-ASAP 307
Metallyte UBW-ES OPP film reportedly provides ultra high barrier and enhanced seal technologies. Metallized white film is said to offer economic and performance benefits compared with thin aluminum foil and sealant laminations. Employs a two-layer lamination as opposed to the typical three-layer laminate, resulting in an efficient converting process, reduced raw materials costs, and lower overall material weight.
ExxonMobil Chemical | www.oppfilms.com
PFFC-ASAP 308
Natura Platina bleached liquid packaging board has a shiny, metallic look achieved by applying a metallized BOPP on top of the board. Aluminum foil on the reverse side, the company reports, provides excellent barrier against humidity, oxygen, odors, grease, and light.
Stora Enso | www.storaenso.com
PFFC-ASAP 310
Apex 9000 VF (vertical film) Series is suitable for hot or ambient vertical f/f/s applications. Coextruded films combine heat resistance, sealability, and barrier for packaging foods, liquids, and powders while maintaining product freshness.
Ampac Flexibles | www.ampaconline.com
PFFC-ASAP 311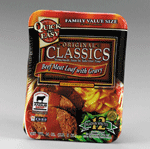 FDA-compliant, heat-sealable LumiLid lidding films for frozen and refrigerated food applications use a solvent-free manufacturing process, which eliminates wasted energy needed for solvent recovery. Transparent films are said to resist shredding and to seal cleanly and securely, even on pleated corners.
Toray Plastics (America) | www.torayfilms.com
PFFC-ASAP 312
COMPUcal Excel 10442 is a UL-recognized 1.0-mil matte, top-coated, clear polyester film designed for high-performance label applications. Called ideal for use as a matte overlaminate to achieve a high-end look. Resists many environmental factors including smudging, scratching, moisture, and solvents.
FLEXcon | www.flexcon.com
PFFC-ASAP 313
Dorset cover and folding carton material is beater-dyed, which is said to ensure color consistency from run to run and throughout the sheet (no white edges). Features a matte pigment coating for deep color saturation. Available in 17- and 23-pt thicknesses. Said to provide a strong, stylish, refined alternative to white SBS.
FiberMark | www.fibermark.com/dorset
PFFC-ASAP 314
KlaFold coated unbleached kraft paperboard uses renewable, recyclable virgin fibers. Low-density, high-yield characteristics are said to provide strength and durability. Smoothness and consistency reportedly allow for superior printing and converting.
MeadWestvaco | www.meadwestvaco.com
PFFC-ASAP 316
Appeel lidding sealant resins and Appeel AF (antifog) additive reportedly make ready meals more convenient. Topical surfactant solution carries an active anti-fogging agent that can be applied to a range of peelable and nonpeelable sealant films. System is said to provide the safety of a hermetically sealed package as well as excellent puncture and tear resistance.
DuPont | www.dupont.com
PFFC-ASAP 315
Shopping for Substrates?
Visit the Flexpack One-Stop on our home page at www.pffc-online.com and pull down to click on Substrates. There you'll find a wealth of information and resources on this "material world" in which we live.
While you're there, check out our online Buyers Guide (or the March issue e-zine) to find more paper, film, and foil suppliers by category.