Published: April 02, 2012
ORLANDO, FL | NPE2012 opened Monday for the first time in 40 years in a new venue, bringing an innovative agenda, an influx of new exhibitors and attendees, and an upsurge in size and dynamism, reports SPI: The Plastics Industry Trade Assn.
"Moving from Chicago to Orlando was the first initiative in SPI's strategy of 'breaking the mold' by creating a broader-based and more exciting NPE with new benefits for exhibitors and visitors," says William R. (Bill) Carteaux, president and CEO of SPI, which produces the triennial NPE. "Three years of work by SPI and the NPE Committee has given the industry an NPE2012 that not only substantially surpasses the recession-era NPE2009 in size and scope but is in line with the greatest NPE successes of the past."
More than 1,900 companies are exhibiting at NPE2012, well over the totals in 2006 and 2009. NPE2012 exhibitors have taken 920,000 sq ft of exhibit space, 20% more than was occupied in 2009. Companies coming directly from outside the US account for 40% of the total exhibitor count in 2012, an increase from the one-third share for recent NPEs. Approximately 41% of these international exhibitors come from China—by far the largest contingent from that country at any NPE. Attendee registrations in 2012 are 30% greater than in 2009. International registrations account for 25% of the total, and half of them are from Latin America, attesting to the advantages of the Orlando venue for travelers from Mexico and Central and South America.
Plastics processing machines are being demonstrated in full-scale operation,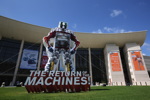 manufacturing film and sheet. Described by SPI as "The Return of the Machines," the upsurge in the number of equipment systems that suppliers have brought to the show is attributable to the recovering economy and the cost savings and streamlined logistics available to exhibitors in the new Orlando venue.
Among machinery exhibitors there is widespread emphasis on energy efficiency, increased productivity, and scrap reduction. Specialized technologies include micro-molding, multi-material processing, and in-mold labeling and assembly.
Along with the "return of the machines," one of the main themes of NPE2012 is advances in technology for bioplastics. Dozens of exhibitors are involved, ranging from manufacturers of new bio-based resins, compounds, and additives to equipment suppliers that have developed systems specifically for processing these materials. Sessions of all three educational programs co-located with the show will also focus on bioplastics.
"There is more participation by resin manufacturers than we've seen in the last four or five NPEs," says Gene Sanders, SPI senior vice president of trade shows and conferences "as these companies exhibit, host customer service centers, or sponsor special-interest initiatives such as our design competition."
While introductions of thermoplastic elastomers (TPEs) are especially prominent at NPE2012, there is a wealth of other new resins, compounds, and additives on the exhibit floor. Sustainability is a key theme among material suppliers, which have developed numerous formulations aimed at reducing the carbon footprint of end products, cutting back on the material content of packaging, enhancing recyclability, or facilitating development of alternate energy systems such as photovoltaic, wind turbine, or film-battery applications.