Published: December 20, 2011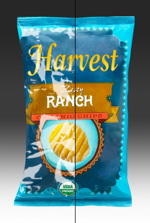 NORTH KINGSTON, RI | Toray Plastics (America) announces Torayfan KMS1 70-ga heat-sealable matte BOPP film designed to be used as an outer web in food packaging applications requiring a premium appearance. Film is said to provide a low seal-initiation temperature (SIT) for lap seals and a broad heat-seal range, which enables faster processing on high-speed f/f/s equipment.   
Additional benefits reportedly include a low-gloss surface with excellent haze and a print adhesion layer on which water- and solvent-based inks print with excellent results; a low COF; and excellent ability to bond during the manufacture of adhesive and extrusion laminations.
Company says film provides a distinctive, eye-catching, high-end esthetic. Applications include salty snacks, baked goods, crackers, cookies, and confectionery items.