Published: August 19, 2011, By By Timothy Bohrer, Pac Advantage Consulting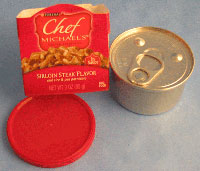 Steady growth in sales of pet food and pet care supplies continues to drive experimentation in new delivery channels and packaging. Despite economic woes, pet owners increasingly pamper their charges, and more than ever, treat them as full members of their families. When it comes to pet nutrition, the array of options has never been greater, and packaging plays a significant role in motivating pet owner choices.
This brief perspective examines key market drivers and how pet food companies and packaging suppliers are working to respond to these drivers, balancing shelf impact and convenience with cost and environmental considerations while creating approaches that surprise and delight pet owners.
US Pet Statistics
Dogs and cats reign in the home pet world; fish, other small mammals, birds, and reptiles play a much smaller role. This discussion will use the 80/20 rule and focus on food for these first two species, which drive the greatest packaging volume.
The Greenwich, CT-based American Pet Products Assn.'s 2011-2012 National Pet Owners Survey reported that 62% of US households (73 million) own a pet, with one-third of US households owning cats and almost two in five owning dogs. There are slightly more total pet cats than dogs in the US, reflecting the tendency for more multiple cat households. Total US pet industry expenditures are estimated to exceed $50 billion for 2011, with 40% of that for pet food. What's going on behind the numbers, and how does it impact packaging?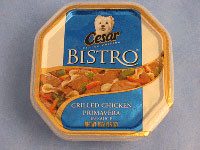 Humanization of Pets
Look next door or across the street and the biggest trend is obvious: the increased humanization of pets. The American Veterinary Medicine Assn., Schaumburg, IL, reported in 2006 that fully half of pet owners considered their pets to be family members; pet product suppliers increasingly refer to "pet parents" and "animal companions," clearly signaling what's happening here. In more US households, Fido or Fluffy has reached status levels where the time, effort, and resources expended for their wellbeing is unprecedented.
While there is significant variation in how indulgent pet owners actually are, especially in difficult economic times, even a cursory look in the aisles at supermarkets and pet superstores reveals the trend—more and more shelf space is devoted to products at the high end of a greatly increased variety of offerings. In superstores, position reflects quality and profit potential; it's a walk to the back of the store past premium and super-premium products to find value brands. In supermarkets and other outlets, the selection is smaller and skewed toward the value brands, but even here increased sophistication in packaging, and in some cases, delivery format abound.
Healthy Foods for Healthy Pets
Across the spectrum of price and value, many of the same trends we see in human food are taking shape in food for dogs and cats. Specialty introductions include variations on the themes evident in the growing consumer segment termed LOHAS (lifestyles of health and sustainability), made up of consumers committed to including health, quality, environmental impact, and sustainability in their product choices. The Natural Marketing Inst., Harleysville, PA, estimates that one in six US consumers can be characterized as fully LOHAS, with other groups sharing these concerns to a lesser extent.
Ingredient quality is a major marketing theme, and the same words and phrases many consider for food they purchase for themselves are being explored, albeit to different extents, for the food they purchase for their pets. "Organic," "locally and sustainably sourced ingredients," "grass fed and free range," "free of grains and fillers," "preservative and additive free," and "fresh" are claims accompanying the latest introductions.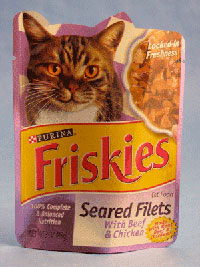 Countrypet Naturals, La Crescenta, CA, which sells in the US pasteurized and frozen pet food sourced solely from New Zealand human food grade processing plants, helps us understand part of the dynamic for the increased availability of these pet foods. As growing demand for human food conforming to these claims creates additional supply, ingredients that can be diverted to pet food with the same heritage are more available. And more consumers who seek such products for themselves are more inclined to select similar products for their pets.
Packaging Trends
The majority of pet food for dogs and cats is merchandized in traditional package formats: metal cans for moist, shelf stable food and multiwall bags for dry food; these familiar packages continue to serve as the workhorses for delivering pet food. Spanning much of the price/value product spectrum, material and graphic upgrades can provide differentiation for higher quality and priced pet foods. Looking at packaging by general food type/delivery state, we find both modest change and evolution as well as experiments at the margins that may presage more dramatic change.
Dry Food
Dry food for dogs and cats dominates the market, and pre-made paper-based multiwall bags still deliver the greatest tonnage of product. Product weights typically range from 10 to more than 40 lb, and the bags are typically side gusseted with at least one folded over and glued end and a minority closed on the second end with a sewn tape. After intense activity in recent years to incorporate zippers in these packages, the virtually complete absence of them in the market indicates a shortfall in some combination of infestation resistance, cost, bagmaking productivity, open and reclose reliability, and general consumer acceptance. New grease-resistant paper grades to replace those using perfluorinated chemicals have been widely pursued during the past decade.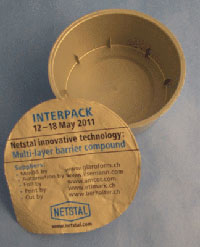 Complaints of breakage/spillage and the potential to become shopworn are concerns for paper multiwall bags. Casual conversations with stocking employees at several superstores suggest that specifications greatly influence performance. Value brands experience significantly higher damage and breakage, and those who handle these packages daily attribute these failures to "flimsier feeling" structures. One of the dilemmas of lightweighting— whether for cost savings, sustainability, or both—is finding the sweet spot where product loss and consumer dissatisfaction don't outweigh gains in other areas.
Introduction in recent years of large bags reinforced by a layer of woven polypropylene (PP) fabric (~10 strands/in. in each direction; think of the type of material in the ubiquitous blue tarp) created the most news and movement in this segment. This tough, lightweight material can be laminated to a variety of papers or films and is compatible with pre-made bag production and filling technology. Sewn ends are most prevalent.
Continue on Page 2
Laminations of reverse- or surface-printed biaxially oriented polypropylene (BOPP) film overcome print quality issues, but the fabric pattern is still evident, perhaps representing a positive cue to some consumers. Proponents claim lower breakage and weight reduction compared to paper-based multiwall bags, lower total energy to produce, and smaller carbon footprint. Rigorous life cycle analysis comparing nonrenewable energy content and including credits for renewable energy and material usage is needed to create a clearer sustainability picture.
Smaller capacity bags and pouches are laminated structures that run on form/fill/seal equipment. Side-gusseted bags with folded flat bottoms for shelf stability are common for fill weights of 2–10 lb, and bottom-gusseted standup pouches for up to 4 or 6 lb. These typically are made from reverse-printed biaxially oriented polyethylene terephthalate (BOPET) laminated to bulk and sealant layers and also can include foil or other barrier layers. At least one brand, St. Charles, MO-based Royal Canin, packs super premium varieties in heavy foil laminated bags with zipper reclosure and an explicit controlled atmosphere packed statement on the pack.
Moist, Shelf Stable Food
Shelf stable moist cat and dog food is principally packed in 3- and 5.5-oz two-piece cans with seams on full opening ring-pull tops and post-retort applied paper labels (see Figure 1). Some dog food is available in larger cans, with ~13-oz capacity cans generally two-piece with the same pull-tops, but larger capacity cans, up to 22 oz or more, typically three-piece.
The can's weight optimization for cost and sustainability is ongoing. Shelf differentiation and branding identification comes from label graphics and colored coatings applied to the exterior of the can, typically only tops, but in some cases the entire can.
Pursuit of alternatives to cans for retort packaging of pet food mirror trends for human food packaging (see Figure 2). Coextruded injection molded containers, based on PP and ethylene vinyl alcohol (EVOH) barrier, provide unique alternatives to metal cans, primarily for single-serve portions. Retort pouches are making inroads for the same reasons this format is growing in popularity for human food. Making pouches an atractive option are their light weight, ease of transport, exceptional graphics billboarding, ease of opening, thinner food cross section for faster thermal processing with the potential for higher quality, and the potential for unique shapes to enhance marketing (see Figure 3).
Netstal, a Swiss manufacturer of injection molding equipment, introduced a new two-stage overmolding system at Interpack 2011 that separates barrier creation from the typical co-injection molding process (see Figure 4). The approach demonstrated at Interpack inserted a pre-folded thin aluminum foil container (barrier plastic also can be used) into the mold where PP was injected to cover one side of the container; in a second step PP was injected on the other side, fully encapsulating the foil container and providing a smooth rim for lid sealing; in-mold labeling can be added (see Figure 5). The explicit target of this technology is metal can replacement with pet food a target market.
Fresh & Frozen Minimally Processed Food
In a huge departure for pet food distribution, dedicated refrigerators are popping up in the pet food aisles of superstores and even supermarkets, and frozen pet food is offered in cases that traditionally only held human food. Refrigerated chub packs of "gently cooked" dog and cat food are offered in 1-, 2-, and 6-lb sizes; refrigerated tray packs also are marketed. A prominent example of this approach is Freshpet, Secaucus NJ, selling several brands, including "Deli fresh" and "Vital" in major US cities from branded, dedicated refrigerators (see Figure 6). Pet owners are instructed to cut off the desired amount from portion-marked chubs, cover the end of the pack, and use within seven days after opening. Freezing is not recommended.
Frozen products represent another approach to avoiding the full cooking associated with retort processing, and multiple small companies offer dog and cat food in "frozen rolls," which offer longer shelf life and distribution chains than solely refrigerated products. The primary thrust of the marketing message for both is freshness and nutrition retention compared to canned pet food and higher protein content than dry foods.
The extension of a familiar food packaging technology into pet food and the distinctiveness of refrigerated and frozen distribution set these products apart from other pet food offerings.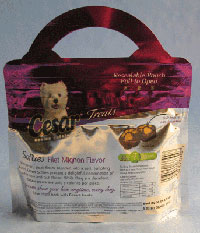 Snack, Treats & Supplements
Snacks, treats, and nutritional/health aids in smaller sizes, generally 1 lb or less, are almost universally sold in bottom-gusseted standup pouches, with widespread use of zippers for multiple uses (see Figure 7). High-end graphics and package shape provide tools for differentiation on a crowded and confusing shelf. Finishes range from high gloss to matte, and color palettes and designs evoke a range from natural through just plain indulgent.
While the majority of pet food continues to be sold at retail in familiar formats, migration to package styles and delivery systems more reflective of human food packaging trends is underway. The careful observer will be able to look behind these changes and discern future opportunities for innovation.
After more than 30 years in package development with major packaging suppliers, Tim Bohrer formed Pac Advantage Consulting LLC as the vehicle to provide consulting services to the entire packaging value chain, always directed at creating strategic and tactical advantages in packaging for his clients. He can be reached at This email address is being protected from spambots. You need JavaScript enabled to view it.; www.pacadv.com.
____________________________________________
American Pet Products Assn. | www.americanpetproducts.org
American Veterinary Medicine Assn.  | www.avma.org
Natural Marketing Inst. | www.nmisolutions.com
Countrypet Naturals | www.countrypet.com
Freshpet | www.delifreshpet.com
Royal Canin | www.royalcanin.us
Netstal | www.netstal.com
Interpack | www.interpack.com
Continue on Page 3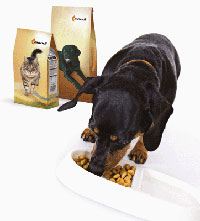 Paper Coated For Pet Food Use
Mondi Kraft Paper has extended its grease-resistance portfolio with Advantage MG White Cote GR. The new paper grade has a clay-coated surface said to ensure excellent printability on flexo presses. A functional chemical treatment of the fibers enables the high grease resistance level requested by demanding applications, such as in the pet food and confectionery industry. Only bleached virgin kraft paper from suppliers certified by the Programme for the Endorsement of Forest Certification (PEFC) is used in its production.
Mondi Kraft Paper | www.mondigroup.com
PEFC | www.pefc.org
Pet Food Pac Debuts
The Packaging Group, Milltown, NJ, is holding a two-day conference, Pet Food Pac–2011, on December 6-7. The meeting takes place at the Crowne Plaza Hotel in Monroe Township, NJ, near Princeton. The first day offers two half-day courses: "Extending Shelf Life of Packaged Pet Food" and "The Humanization of Pet Food Packaging." On the second day, ten speakers will discuss the entire supply chain of pet food packaging, including flexible and rigid as well as frozen and refregerated raw food packaging.
For more information, contact Stan Sacharow, The Packaging Group, at 732-636-0885; This email address is being protected from spambots. You need JavaScript enabled to view it.; www.packaginggroup.com.