Published: August 01, 2011, By By Edward Boyle, Contributing Editor
Myron Geiser, general manager of Capri Packaging, modestly suggests that "everyone's got presses and laminators. So, we've got a new W&H press…anybody can buy one of those!"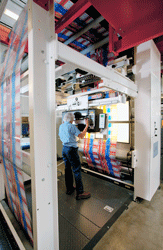 Well, anyone who is committed to investing in a premium piece of equipment, that is. What differentiates the 16-year-old flexible packaging converter from larger operations, says Geiser, is Capri's willingness to deliver both large and smaller volumes to niche, private label customers — with the same or superior quality and quicker turnarounds as its larger competitors.
It doesn't hurt that the converter also has a built-in audience for its flexible packaging: parent company Schreiber Foods is a $4 billion a year producer of dairy products, including cheese and yogurt. That alone nearly kept Capri's five Paper Converting Machine Co. (PCMC) eight-color flexographic presses at near capacity.
"It was difficult for Schrieber to source flexible packaging externally," says Geiser. "In the private label market, there are a lot of SKUs. It's 'I need a roll of this, two rolls of that.' So lead times are an issue as well as minimum order quantities. Capri really was built on the narrow web premise of servicing the private label market Schreiber was supplying — not wide and fast, but narrow and nimble for short runs.
"We're looking to stay within our niche," says Geiser. "We know what we do well, so we do well for a lot of businesses. We currently supply other customers right now that are in the same business but different product markets and private brands."
Adding Capacity
In December 2010, Capri added a ten-color, 56-in. wide Miraflex CM flexo press from Windmoeller & Hoelscher at its newly expanded 120,000-sq-ft facility in Clinton, MO. This investment has allowed the company to expand its reach and serve more end-users of high quality low density polyethylene (LDPE), oriented polypropylene (OPP), and metallized polyethylene terephthalate (MPET)/adhesive sealant film-based packaging.
Capri also has a 60,000-sq-ft facility in Clinton, MO. Both locations house narrow and wide web PCMC laminators in widths from 30-50 in.
The W&H line is capable of printing speeds of 1,650 fpm. It is equipped with Easy-Set for automatic impression setting, Easy-Reg for registration, Turboclean automatic ink supply and wash-up system that completes ink changes on all decks in less than five minutes, and the Easy-Col color matching system.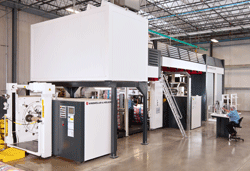 The new press and plant expansion are pivotal in supporting Capri's overall growth, says Geiser. "With the new press and our ability to turn around multiple short runs and a variety of SKUs, we are well equipped and ready to take on more outside packaging jobs. The press has also helped make our printing operation more efficient by reducing waste and energy consumption."
Plant manager Rick Heck adds, "The startup went very well. Production speeds are up. Changeover times are down. That combination is important for meeting our customers' needs and for driving future growth."
"The new press makes sense for our higher volume, large items, and we still run the narrow web facility because we still have a lot of small SKUs where we need one or two rolls," notes Geiser. "It's all about cost and efficiency. That's the other thing about private brands. It's not our brand, so if the customer says they want to change graphics, they're changing graphics. We're basically manufacturing their brands for them. We don't have a whole lot of control over some of that stuff."
Reaching New Customers
Due to the increased capacity provided by the W&H press, Geiser says Schreiber recently began aggressively offering its enhanced capabilities to other end-users. "Until recently, there was not a huge push to really sell capacity externally," says Geiser. "We were happy servicing and growing with Schreiber, but with the W&H press we've got a lot of capacity to fill."
Geiser notes Schrieber has 25 plants across the country, including six across Missouri alone, so the Capri facilities are centrally located. Capri's primary areas of market focus are processed cheese, yogurt, and retail, which includes packaging for such diverse products as cookies, crackers, and bakery products; pet foods and treats; disposable razors and personal products; dry mixes, seasonings, and spices; and more.
"It's been successful; it's worked well for us; and even today, roughly 80% of the work that we do is supporting Schreiber," says Geiser. "Now, with the expansion and the W&H press that we purchased, suddenly our capacity goes up significantly. While Schreiber is on a steady growth pattern, you don't fill a press like that overnight. So, we're looking externally, where in the past, we really haven't put a focus on targeting external business."
Geiser suggests that potential customers naturally may have concerns that they might not be a priority since, after all, Capri was initially founded for the sole purpose of meeting Schreiber's packaging needs. However, the extra capacity provided by the Miraflex CM flexo press should help allay those fears.
Explains Geiser, "One of the valid questions I get from potential customers is, 'If there's a bottleneck, who comes first? What priority do I get compared to the parent company?' But now, with two facilities and duplicate capabilities, I think we have enough assets where everything doesn't have to run on the same laminator or the same press. The more assets and presses you get, the less of an issue it becomes."
Supplier Info
Contributing editor Edward Boyle, based in Reading, PA, has covered the converting industry for more than 27 years. Contact him at EJB Communications; 610-670-4680; This email address is being protected from spambots. You need JavaScript enabled to view it..
Impressed by German Engineering
Capri Packaging is an employee-owned (ESOP) company. As such, the converter not only seeks the opinions of the 180 people who contribute to its success, it allows them to make major purchasing decisions.
So, says Myron Geiser, general manager, when Capri was looking to add to its arsenal of flexographic presses, "We involved them in the process very early on." The company ultimately flew a half-dozen of its senior managers to Germany to view the ten-color Windmoeller & Hoelscher Miraflex CM flexo press in action. https://www.s188bet.com
Geiser says Capri bought the W&H press because "at the end of the day, we just felt more comfortable with W&H because there were already so many of them out there. Nobody on our team had anything bad to say about the W&H, so it really was the safest choice."
Converter Info