Published: October 01, 2010, By By Edward Boyle, Contributing Editor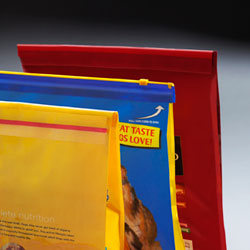 It was mid-2008, and Coating Excellence Intl. (CEI) was facing an unlikely dilemma: There was a greater demand for its woven polypropylene bags than the company could meet with its current capital equipment. But at the same time, the overall economy was the worst since the Great Depression.
So, while many companies were reluctant to spend a dollar more than necessary to keep their doors open, the Wrightstown, WI, producer of specialized flexible packaging decided to establish a second facility in Hebron, KY.
"We don't really gauge our investments by the state of the economy," declares Michael Nowak, president of CEI. "It's all based on our customer needs and what it takes to fill them. So, as we saw our business continue to grow, it was just the time to do it.
"There are so many people realizing how much better the woven product is than the multiwall bag product that we continue to see people switching at a very good rate, and we had to be prepared to meet that demand. It's a hard call [to make such a major investment], but when customers are asking for product, it's pretty hard to say, 'I'm going to wait and be conservative.'"
The facility, which spans 120,000 sq ft, is CEI's first manufacturing plant outside of Wisconsin and will create more than 100 local jobs over the next three years. The Hebron plant utilizes a variety of proprietary technologies to produce numerous flexible packaging-sector products, including the company's recently introduced SuperTube pinch-bottom bags, which will be used for pet food, birdseed, lawn and garden products, and the animal feed industry. SuperTube bags are made with tear- and puncture-resistant, woven poly materials, along with Food & Drug Administration-approved and American Inst. of Baking-certified water-based inks that are reverse-printed for a high gloss and durable finish. CEI says it is the only supplier of woven poly bags with a pinch bottom closure.
"We did delay the start of Hebron for about six months due to the recession," explains Nowak. "We just took our time identifying the building, and it ended up well in the end. We had the expansion on the books for nine months. Finding a plant took longer than expected, and then the economy started slowing down. We didn't want to get caught out there ahead of ourselves, so we took our time, made sure we got a good deal on the building, and when we needed it, we were ready to go."
Nowak says there were several reasons for establishing a second production facility, rather than expanding its 660,000-sq-ft headquarters in Wrightstown. First and foremost, its main facility was "landlocked" with no further room for growth.
"When looking at the opportunity for expansion, Kentucky was a logical fit for Coating Excellence International," he explains. "It gives us a second site, and a lot of our customers have been asking for a multi-site supplier so that we have redundancy. Plus, it lets us get closer to our customers. The site was well planned because we can get almost anywhere in the Southeast within one day of trucking."
Wider & Faster
CEI's Wrightstown facility houses three Egan-Davis Standard extruders including 104-in. and 114-in.-wide models. The company slits on 12 machines from Deacro and Webco Engineering.
Nowak says Coating Excellence operates such large extruders simply for economies of scale, even though it necessitates the operation of so many slitters.
"That's one of the things we consider to be our competitive advantage," says Nowak. "We can run wider and faster, so we're a low-cost producer. We don't like being at a low price; we'd like to sell at the same price and attract customers because of [variables such as] quality and service. But if someone wants to get into a price war, it's nice to know that you've got the staying power."
CEI prints on eight ten-color presses from Windmoeller & Hoelscher. Printed rolls are sent to Hebron to be converted into bags. Strong-Robinette supplies the machines that convey the bags through Union Special sewing machines for closing.
Nowak notes CEI is fortunate to serve a growth market, as more end-users are turning to woven bags to replace paper as the packaging of choice. Between its two facilities, CEI produces high quality products in a variety of markets, including ream wrap, food packaging, incontinent and diaper components, woven bags, and release products. CEI works with a wide range of substrates, including the ability to convert paperboard, film, foil, paper, and nonwovens.
Nowak notes that woven bags offer many practical advantages over their multiwall paper counterparts in terms of sustainability, strength, and appearance. Consequently, growth markets in areas like frozen foods and other food pouches are expected to average 6%-7% a year. That may not have been considered great during the boom times of the late 1990s, but it's far better than the "flat" growth in most consumer markets, Nowak says.
"We're pretty excited about [the growth] of film, foil, and flexible packaging," he adds. "Pouching in particular is a very interesting market. I think we're just scratching the surface as to where pouches can go, particularly when you look at all the rigid packaging that's out there and the fact that flexible pouches can be so much more environmentally friendly than the many hard shell packages that are out there."
A Commitment to Green
In addition to the opening of its newest facility in Hebron, KY, Coating Excellence Intl. recently was recognized as a "Sustainable Green Printer" by the Sustainable Green Printing Partnership. One of only 23 printers in the world to receive the certification, it solidifies CEI's commitment to employing, whenever possible, materials derived from renewable resources with low environmental impact. Additionally, the certification recognizes CEI's efforts to maximize recycling with efficient utilization of renewable energy.
Converter Info
Supplier Info
Contributing editor Edward Boyle, based in Reading, PA, has covered the converting industry for more than 24 years. Contact him at EJB Communications; 610-670-4680; This email address is being protected from spambots. You need JavaScript enabled to view it..