Published: March 22, 2010, By By Randy Parrish, Fasson Roll North America
Innovative labeling and packaging increasingly influences consumers when it comes to in-store purchase decisions. According to the National Retail Federation, Washington, DC, packaging is a key differentiator for consumer goods with an estimated 50%–70% of purchasing decisions being made at the store shelf. Whether it's a national brand or private label, only seconds count. That's all the time consumers will spend deciding what product to buy. It comes down to enabling consumer product goods companies - from national brands to private label - to differentiate their products on store shelves with outstanding brand presence.
Flexible packaging delivers the convenience needed by today's "grab-n-go" lifestyles. Coupled with a broad range of materials and converting properties, flexible packaging creates the recognition brand owners want and consumers trust. In fact, these lightweight, printable, laminated structures offer the versatile and functional packaging that makes them a natural for the narrow web market.
The Role of the Narrow Web Printer
Product variety, speed to market, and increased demand for short runs are the key drivers behind narrow web opportunities. Narrow web printers can produce smaller quantities of flexible packages at very competitive costs, allowing a smaller manufacturer to emulate a larger competitor's packaging and graphics, and make a head-to-head challenge for shelf appeal. Samples, new product short runs, tear-off packages, or product personalization for regional distribution are all an ideal fit for today's innovative narrow web converters.
Package Selection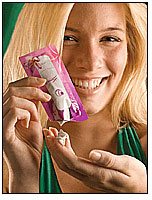 Brand managers are using flexible packaging to revitalize product images. New flavors, eye-catching design, and convenience packaging are adding so much fresh appeal to product lines; stores are using one brand to fill shelf space from top to bottom.
Many factors influence the packaging selection process, and it starts with assessing the needs of the market. It's critical to identify what has to be packaged and its entry point with consumers: private label, single-serve packets, promotional specials, test-market launches, beauty and personal care specialty markets, sample pouches, dry/powdered goods, coffee, specialty and regional foods, etc.
Product variety and line extensions are opportunities for meeting the needs of today's fast-paced lifestyles. Everything from suitcases and lunch boxes to cars and hotel rooms are filled with portable packages. It's all about products that are lightweight, individually wrapped, or resealable. Things like single-serve snacks that provide ease of portion control, airtight nutrition bars, drink mixes for water, travel pouches of shampoo and conditioners, nutraceuticals, and even pet food, all can benefit from flexible packaging.
Next page: Why Pursue Flexible Packaging?
---
Previous page: The Role of the Narrow Web Printer
Why Pursue Flexible Packaging?
The market is large. According to the Flexible Packaging Assn., Linthicum, MD, the total size of the flexible packaging market in 2008 was $25.6 billion. Of this, 54% went to retail and institutional food, 10% to consumer products, 9% industrial, 9% to retail non-food, 8% to medical and pharmaceutical, 7% to retail poly bag, and 4% for institutional non-food.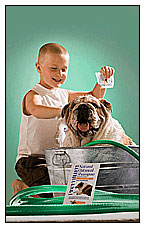 Flexible packaging delivers a level of aesthetics and functionality that can fully capitalize on these emerging packaging trends:
• The increased demand for green packaging calls for reduced materials and biodegradable products. Lighter-weight packages are taking up less space, which translates to significant savings in warehousing and transportation costs, along with contributing to sustainable packaging initiatives.
• Packaging is valued by consumers and end-users for convenience, product freshness, and portion control.
• Mass customization/SKU proliferation seeks to give a broader cross-section of consumer packaged goods that are more tailored to their specific needs - brands targeting smaller population slices, more brands and SKUs to give consumers more choices, and shorter product life cycles.
• Reducing end-user costs and complexity are accomplished with thinner constructions, product consolidation, and globally available products.
Flexible packaging technology has greatly improved to provide better constructions that can be tailored to meet specific needs of a wide range of packaging and end-use applications. There is also a growing demand for less packaging, like eliminating unit cartons, and flexible packaging is able to meet that need.
From new products to line extensions, SKU proliferation is pushing brand owners to increase the speed at which they take products to market. And with it is the call for shorter lead times and smaller runs, all of which can be met by narrow web printers and flexible packaging.
Used by nearly every industry, flexible packaging can protect and preserve products, and at the same time meet the growing demand for innovative package design, especially in the retail sector. But while the exterior is designed to showcase the high-end graphics mandatory in today's marketplace, the internal barrier materials prevent foreign substances, gases, odors or chemicals from entering or exiting the package. And, in some cases, manufacturers are putting more effort into simply repackaging their existing products for convenience, portion control, resealability and safety, than changing the actual product being packaged.
From easy-to-convert paper-faced pouching materials for powdered ingredients such as soup or drink mixes, to film-faced pouching products with optimal barrier and sealability characteristics for hard-to-hold wipes and lotions, there is a wide range of flexible packaging products for all markets and every end-use application.
The broad range of available substrates gives narrow-web printers the opportunity to build their own flexible packaging structures. For example, sub-surface printable base stocks and clear laminating films are key components that can be easily mixed and matched to meet varying needs. Base stocks provide barrier and sealant layers with the ability to protect the print using polyethylene terephthalate (PET) or oriented polypropylene (PP) films.
Next page: Flexible Packaging Defined
---
Previous page: Why Pursue Flexible Packaging?
Flexible Packaging Defined
Flexible packaging uses a combination of materials - paper, film, and foil, to provide properties that protect the package contents, be they powder, liquid, or solid. The process of converting raw materials into flexible packaging generally involves two different laminating processes - extrusion and adhesive.
Extrusion laminating is a process in which layers of multilayer packaging materials are laminated to each other by extruding a thin layer of molten synthetic resin, like polyethylene (PE), between the layers. This is typically a PET/PE/foil/PE (PPFP)construction used for cosmetic web and stickpack applications. Adhesive laminating is a process in which individual layers of multilayer packaging materials are laminated to each other with an adhesive. Coffee web and snack web are typical applications.
There are three components in a flexible packaging structure. They include the exterior, barrier, and sealant. The exterior layer is the print surface and serves various purposes depending on the product being packaged and the type of packaging machinery. Often the exterior layer is the print surface for a pre-laminated construction.
Barrier materials provide protection and are based on requirements that vary depending on the product being packaged; the desired shelf life; the packaging, storage, and distribution conditions of the final product; as well as other special needs.
The sealant layer is a material that will adhere to itself or to another film when heat and pressure are applied to produce hermetic seals that prevent gases from penetrating through the seals into the package. It is typically applied to the inside layer of a multilayer structure on the side that comes in contact with the product. Among other performance considerations, characteristics of this layer vary depending on the product being packaged and the type and the speed of the packaging machinery.
Next page: Paper-Faced Pouch Materials & Film-faced pouch materials
---