Published: March 01, 2010, By By Nsenga Thompson, Associate Editor
When flex-pack converter Packaging Personified began operations in 1975, the mission of company founders Dominic Imburgia and Phyllis Muccianti was simple: to deliver value, quality, and service to their customers. Nearly 40 years later, Packaging Personified continues to fulfill this mission with quality custom flexible packaging, reinvestment of capital, and a personal commitment to more than 500 customers nationwide.
With manufacturing headquartered in Carol Stream, IL, and a second facility in Sparta, MI, Packaging Personified offers state-of- the-art extrusion, lamination, converting, printing, and slitting to industry-leading North American companies. It serves multiple markets that include bakery, fresh/frozen foods (including produce), shrink films, consumer products, ice, medical, landscaping, industrial, and pet care.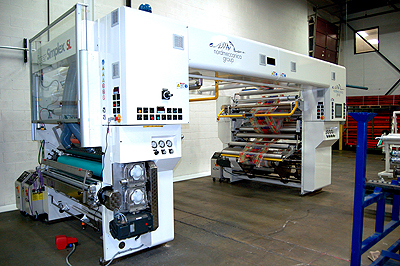 To service these diverse markets, Packaging Personified offers a host of flexible packaging solutions. Roll stock constructions, printed and unprinted, include laminated and both monolayer and three-layer coextrusion single-wound sheeting, center fold, and J-sheeting, as well as mono and coex tubing.
Poly bag product styles include flush cut, staple pack, drawstring, handle, wicket bags, zipper closure, draw-tape, flip, bottom gusset, and header (reinforced and non-reinforced).
Most recently Packaging Personified has begun production of printed and unprinted microwavable film that can be used on form/fill/seal equipment and can go directly from the freezer into the microwave. Available in rollstock or bags, the company also is producing easy-open peel/seal bags that can be used for various applications and printed and unprinted lidding film (used in dry cereal applications).
Committed to Investments
Seven years ago, when PFFC first met Packaging Personified (see "Success Personified" in the March 2004 issue or online at www.pffc-online.com/mag/paper_success_personified), the company had made several key capital investments, which included the purchase of a Ro-An bagmaker and a Davis-Standard extrusion line, as well as the purchase of the manufacturing facility in Sparta. A focus on smart capital investments has remained a critical strategy for the company.
"We have completely overhauled our Sparta, Michigan, operations. We pretty much tore down the physical structure and rebuilt it because the original was an early 1900's building," describes Dan Imburgia, general manager/sales. "We then added offices and production space and purchased or overhauled three extrusion lines and a coextrusion line. We also added a new eight-color press [a Flexotecnica] with defect detection and viscosity and color management."
Imburgia says what has impressed him most about the Flexotecnica is that it can print large web widths. "We haven't found too many competitors who can run at 110 inches wide. It's more than double the width of the web size in our industry," he says.
In addition to improvements at the Sparta facility, Packaging Personified has made substantial investments at its 100,000-sq-ft Carol Stream headquarters, which include upgrades to several of its bagmaking lines, new extrusion equipment from Reifenhauser Kiefel Extrusion, and an Advanced Vision Technology defect detection system for an eight-color press. A new Deacro slitter was purchased in the summer of 2009 as a direct initiative to increase efficiency and to stay eco consious.
Imburgia says the easy-to-use slitter has offered the company great results. "It has allowed us to take on far more challenging work than we would have tackled in the past," he says. "It's a very solid machine. It can handle high speeds, and it doesn't even look like its moving."
Packaging Personified also has added digital mounting to the mix. "The mounting capability is really the sister to the printing press because now, instead of proofing an image on proofing paper, we actually send in an electronic file. As we mount the plates to register, it reads the plate and compares the plate that we plan to print with the image approved by the customer. It will tell us if it doesn't match and something's wrong," says Imburgia.
Packaging Personified has been able to make these investments without the use of credit, which has allowed it to be a 100% debt-free company. Imburgia maintains this has kept the company steady in very unstable economic conditions. "We are very financially stable," he says. "We've been squeezed like everybody else, but we have been profitable."
Laminating Personified
As an important step in its initiative to upgrade its lamination processes and capabilities, which already included a 40-in. Nordmeccanica Simplex laminator purchased in 2007, Packaging Personified recently added Nordmeccanica's Super Simplex SL solvent-free laminator to its Carol Stream operations.
"The Simplex 1300 worked well for us, but we wanted to optimize the amount of material we could get across the machine," says Imburgia. "So in mid-2009, we decided to purchase another laminator.
"We were familiar with Nordmeccanica equipment. Our maintenance department was familiar with it, and we had [Nordmeccanica] stocked parts, so it was a logical decision," he says. "And they really approached us. They had a piece of equipment available. The timing was right, and the equipment worked for us. It was a good marriage."
Next Page: Eco-Efficient Laminations
Imburgia says the Super Simplex was up and running in the Carol Stream facility by the last week of December, and the company began production on it at the end of January.
Although the laminator has only been in operation a few short months, Imburgia has been impressed with the machine's web width, functionality, and user friendliness. Another key feature that has made the difference on the production floor has been tension control and the adhesive mixing system.
"The tension control the machine offers is very good. You want to have good tension control between your multiple webs, and it does very well with that," says Imburgia.
"As far as the adhesive mixing system, it's easy to set up, and it's very consistent. A laminator, if you don't run it right, is a huge liability because you have multiple substrates, printed materials, and your adhesive.
"But if you know how to run it right, it's a simpler process than printing. And if you have a good piece of equipment, it makes it that much more straightforward."
Imburgia is optimistic on the increased efficiencies and new market opportunities the growing lamination operation will bring to Packaging Personified. "We weren't going to be able to get into new markets without this new equipment focus," he says. "So we went in that direction, and it's been sort of a natural transition for us. Powder drinks…pretty much anything that requires barrier from oxygen, odor, moisture, or oil…we can now enter those markets."
Eco-Efficient Laminations
The purchase of a Nordmeccanica Super Simplex SL laminator, made in November 2009, is in line with Packaging Personified's True Life Cycle (TLC) program, a strategic plan initiated by the company with the goal to be recognized as a leader in the flexible packaging industry with eco-efficient and eco-effective solutions.
The Super Simplex SL laminator is designed to improve efficiency and produce little or no exhaust, thereby considered a more environmentally friendly machine. Other features include shaftless unwinds and rewind, quick job changeover, motors controlled by vector drives, and tension control.
Live Action
Take an interactive tour of Packaging Personified at www.pffc-online.com/video
Supplier Info
Converter Info