Published: April 01, 2008, By By Claudia Hine, Managing Editor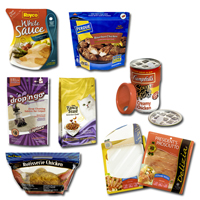 Achievements in packaging can be defined in many ways: functionality, convenience, safety, and sustainability to name a few. To acknowledge outstanding innovation in materials, structure, and applications, the Flexible Packaging Assn., Linthicum, MD, has announced 29 winners in its 2008 Flexible Packaging Achievement Awards competition.
Here is a look at a few of the top awards. For additional information, visit FPA's online Innovation Showcase & Achievement Awards Winners Gallery at www.flexpack.org.
Highest Achievement-Packaging Excellence

CLP Packaging Solutions, Fairfield, NJ, is honored for its Royco Sauce Pouch, a gold award winner that earns the highest achievement award for packaging excellence.

The shaped, retortable pouch is said to protect its contents with outstanding barrier properties, offering a cost-effective alternative to rigid packaging. The pouch reportedly functions beautifully during the heating and serving process, adding to its appeal and convenience.

Highest Achievement-Technical Innovation

In the area of technical innovation, the Ultra Peel Retortable Membrane End earns a gold award for Watson Standard Adhesives, Harwick, PA, and takes the top prize of highest achievement. Ultra Peel membrane ends are the first retortable, peelable membrane ends in the US market and represent significant advancement over existing technology, FPA reports.

The reverse-printed, foil laminate structure is said to have a more even, controlled peel than easy-open rigid ends. The flexible membrane the consumer peels off reportedly is safer and more easily disposable than the sharp-edged alternative and represents a market expansion possibility for flexible/rigid package hybrid designs.

Bourbon by the Pouch

For printing achievement, Alcan Packaging, Chicago, IL, wins a gold award for its Perdue Bourbon Chicken stand-up pouch. Through the use of unique color separations and both process and PMS colors, the image is said to catch consumers' attention by focusing on a compelling visual.

Customer brand recognition, a high quality process image, and a difficult vignette work in tandem to create depth and clarity. Additional graphic elements are incorporated to communicate the functionality of the pouch, which uses Alcan's LaserTear technology for easy, clean, and convenient opening.

Seal it Again Ham

Printpack, Atlanta, GA, is recognized with a gold award for packaging excellence for the Daniele Delizia Presidents Prosciutto package. The package utilizes Printpack's Re-Seal It packaging system, combining proprietary label technology with high-performance barrier films.

The system is said to provide an innovative, easy-to-open and reclosable label for meat and related thermoform packaging applications.

Chicken Little

For its Hot N Handy Rotisserie Pouch, Robbie Mfg., Lenexa, KS, is honored with both a gold award for environmental and sustainability achievement and a silver award for packaging excellence. The pouch is a flexible all-in-one package that provides a built-in-handle for easy carrying, a resealable zipper, and a slim profile for saving leftovers. It is also microwavable and leak resistant.

As compared to rigid containers, the Hot N Handy pouch reportedly uses 92% less fossil fuels and produces 84% less CO2 emissions. It also offers a 66% reduction in solid waste.

Building Up Steam

Pliant Corp., Schaumburg, IL, earns a gold award in technical innovation for its freezable/microwavable Pliant SteamQuick Packaging technology. The package allows frozen foods to be steam cooked in a microwave oven without having to remove the food from the bag. play roulette online for money

In the microwave, the package allows steam to build, cooking the food, and then safely venting near the end of the cook cycle. This innovation is said to give consumers a quick way to uniformly cook foods in an easy-to-handle package.

Feast in Flex-Box

A gold award in printing achievement goes to Nordenia USA, Jackson, MO, for the Nestlé Purina Pet Care-Fancy Feast Gourmet Gold package. By moving to Nordenia's FlexZiBox, Nestlé reportedly achieved an upgraded brand image.

This side-gusseted bag offers convenient features such as resealable tape and protection from infestation and the environment. No secondary container is needed to keep food fresh. High-impact graphics and additional space allow for improved visual communication with the consumer.

Saving Space

North State Flexibles, Greensboro, NC, earns a gold award in environmental and sustainability achievement for the Drop'n Go package, which uses non-volatile water-based adhesives. A single 60-g package replaced the equivalent of 12 one-gallon bottles.

It uses about eight times less warehouse space, consumes eight times less landfill space, and uses less than 50% of the packaging needed for reduction sustainability.
The Judging Panel
Entries in the FPA's Flexible Packaging Achievement Awards competition were judged by Dr. Bruce Harte, Ph.D., Michigan State Univ.; Michael Richmond, Ph.D., Packaging & Technology Integrated Solutions; and Sean Riley, editor, PMT Magazine.