Published: August 06, 2013
ARLINGTON HTS., IL | ITW Muller, a manufacturer of stretch wrap equipment and stretch wrap film, announces the Wrap n' Ship Program, said to provide new customers with up to 20% in savings when purchasing a GW-1200 turntable stretch wrapper or a GW-4100 robotic pallet wrapper with a film commitment. To qualify for the stretch wrapper savings, customers must commit to an eight-pallet minimum annual purchase of the company's GaleWrap oriented film.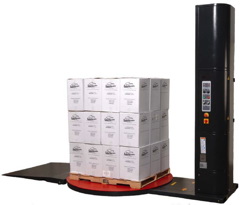 "Hand wrapping pallets is a very common method for securing loads. The program helps new customers incorporate some level of automation at an affordable cost since they are already purchasing film to hand wrap," says Michael Klear, marketing director at ITW Muller.
The GW-1200 turntable pallet wrapper can wrap 20 loads/hr with a 90-in. wrapping height and 65-in. turntable diameter. It features an adjustable wrap pattern and has a 4,400-lb weight capacity.
The GW- 4100 robotic pallet wrapper offers speeds to 300 loads/day and comes standard with a telescoping mast said to allow for easy mobility, accommodating loads up to 91 in. high. Built-in film cutter cuts film at completion of wrap cycles and reportedly minimizes risk of operator injury. In addition, the GW-4100 has an independent top and bottom wrap pattern selection from 1–20 wraps.
This email address is being protected from spambots. You need JavaScript enabled to view it.