Published: December 10, 2012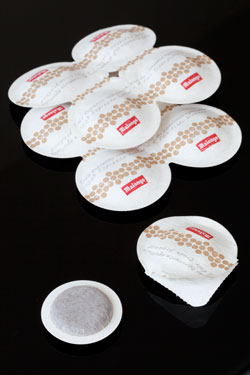 This December, French luxury coffee maker Malongo is introducing a novel way to pack high quality coffee pods using environmentally sustainable and recyclable materials. The new packaging was developed in cooperation with Walki, a producer of technical laminates and packaging materials, and Swedish paper manufacturer Korsnäs, and it could open up new doors for Walki in the future.
The Malongo coffee company was founded in 1934 in Nice, France. Although ground coffee and beans are still Malongo's core business, pod coffee sales have exploded, today constituting 36% of its sales. A disturbing fact so far has been that the pods have been made of plastic. During the past ten years, family-owned Malongo has been working hard to reduce the amount of its packaging and to use mainly recyclable materials.
Walki's task in the development project was demanding. The company was asked to deliver a barrier for the pod frame, and a paper-based packaging material for the individual pods, observing the need of recyclability and the sensitivity of coffee. Korsnäs provided the thermoformable paper for the material, while Walki developed the special coating for it.
High quality packaging materials with a new twist
"Coffee is very difficult to pack, because it creates plenty of gases and you need to keep the aroma sealed in the pod in order to create a perfect cup of coffee," says Marie Barge, sales manager for Walki in France. "We made several trials when developing the product. At the end, we managed to create the special coating for the product, which meets Malongo's needs in terms of sustainability and ensuring the high quality of its coffee product," she says.
The combination chosen for the coffee pods board ring was Walki Pack Bio X, an oxo-biodegradable and non-toxic polymer coating on paper board. The pod is then packed in a single packaging that not only had to be recyclable, but above all, provide a gas, aroma, moisture, and vapor barrier. On top of this, it had to be thermo-formable, heat-sealable, peelable, provide good printability, and be oxo-biodegradable.
Walki is now able to offer its customers an entirely new type of coated paper that is thermo-formable.
This email address is being protected from spambots. You need JavaScript enabled to view it.