Published: March 01, 2007, By By Claudia Hine, Managing Editor
Flexible Packaging
A retort "pouch within a pouch" designed to contain liquid yeast for beer and winemaking wowed judges of the 2007 Flexible Packaging Achievement Awards. Sponsored by the Flexible Packaging Assn., Linthicum, MD, the awards ceremony was held February 28 in Aventura, FL, at FPA's annual meeting.
Converted for Wyeast Laboratories by Ampac Flexibles, Cincinnati, OH, the "Smack Pack" won the Highest Achievement Award for Packaging Excellence, a Gold Award for Packaging Excellence, and a Gold Award for Technical Innovation. Wow indeed.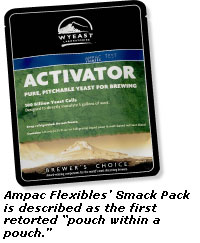 Retort Innovation
To activate the yeast in the Smack Pack, the inner package (containing a liquid malt nutrient base) is guided externally to the corner of the sealed retort pouch. This area is placed in the palm of one hand and firmly smacked with the other hand, which breaks the inner packet and allows the contents to interact and start metabolizing.

Ampac Flexibles also received a Silver Award for Technical Innovation for the McCormick Finishing Sauce stand-up pouch, which is both retortable and microwavable. The converter developed a structure without a foil layer that could withstand retort temperatures of 250 deg F. An additional heat-sealed, "cool grips" feature enables easy handling after microwaving. (For more information, see "Pouch Power.")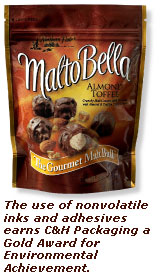 Good for the Globe
Can you look good and save the planet? Yes, says FPA, which reports the Malto Bello Gourmet Malt Balls package provides stunning graphics using water-based ink and adhesive that eliminate odors and retained solvents while using more renewable resources. C&H Packaging Co., Merrill, WI, earned a Gold Award for Environmental Achievement for converting this package.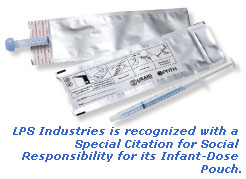 This year the judges also voted a Special Citation for Social Responsibility to LPS Industries, Moonachie, NJ, for its Nevirapine Infant-Dose Pouch for PATH, an international nonprofit organization committed to improving health around the world. This tamper-evident pouch offers improved delivery of a single dose of Nevirapine to reduce mother-to-child transmission of the HIV virus in developing countries. This is challenging due to the high number of births outside of the healthcare system.

Judges for the 2007 competition included Robert Heitzman, publisher emeritus, Packaging Digest; James Peters, director of education, Inst. of Packaging Professionals; and Michael Richmond, PhD, Packaging & Technology Integrated Solutions. Of the 76 entries received, judges chose 19 packages to receive a total of 21 awards. For more information visit flexpack.org.
---
---
Gold Award Winners
FPA commends flex-pack converters and suppliers for combining improvements in manufacturing, materials, graphics, and printing to produce outstanding packages. The following converters earn Gold Awards in the competition:



Packaging Excellence
CLP Industries, Fairfield, NJ, uses shaped pouch technology to maintain the distinctive profile of Buitoni Pasta sauces on the supermarket shelf during the switch from jars to stand-up pouches.



Curwood Inc., Oshkosh, WI, created the Express Tote (marketed as the Miller Lite Chill Bag) to hold and transport 18 cans of beer with ice.



Printing Achievement
Genpak, Aurora, ON, Canada, applies Opaltone process printing on matte polypropylene to create a package with a natural organic look and shelf appeal for New York Style Lightly Salted Organic Pita Chips.
Printing Achievement
American Packaging Corp., Story City, IA, utilizes digitally imaged flexo plates and high-strength ink to give Hershey the superior graphics reproduction necessary to capture impulse purchases of Mounds candy.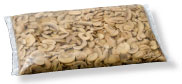 Technical Innovation
Cryovac Food Packaging, Duncan, SC, created Flavour Mark shelf-stable pouches with a low profile, so packaged food endures less heat abuse during the retort process.


---