Published: January 01, 2007, By By Stanley Sacharow The Packaging Group
Retort Pouch
While the steel can market is flat, retort pouches are scheduled to grow at least 13% annually through 2007, says Jeff Schuetz, VP global technology consumer packaging at Sonoco Products Co., Hartsville, SC.
Schuetz, who presented the keynote address at the Retort Pouch 2006 Conference in Atlantic City, NJ, reports a consumer preference study conducted by Sonoco found that consumers prefer the retort pouch over other package forms for ready-to-eat soup, rice, and precooked chicken breast.
Technology trends in this market include one- or two-ply laminates, lead-time reduction, new convenience devices, and high-speed form/fill systems. Schuetz says, "Consumer and market trends supported by technology advances will continue to drive plastic packaging growth in the retort segment."
More than 150 attendees participated in the three-day conference, which was held at the Sands Hotel and included instructional courses and exhibitors from such diverse nations as China, South Korea, Germany, and Italy.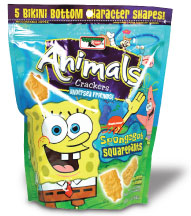 Design Considerations
The retort pouch offers package designers unique opportunities to create brand awareness. To take advantage of these opportunities, Marcus Hewitt, managing partner and chief creative officer at Sterling Brands, New York, NY, advocates the following design recommendations:
Make use of that poster-sized space
Do what other structures can't
Make one statement—not ten
Remember that quality counts
Use less colors for more impact
Create an experience
Be bold
Keep it simple
The pouch shown at left is a good example of a package design that meets these requirements.
Focus on New Products
New product categories remain a vast market for the retort pouch. The recent introduction of "wet gravies" by McCormick & Co. represents a brand new category in the US for the retort pouch (see PFFC June 2006, p52). Typically, these products are in glass jars.
Converted by Ampac Flexibles—Converted Products, the pouches [polyester (PET)/oriented nylon (ONY)/polypropylene (PP)] are both retortable and microwavable. But the US market generally is not a high-volume wet gravy market as is France, Germany, and Italy. Whether this new package format will influence American eating habits is questionable. Dr. Magdy Hefnawy, president of Ag-Tech Intl., Greeneville, TN, and a seasoned retort-pouch pro, categorizes the next food categories to be introduced in retort pouches as soups/sauces, sauces/gravies containing particulates, vegetables/fruits, bakery, meat/poultry, and seafood.
According to Hefnawy—who along with Dennis Carespodi, Oracle Packaging, Winston-Salem, NC, led the tutorial courses—ready-to-eat seafood and pasta side dishes are on the verge of widespread retort pouch use.
Laboratory work on surface-printing retort pouch structures using electron beam (EB)-cured inks has been done by Dr. Thomas Hartmann, Rutgers Univ., Piscataway, NJ. The typical construction is overprint varnish/ink/PET/adhesive/metallized PET/adh/PP.
This "green" technology development is solventless with no volatile organic compounds and has an extremely fast cure speed. The specially developed inks are mostly acrylate-based formulations comprising EB-curable oligomers, pre-polymers, and polymers. Lithotype Co., South San Francisco, CA, produced the first commercial application with supporting R&D by Hartmann's labs at Rutgers.
While EB-curable, surface-printed structures still are not commercially widespread, Josie Rosen, project director, Sun Chemical, Parsippany, NJ, reports the company has run special tests on its new retort ink systems. Rosen notes current technology is a high-performance, mono-pigmented, finished laminating ink system developed for printing on treated PET films. These inks will run flexography or gravure and are suitable for both foil and clear retort structures.
On the converting side, Dr. Giancarlo Caimmi, commercial director, Nordmeccanica Group, Piacenza, Italy, says equipment is available to produce high quality three-, four-, and five-ply retort laminates on one press. Caimmi reports there are several high-tech adhesive options to accomplish this conversion.
The Institutional Market
In the emerging institutional retort pouch market, Alan Koerber, Lambert Street Packaging, San Antonio, TX, and Bud Strassheim, Softcan Technology, Highland Village, TX, both stress that while retort pouches never will replace conventional metal cans, they will erode refrigerated and frozen flexible packaging markets.
Foodservice pouches are common for products such as mustard, catsup, milk, tomato paste, olives, and sauces. Strassheim noted that possible pouch sizes range from 1–6 lbs. With users such as McDonald's mandating that no metal containers be in backrooms, there now seems to be a major emphasis on institutional-size pouch development.
The US Dept. of Defense (DOD) announced it has approved the institutional retort pouch as a No. 10 can replacement, which may lead to even greater foodservice penetration. The pouch construction is PET/ONY/aluminum foil/ONY/PP.
Developed by Rutgers Univ. and Natick Labs, Natick, MA, and packed by co-packer The Wornick Co., Cincinnati, OH, each pouch holds rations for about 50 military personnel.
For those firms interested in introducing products in the retort pouch, it is often a challenge to locate co-packers interested in small runs. Dr. Bill Franke, Center for Advanced Food Technology (CAFT) at Rutgers Univ., says the Rutgers facility is a venue for retort pouch testing. Located in Piscataway, it operates a technology transfer program for both the DOD and business interests and provides manufacturing assistance in retort pouch development.
The facility has served as an incubator for food processors such as Thomas Foods, Eurocut, Premier Kosher Foods, and Good Dog Foods. Its "Combat Ration" and "Coranet II" programs are responsible for many MRE (meals ready to eat) developments. The facility also contains a nondestructive seal strength tester, residual gas tester, and a full-service retort pouch analysis program. Interested readers should contact Franke at CAFT at 732/932-1766 for full details.
---
---
Retort Pouch Conference Makes European Debut
The Packaging Group, sponsors of Retort-Pouch 2006, announces its first European retort pouch conference will be held in Koln, Germany, in April. The conference will supplement a full-length retort pouch event in the US.

Stan Sacharow, executive director of the Packaging Group, notes, "In the past three years, more than 1,000 attendees have participated in our retort pouch events. We plan to develop this emerging market by organizing both state-of-the-art educational courses and a full conference."

Full proceedings of Retort-Pouch 2006 (300+ pages and 20 talks) are available for $399 (US) plus shipping and handling. This includes course notes from two pre-conference courses. Contact The Packaging Group, Milltown, NJ; 732/636-0885; This email address is being protected from spambots. You need JavaScript enabled to view it.; packaginggroup.com.
---
---
Stanley Sacharow has been in the flexible packaging industry for more than 35 years. His company, The Packaging Group, is an organizer of targeted conferences and a consultant to the international packaging/converting industry. Stan is the author of PFFC's "Package Converting" column. Contact him at 732/636-0885; This email address is being protected from spambots. You need JavaScript enabled to view it..
---