Published: June 30, 2006, By Claudia Hine, Managing Editor
Paperboard Packaging
In its 56th annual awards competition, the National Paperbox Assn., Alexandria, VA, gave converters a showcase for distinctive paperboard packaging. In addition to its traditional folding carton and rigid box categories, NPA created a new award, best combination package, to highlight how one unique package can incorporate both technologies. Best of show winners were announced at the association's 2006 annual meeting, held in Canada at the Loews LeConcorde in Quebec City.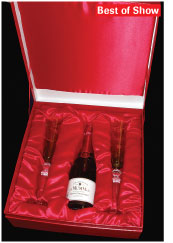 Rigid Box
A luxurious gift box of Baccarat champagne packaged with two crystal flutes earns Paul T. Freund Corp., Rigid Box Div., Palmyra, NY, best of show honors in the rigid box category. With outstanding features such as pinch-pleated red satin over precision-cut foam inserts that protect its contents, the 0.080 white vat board base, lid, and shoulder-hinged box creates an extremely strong yet eloquent presentation that upholds the Baccarat name, which stands for superior traditional values. The sophisticated color and hot-stamped logo demand attention.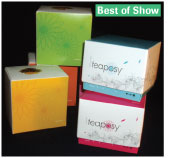 Folding Carton
Paul T. Freund's Folding Carton Div. takes best of show in the folding carton category for Maxine GE's Teaposy, designed to provide maximum product visibility and market exposure for a family of teas. A uniform, subtle appearance contributes to the sophisticated, upscale gift look. The carton's striking appeal and distinctive colors are created using a four-color print process with satin aqueous coating on 0.016 solid bleached sulfate. Innovative graphics and eye-catching design help the family of packages stand out in the crowded retail food-packaging environment.
Combination
Utah Paperbox Co., Salt Lake City, wins NPA's first best of show award for a combination package, incorporating rigid box and folding carton technologies. Judges call the Black Apron entry—a coffee package for Starbucks—a "work of art" that defines the coffee inside and provides great shelf presentation. The rigid box has the stability to protect the product, while the folding carton wrap and laser-cut sleeve give it a high-end look and easy product accessibility. The decoration process includes two colors and laser die-cut from Laser Excel, Santa Rosa, CA. Materials include 0.022 black Pegasus and 0.038 black vat-dyed chip with black paper.
NPA also bestowed 29 Gold and 107 Excellence awards. For a complete list of winners, visit NPA at paperbox.org.
---