Published: May 31, 2006, By Edited by Claudia Hine, Managing Editor
Retort Pouch
McCormick & Co. has launched a line of sauces in microwaveable, retortable stand-up pouches from Ampac Flexibles—Converted Products, a unit of Ampac Packaging. The introduction, called "Finishing Sauce," is thought to be the first time sauces are being marketed in a retort pouch in the US. "There are no other wet gravies in flexible pouches [in the United States]," explains Stefanie Woodhouse, product manager at McCormick. "Typically those types of products are in glass jars."
In order for the stand-up pouches to be both retortable and microwavable, Ampac Flexibles had to develop a structure without a foil layer that also could withstand the temperature of the retort (250 deg F). The end result is an adhesive lamination that is (outer to inner layer) reverse printed, high-barrier polyester/oriented nylon/polypropylene.
"Ampac's technical expertise and manufacturing capability allows it to produce a structure that most converters cannot," says Craig Rutman, director of sales at Ampac Flexibles. "Converting and printing of these sophisticated, high-barrier structures can be prone to flex cracking [which degrades barrier properties] without the level of technical 'know how' that Ampac possesses."
Ampac Packaging has nine manufacturing centers in North America and Asia and employs approximately 850 people. Revenues are in excess of $200 million annually. In addition to products offered by Ampac Flexibles, the company supplies retail specialty shopping bags and disposable, tamper-evident security bags.
"Cool" Heat Seals
According to Woodhouse, "We wanted to offer consumers a package that is easy to use and does not require refrigeration before it is opened. We also wanted the package to have a shelf life of at least 12 months."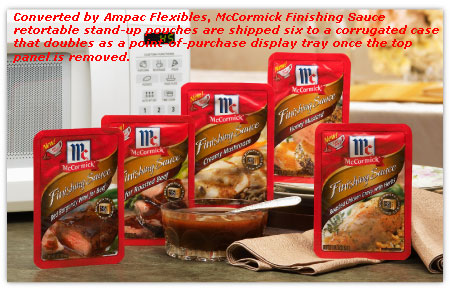 To facilitate the easy-to-use aspect, Ampac developed "cool grip" heat seals on either side of the pouch. The grips are located on opposite edges of the upper half of the package and create a way for consumers to handle the package after microwaving. In the shape of a vertical half oval, the heat seals prevent the hot, microwaved sauce from coming in contact with that part of the structure—making it cool to the touch.
"Being able to properly execute the cool grips was another area in which Ampac had to rely on its expertise," Rutman notes. "In order for the structure to function properly, the heat seals needed to be created within a very tight operating window. Too much pressure can create a weak structural area."
Additionally, Ampac needed to make sure the heat seals were wide enough to provide an adequate grip surface but not too wide as to interfere with the opening needed to efficiently fill/seal the pouches. https://www.joker123official.com
Although the front and back panels are printed with product, usage, and ingredient information, the bottom gusset intentionally is unprinted so consumers can view the sauce.
"Clear structures can often be challenging to print," Rutman explains. "For this structure we used special inks that could withstand retort temperatures. We were also going after opaque coverage on both the front and back panels to execute the best possible graphics for McCormick." To achieve the high-definition printing, the pouches are produced on an eight-color Toshiba Sectional Drive rotogravure press.
"The artwork and pouch portray an upscale image," Woodhouse says. "The product offers consumers who are cooking smaller meals, or perhaps heating leftovers, a way to take preparation to a higher level." Prior to microwaving, the pouch is cut diagonally across a score line printed on the back panel. This enables venting during heating and also facilitates pouring. Leftover sauce can be refrigerated and used for a subsequent meal.
---
CONVERTER INFO:
Ampac Flexibles—Converted Products
12025 Tricon Road
Cincinnati, OH 45246
512/671-1777; ampaconline.com

SUPPLIER INFO:
Toshiba Machine Co.—PFFC-ASAP 325. toshiba-machine.co.jp
---