Published: December 01, 2002, By Teresa Koltzenburg, Senior Editor
Pliant USA's Flexible Packaging Div. takes efficiency to new heights. A recent PFFC visit provided a look at its new PCMC press... and
An Uplifting Experience...
There's something about the sight of a snow-capped mountain that makes you feel free. Free, like you want to play-hooky-from-work free. Which makes it all the more incredible that Jim Merrill, Jim Chester, and the 180-or-so other employees at Pliant's converting plant in Kent, WA (which sits north of majestic Mt. Rainier), not only make it in every day but make it in and then produce some of the best package printing in the US.
Of course they have a little help from their range of presses, the latest of which is a Paper Converting Machinery Co. (PCMC) Infiniti, a 50-in.-wide flexo press. The gearless Infiniti was installed in 2001, and plant manager Jim Merrill says he knows Pliant made the right choice with it. He touts its "unmovable" registration and its user-friendly sleeve-handling system.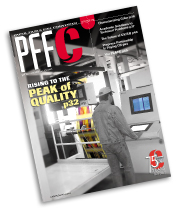 But, he says, the Infiniti's biggest asset — for this 195,000-sq-ft operation that specializes in high-end, short-run specialty jobs — is its makeready time. "Because of the nature of most of our work, makeready is a huge deal to us," he says.
Merrill and production manager Chester agree press operators can have an eight-color job ready to print on the Infiniti in about an hour and a half. "We're averaging 12 to 15 minutes per cylinder, depending on the complexity," adds Chester. "We've standardized how we run things, so that's helped cut down on some of the time as well."
The Infiniti is just one of many facets of this extraordinary Pliant operation. The facility includes a unique, on-site prepress setup (including platemaking capability with a DuPont Cyrel/Barco CDI Spark); a Hudson Sharp Inno-Lok machine; extraordinary filmmaking capacity; a progressive focus on employee safety; and a Six Sigma program that has helped this Kent-based operation garner consistent Flexographic Technical Assn.(FTA) recognition — not to mention an enviable rep — for its impeccable printing.
Printing Elevation
I didn't actually see Mt. Rainier until I left the Kent plant. As I chatted with Merrill and Chester before my departure, I told them I hadn't seen it yet; it had been too cloudy. Merrill told me it probably was clear enough by then, about ten o'clock on a Tuesday morning. He said, "Look to the south." So I did. Whoa!
That's when it crossed my mind that the site of that incredible mountain every morning may not necessarily be a motivator to spend a day inside, working. Then I thought: "But if I worked there, it wouldn't be so bad."
Merrill admits that operating in the Seattle-Kent area doesn't always provide a strong incentive for unbridled dedication to production. And he should know — from the West Coast to New York State back to the West Coast — he's worked all over the country. "The mentality is different out here," he says. "These people are motivated by different things. I mean, there's so much to do — they are motivated by time off. You have to learn what motivates folks. It's a different lifestyle."
It seems, however, this Pliant converting plant — one of five converting plants (in Macedon, NY; in Langley, B.C., Canada; and two in Mexico City, Mexico) in the 26-plant corporation — has no problem with motivation. This operation, known as the company's Flexible Packaging Div., produces award-winning printing and features an impressive array of services.
Merrill attributes its success partly to its uniquely integrated setup. From making film to making flexo plates, Kent can take a product from inception to finished state.
Among the unique components is the operation's ability to digitally image its own flexo plates with the DuPont Cyrel/Barco CDI Spark. The Kent facility can produce a job with a totally digital workflow. (See PFFC, February 2002, p36, for more on the CDI Spark.)
But even more unique is its facilities management arrangement with its prepress vendor Vertis Inc.
Although Vertis is based in Irving, TX, Pliant has contracted with the company for the last three years for on-site prepress in Kent. "It was a learning curve for both of us really, but it works pretty well now. It runs just like our normal art department would, but we pay for the services. So everything is done on-site, other than color work. The scanning and that type of stuff is done in Irving, and then it's sent up there through a T-1 line," explains Merrill. "I don't know of any other flexible packaging plant that does that."
And then there's Pliant's printing. The Kent plant operates several flexo presses (see equipment line-up), its most recent addition being the PCMC Infiniti. Installed in 2001, Merrill says of PCMC's installation: "From an engineering standpoint, it was among the smoothest implementations I've ever seen." He reports PCMC did a great job of training, too.
Chester adds the Infiniti has afforded Kent a great deal of flexibility. "One day last week," he told me during my visit, "we ran 17 jobs. Now that's a really good day. But that's the flexibility [the Infiniti] gives us if we schedule right and the jobs flow together. It's a very, very efficient press."
Higher Service
Pliant's high level of service also extends to its employees. The corporation as a whole has an extraordinary focus on safety.
The day before I visited Pliant in Kent, I visited Pliant in Langley, just outside of Vancouver, B.C., Canada. (Be sure to check out that feature, which will appear in 2003). Both Ralph Schnitzer, plant manager of Langley, and Merrill touted Pliant's safety initiatives, which are based on a DuPont auditing system.
"DuPont has been on the cutting-edge in safety forever," chimes in Chester. Formerly employed in the chemical industry — a sector that obviously needs tough safety standards — Chester says DuPont's safety-auditing system is a "benchmark for the folks in that industry."
One way Kent implements safety is through its unique practice of putting windows on all of its equipment as well as providing operators with easy access to the safety-audit program.
"They can do their own audits and put the data into the system," Merrill explains.
This focus on safety has led Kent to admirable safety performance, something that makes Merrill particularly proud.
"Actually, this Friday will be a year without a lost-time injury," Merrill told me that Tuesday. "We've done that through our relationship with DuPont. We utilized them for their safety training and service."
The Peak of Quality
So how does this one Pliant plant juggle so many things — innovative prepress service; exceptional printing; specialty customer service; commodity bag production; impressive safety practices; and its own film making — with a workforce that openly pushes for less work and more play — and still stay in business?
Well, there are a few things that were obvious to me as an outside observer: Merrill for one. I first met him when I covered a Huntsman Packaging plant he was managing in Macedon, NY (December 2000, p65). Now a Pliant facility too, it has gone on to marked success. Merrill's considerable industry knowledge and experience, straight talk, and friendly disposition is as impressive now as it was then.
There's also Jim Chester, hand-picked by Merrill, who took time out of his busy morning to show me around the Kent plant. His knowledge of the operation's production, as well as his rapport with his operators, I believe, contribute to this plant's prosperity.
And, oh yeah, there's the Six Sigma thing.
Actually, Merrill and Chester both couldn't say enough good things about Six Sigma and their operation's utilization of it in its flexible packaging quest for success.
"Six Sigma is a methodology of how you get things done," says Merrill. Chester adds that using Six Sigma in a manufacturing environment "takes you where you want to be in the most efficient way that you can go. It forces you to map out your process," he says, "and then look at it as a whole to find out where improvements can be made." In essence, it takes your product to a point at which a customer will almost never see a defect. (It is an imperfect world, after all).
Heading up the Pliant Six Sigma effort in Kent is Chris Evans, the "master blackbelt." He, in turn, trains other Pliant employees. Merrill says all the managers and supervisors at Kent have taken greenbelt training, and some others, Chester, for instance, also are going through blackbelt training.
According to Merrill, it was the Kent plant that started Six Sigma at Pliant Corp.; the company as a whole adopted it about two-and-a-half years ago. "It struck with me because I had done a lot of the quality stuff, the TQMs, that type of thing," states Merrill. "That was too internally focused, whereas Six Sigma includes the entire chain. Six Sigma begins with the end-product in mind; it begins with [the question]: 'What does the customer need?'"
Merrill also reports the Kent facility is climbing toward yet higher quality peaks; he says the plant likely will achieve its ISO certification sometime next year, and it's also on its way to becoming an OSHA Voluntary Protection Program (VPP) "Star" level facility, the Occupational Safety & Health Administration's "premier recognition program for worksites that do an excellent job of protecting their employees," according to OSHA's Web site (osha.gov). "Our Macedon plant is a 'star' facility," Merrill explains. "In fact, that's the only facility that's ever won two VPP awards. Our goal is also to be a VPP-Star facility. Hopefully, after this year, it will be pretty easy for us to do that."
Even with the draw of Rainier (and all of the other outdoor stuff to do in this area of the Pacific Northwest), it's easy to see why Pliant's Kent employees are dedicated enough to skip the hiking-, biking-, boating-, floating-, whaling-, sailing-type of activities (at least five days a week). Working in such a unique place must give one a heady and satisfying sense of accomplishment. Merrill sums it up best: "We have the holy trinity here — safety, quality, and efficiency. We won't allow sacrifices in any of them." Can't get much higher than that.
---
Taking It to the Top
Pliant's printing is not only appreciated by its customers. The Kent operation's flexo work has been recognized three years in a row by the Flexographic Technical Association (FTA).
This year, FTA bestowed the Kent plant with its 'Excellence in Flexography 2002' award. Its flexo printing on this Pictsweet Frozen Foods' 'Seasoning Blend' package earned Pliant a bronze award.
And in 2001, the plant took FTA's "Best in Show" award for its Dark Sweet Pitted Cherries package (not shown).
Anilox rolls, supplied by Pamarco and Praxair, are said to have helped Pliant achieve such excellence. FTA also cited the "exceptional tonal and color variations, sharp highlights, and striking details achieved through Pliant's direct-to-plate imaging process."
---
PLIANT FLEX PACK DIV.
Film
Sano (Black Clawson) extruders
Printing
PCMC presses: Vision flexo press
Infiniti 8-color, 50 in.-wide, gearless
W&H: multiple presses, 6-8 colors
Kidder flexo press
Anilox rolls: Pamarco and Praxair
Prepress
Vertis Inc.
Barco Graphics/DuPont Cyrel Digital Imager (CDI Spark)
Agfa Avantra large-format imagesetter
DuPont Cyrel platemakers
Bag Machines
FMC (Hudson-Sharp)
Sheldahl
Unique Closure Capability
Hudson Sharp Inno-Lok
Inspection
BST Pro Mark Genius
AVT inspection systems
Inks
Sun Chemical and Coates, div. of Sun Chemical (for process inks)
---
CONVERTER INFO
Pliant Corp. Flexible Packaging Div.
8039 S. 192nd St., Kent WA;
253/872-2253 pliantcorp.com
---
SUPPLIER INFO
Paper Converting Machine Co. (PCMC), Green Bay, WI; 920/491-6637; pcmc.com
CONVERTER INFO

Windmoeller & Hoelscher Corp., Lincoln, RI; 401/333-2770; whcorp.com
Kidder Inc., Agawam, MA; 413/786-8692; kidderpress.com
Hudson-Sharp Machine Co., Green Bay, WI; 920/494-4571; hudsonsharp.com
Esko-Graphics (formerly Barco), Vandalia, OH; 937/454-1721; esko-graphics.com
DuPont Cyrel, Wilmington, DE; 800/345-9999; dupont.com/cyrel
Agfa Corp., Wilmington, MA 01887; 978/658-5600; agfa.com
Black Clawson, Fulton, NY; 315/598-7121; blkclawson.com
Sheldahl Inc., Northfield, MN; 507/663-8000; sheldahl.com
BST Pro Mark, Elmhurst, IL; 630/833-9900; bstpromark.com
Advanced Vision Technology (AVT), Hod Hasharon, Israel; +972 9 7614444; avt-inc.com
Pamarco Global Graphics, Roselle, NJ; 908/241-1200; pamarcoglobal.com
Praxair, Danbury, CT; 716/879-4077; praxair.com
Sun Chemical, Ft. Lee, NJ; 201/224-4600; sunchemical.com
---
CONTROLLING WASTE
Pliant Corp., South Deerfield, MA, a blown film production operation, recently upgraded the controller technology on a couple of its three-layer lines. "[These lines] had five heat/cool zones per extruder barrel and more than 30 temperature-control zones overall, which were being controlled by an antiquated analog unit," says the company.
A local distributor, FM Keefe Co., Springfield, MA, steered Pliant toward a Watlow PPC-2000 controller. "Having serviced this facility as an engineering resource and systems integrator, FM Keefe's technical understanding of Pliant's processors and Watlow's products were vital to the customization and implementation of the PPC-2000 controller," reports the manufacturer. best python editors
The controller reportedly provides flexibility with easy-to-set-up multi-loop process and programmable logic control in "one complete package."
Since implementing the upgrade, says the company, "There has been zero downtime as a result of the control system and a reduction in overall downtime." Because the PPC-2000 can monitor raw material usage, percent regrind, and/or additives to set the color mix using load cells, it could serve as a waste-minimizing tool, helping to optimize resin usage for each production run.
Says BJ Gloclowski, optimization manager at Pliant, "Remote screens enable us to monitor the line [in order to] collect and view historical data to identify trends and make adjustments. This wasn't available in our previous system."
Supplier Information
Watlow Electric Mfg. Co., St. Louis, MO; 800/4WATLOW; 314/878-4600; watlow.com
FM Keefe Co., Springfield, MA; 413/781-0530; fmkeefe.com
---