Published: August 31, 2005, By Yolanda Simonsis, Associate Publisher/Editor
Solventess Laination
It's tough to find a business formula that will yield short runs, import prices, and quick deliveries for global customers. President Harley Frank and chairman H. Alan (Bud) Frank of Admiral Packaging (formerly Union Industries) believe they've found it. It's also giving the firm a competitive edge in flexible packaging applications plus an opportunity to expand into a non-packaging niche. Contributing to these achievements is a new solventless laminator.
Admiral Packaging started in the late 1800s as Union Paper & Stationery Co. In the 1950s, Union invested in converting equipment and entered the plastics era. Soon after, printing capacity was added. The company then formed a direct mail, product sampling, and promotion division called Admiral Packaging.
"The Admiral Packaging name describes our entire flexible packaging operation, better communicates our company as a leader in the flexible packaging industry, and provides a stronger platform for growth," explains Harley Frank, the fourth generation to lead the family business.
Today the firm occupies more than 220,000 sq ft on five acres in Providence, RI. Frank says his business formula combines increased production and quality with lean manufacturing. The Nordmeccanica 60-in. Super Duplex Compact SL solventless laminator can be credited for generating a big increase in the part of the formula focusing on throughput and quality. Said to incorporate breakthrough, patented engineering technology, the laminator is capable of speeds to 2,000 fpm.
Frank observes, "Our competition in flexible packaging is worldwide. If anyone says their competition is domestic, they're wrong. People are comparing prices and sources from everywhere. When I started in the business in the '80s, people were importing products and packaging them. Now people are importing products that are already packaged, labeled, and ready to go. To be competitive, you need to continually reduce costs and increase production. Our Nordmeccanica Super Duplex Compact SL will allow us to lower our costs for our customers by increasing throughput."
Admiral caters to regional and national customers. "The Fortune 500 converters can't provide these customers the service and flexibility in scheduling that we can," he says.
For example, Admiral is a significant player in the seafood market and competes mainly with rotogravure from the Orient. Notes Frank, "Our flexo is very close to their gravure, but we have the ability to supply both. Having partnered with an off-shore producer, we're more competitive, and we're able to offer both."
He adds, "We can give a customer an imported price, but they'll have to take an imported delivery. It will take longer, but if they need to get to market in three weeks, we'll have the ability [after solventless laminating] to do it here flexo and print an awesome product." He admits, "We're taking a unique position. Sometimes you don't want to beat the competition, you're better off joining them!"
Same Shifts, More Product
The Nordmeccanica solventless laminator has allowed Admiral to add a new product line without having to add shifts. Franks says, "We're getting into military laminations for protective wear, equipment, electronics, real diverse-type industries. And we've been producing a substantial quantity on a toll basis, representing a fairly significant market for us. Essentially we have the ability and the capacity with the three shifts to take on new markets. This allows us to service more industrial and non-traditional flexible markets."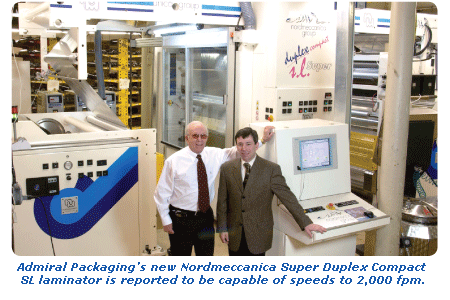 Other features of the laminator include an Enercon corona treater on the unwind, flying splice turrets (during changeovers, Frank facetiously admits having to "slow down" to 1,600 fpm), and a closed-loop chilling system that accommodates the problems associated with using city water. Standard equipment includes Siemens tension control and AC vector drives that require no maintenance. Admiral uses a Henkel Liofol 100% solids polyurethane adhesive that "works really well on a wide range of materials." Installation, says Frank, "was very smooth. We were running good product within three days. And we took only two or three days of training."
Admiral has two eight-color Windmoeller & Hoelscher presses (32 in. and 52 in.) with Advanced Vision Technology defect detection. Frank says the presses "give us a tremendous amount of versatility to do both short and long runs. So it really helps us acquire business initially on the short runs and then [we can] move them over to a wider press and do it very competitively."
Other capabilities include a laboratory facility for research and development; a computerized DuPont Cyrel photopolymer system; a mounting/proofing department; Atlas, Dusenbery, and Stanford slitters; sideweld bag machines from FMC (now Hudson-Sharp), Ro-An, and Sheldahl (now serviced by Battenfeld Gloucester); and a Ro-An stand-up pouch machine with zipper attachment capabilities.
Lean manufacturing principles have contributed to Admiral's competitive advantage. Customers requiring domestic and imported product can get both. Frank believes Admiral Packaging "creates a real advantage…by allowing customers to single source. We'll control all the artwork along with our in-house platemaking and all the manufacturing and prepress specifications. This provides our customers with a dependable domestic source and gives them what they want, including quality and just-in-time delivery."
As Harley Frank says, "The flexible packaging market, with so much consolidation, has actually enhanced our position. Our company comprises a variety of capabilities, built on a philosophy of buying the best equipment coupled with outstanding, well-trained, and dedicated people. We're going to give our customers a great product the first time and deliver it when we say we're going to deliver it."
---
---
CONVERTING INFO:
Admiral Packaging Inc.
10 Admiral St.
Providence, RI 02908
401/274-7000; admiralpkg.com

SUPPLIER INFO:
Nordmeccanica Group—nordmeccanica.com
Enercon Industries Corp—enerconind.com
Siemens—siemens.com
Liofol, a div. of Henkel—liofol.us
Windmoeller & Hoelscher—whcorp.com
Advanced Vision Technology—avt-inc.com
DuPont Cyrel—cyrel.duont.com
Atlas/Bobst Group—bobstgroup.com
Dusenbery—dusenbery.com
Stanford Products—stanfordproductsllc.com
Hudson-Sharp Machine Co. —hudsonsharp.com
Ro-An Industries Corp. —roan.com
Battenfeld Gloucester—bge.battenfeld.com
---