Published: July 31, 2005, By Edward Boyle, Contributing Editor
Pouch Laminates
Would you drink water out of a pouch? Until recently, that question was purely hypothetical since, well…the technology to do so hadn't been developed yet.
But CLP Industries, an Israel-based converter of flexible packaging and retortable pouches, has begun marketing a laminate pouch that offers consumers portability and convenience when transporting one of life's basic necessities. (Sony already has taken care of the music and the DVDs!) And the company obviously feels there's a big market for it.
"Nobody thought bottled water would be a salable product," notes Leslie Gurland, manager of US operations for CLP and its sister company, LogoTech, a Fairfield, NJ-based label converter. "Who thought the consumer would buy bottled water? As far as innovation, we're always looking for what the next trend will be. Our company hasn't done a water pouch before, but we're finding a need."
In spite of the pouch's many advantages over the PET bottle, including being lighter in weight, easier to carry and store, etc., Gurland says the biggest obstacle to marketing a water pouch successfully was developing one that wouldn't alter the water's taste. Nearly four years of product development overcame the issue, says Gurland.
CLP notes one of the biggest advantages of the water pouch is greatly reduced waste compared to PET bottles. They also are less expensive to produce and literally more flexible to transport because of their less rigid structure.
Available in either roll or pouch form, clear, opaque or slightly toned, the specially developed laminate is "taste neutral" and also maintains the optical clarity of blown polyethylene bottles. A spouted version of the pouch allows refilling up to 1 liter of water, making it convenient for hiking and other outdoor activities without having to carry an empty bottle after the contents are consumed.
Marketing Challenges Ahead
Gurland notes that in spite of the water pouches' inherent advantages over PET bottles, effective marketing will be crucial to its success, since consumers simply are more familiar and therefore more comfortable using cans and bottles rather than bags and pouches to store food and beverages.
"I look at it two ways," says Gurland. "The first is for children. There is a big concern over nutrition. Schools are looking at banning certain drinks that come with their snacks, so water is a natural alternative. If you can put a fun graphic on it, that only adds to the appeal. As far as adults, it's going to require an education." Gurland says that food products have had varying degrees of success in the conversion to the retort market.
Del Monte, with its StarKist brand, did an exceptional job marketing tuna in pouches via an extensive television advertising campaign, according to Gurland, while Zatarain's had limited initial success in selling its specialty brands of prepared rice products in retortable pouches. Once Zatarain's developed a television advertising campaign touting the convenience and quality of microwave rice, sales increased.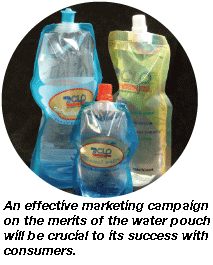 "We were at a conference last year and one of the people said, 'If you don't market your product correctly and the consumer doesn't understand it, they're not going to buy it,'" notes Gurland. "So we could all be talking about 'retort, retort, retort,' but nothing's going to happen until the brand is promoted. And Zatarain's is a perfect example. I think the same thing can happen with water for adults."
Pouches and Much More
CLP Industries is a leading producer of flexible packaging for a wide range of products and industries, including food, pet food, cosmetics, pharmaceuticals, diagnostic equipment, agriculture, hygiene, and detergents for some of the world's largest companies.
Food and beverage packaging is by far the company's largest market, accounting for 87% of volume sales, with cosmetics and diagnostics second at 13%.
Beverage packaging should increase along with the popularity of "pouched" juices and water.
Another of CLP's many unique product developments is a motor oil pouch equipped with a pouring spout filament. As with other flexible packaging, the pouch is easy to dispose of and contributes 70% less plastic to the waste stream compared to an empty rigid plastic container.
The pouch contains 950 ml of motor oil and stands 265 mm tall. It is currently in commercial use in Mexico and Central America.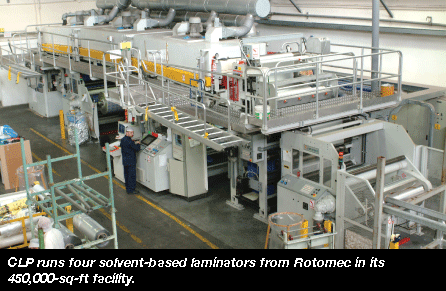 CLP's 450,000-sq-ft converting facility in Israel houses a range of printing and converting equipment, including two eight-color, 50-in. Cerutti gravure presses (the most recent installed just last year), and two other older gravure presses: an eight-color, 50-in. Uteco press and an eight-color, 15-in. Chesnut in-line laminator. In addition, the company operates two eight-color, 50-in. Uteco flexo presses with rotogravure conversion units in-line for cold seal. PLAYMODEL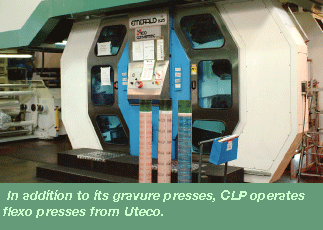 Other converting equipment includes six Titan and Atlas slitters/rewinders; a Davis-Standard Egan extrusion coater/laminator; a Uteco solventless laminator; four solvent-based laminators from Rotomec, Davis-Standard Egan, and Nordmeccanica; six Totani pouch machines; one Windmoeller & Hoelscher bagmaking machine; and six Remmele punching machines.
In addition to the new water and engine oil pouches, this equipment produces a wide range of products, including laminates with easy-tear laser perforations and/or reclosable zippers, puncture-resistant laminate bags, bags with easy-tear and/or zippers, stand-up pouches, stand-up pouches with laser score and easy tear, die-cut lids, retort pouches, modified atmosphere packaging, and more.
---
---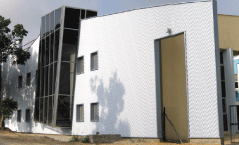 CONVERTER INFO:
CLP Packaging Solutions
18 Madison Rd.
Fairfield, NJ 07004
877/888-1888; clp-packaging.com

CLP Manufacturing Facility
Negba M.P.
Sde Gat 79856
Israel
+972-8-6790310; clp-packaging.com
SUPPLIER INFO:
Cerutti—cerutti.it
Uteco—uteco.com
W.R. Chesnut Engineering—chestnuteng.com
Titan/Bobst Group—bobstgroup.com
Atlas/Bobst Group—bobstgroup.com
Davis-Standard Egan—davis-standard.com
Rotomec/Bobst Group—bobstgroup.com
Nordmeccanica Group—nordmeccanica.com
Totani Corp. —totani.co.jp/en
Windmoeller & Hoelscher—whcorp.com
Remmele Engineering—remmeleautomation.com
---