Published: June 30, 2005, By Nsenga Byrd Thompson, Associate Editor
Flexo Printing
With just a single plant located in Oaks, PA, Global Packaging may not appear to be a global reckoning at first glance, but the company's diverse flexible packaging solutions, which include laminated and surface-printed roll stock and side-weld bags, are supplied to consumer product companies throughout the US and Canada.
Global Packaging, which employees 116 people and runs 24/7 in two 12-hr shifts, converts and prints on polyethylene, linear low-density PE, PET, polypropylene, nylon, PVC, and Tyvek in its newly expanded 75,000-sq-ft facility.
At the heart of the company's converting operation is its state-of-the-art flexographic printing capabilities, which recently earned the company an honorable mention at the annual Flexographic Technical Assn. Environmental Award Competition. Since 1996, when Global Packaging was formed as part of an acquisition of an established converting business, the company has grown its printing operation by focusing on quality. Soon after organizing, Global purchased two presses from Paper Converting Machine Co., an eight-color Pro Vision and an eight-color Vision II.
In 2003 Global Packaging acquired a third (proprietary) eight-color press to create additional flexibility during times of peak printing demand. The third press allowed it to transfer certain line work to the newly acquired press and create more opportunity for process printing on its existing PCMC equipment.
Global Packaging's print operation also includes an in-line defect detection system from Advanced Vision Technology; in-line and off-line slitting from 2–60 in. on Dusenberry and Ashe slitters; solvent-based ink systems supplied by Flint Ink and Sun Chemical with two catalytic oxidizers for emission control; a Schiavi Eco Convert Junior Laminator with a solventless, 100% solids adhesive system; and Enercon treaters on both the print and lamination processes. The company partners with Southern Graphics for most of its prepress needs and printing plates.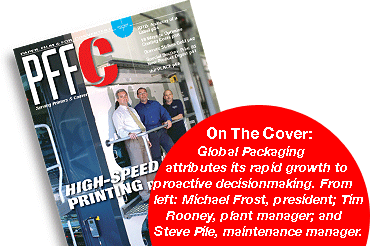 Proactive Investment
Global Packaging attributes its rapid growth to a commitment to investing in its print capabilities. According to Michael Frost, president, "We have enjoyed considerable growth since our inception in 1996. We have successfully managed this growth by making significant capital investments in the best equipment available and making the investments prior to the real need. We attempt to invest in the future rather than react to the past."
At the start of 2004, Frost says the company had sufficient capacity to successfully service the near-term needs of its existing customer base, but it wasn't satisfied with its position to service the planned continued growth. "Our growth consumed a significant portion of our manufacturing capacity, and we didn't like how we were positioned to accommodate the future," he recalls.
In an effort to remain consistent with its philosophy to provide the best possible service to its customers, the company realized the time had come to invest in additional capacity rather than wait until it could "pre-sell" machine time on equipment that wasn't in the plant.
"Delaying the equipment investment decision would risk the excellent customer service model our company was built on," says Frost.
Gearing up for Gearless
For Global Packaging, making the decision to purchase a ten-color gearless press was a simple one. Explains Frost, "This represented the best available technology for flexographic printing; it was the only configuration we even considered."
What was daunting for the converter was selecting a supplier. Global Packaging identified it's top three choices and visited each manufacturer's production facilities to better understand their approach to the printing process and, as Frost put it, received the opportunity "to crawl all over" the equipment. "We had each manufacturer print 'nightmare' jobs with every possible combination of traditional printing challenges."
Frost says he was impressed with the quality presses produced by all the prospective companies Global Packaging visited. "Each manufacturer makes excellent equipment that tends to focus on different functionality and performance features, [but] in the end we felt that the Windmoeller & Hoelscher Novaflex CM provided the best combination of performance and functionality for our business mix."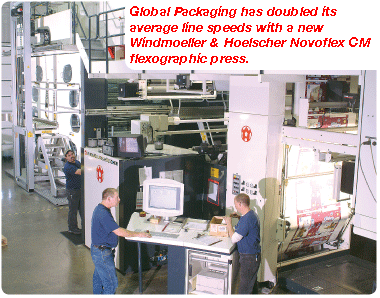 Scheduled for delivery in mid-2004, Frost explains the completely turnkey installation was "reasonably close" to the projected timeline. "As expected with any new equipment that takes weeks to put into service, there were a few issues that came up during the installation and early operation of the press. However, W&H aggressively engaged in resolving each problem that arose."
Once the plant went full steam into print production on the Novaflex, its capabilities quickly yielded impressive results for the converter.
"The ten print decks were not identified as an immediately critical need, but the ten-color printing capability was essential for the near future. The attraction of the ten colors was the opportunity to make other decks ready for the next job while the current one was still running," explains Frost.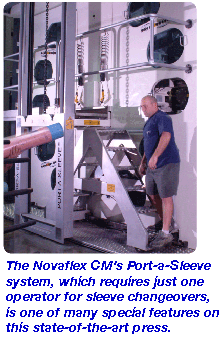 Tim Rooney, plant manager, was impressed with the carbon fiber bridge sleeves, which he says dramatically decrease deflection, reducing speed limitations and print defects. He also touts the Port-a-Sleeve system, which enables one operator to changeover sleeves; and the system's high-speed print capabilities, which Rooney contends has allowed the company to achieve superior, consistent print quality at speeds of 1,700 fpm while slitting in-line.
"We have been running the press at average line speeds that are double the speeds of our existing equipment," Rooney says. "We expect this type of throughput to continue and actually improve as we gain more experience with this equipment. The actual payoff will come for many years as we continue to produce high quality printing at tremendous speed."
Responsive Service
Along with Novaflex's contribution to increased capacity, Global Packaging also has been impressed with the service it has received as a first-time customer of W&H. "The new press is functioning better than we could have expected in regards to print quality and production speed, and service has been excellent," raves Rooney. "W&H has been very responsive to our needs."
Global Packaging realizes a high priority for the company is to put its production employees in a position to be successful, and Rooney maintains going gearless gives the press operators a competitive edge. The new press also positions the company in the exact direction it wants to go.
"Our main goal for the future is continued growth and expansion," says Frost. "We are nearing the end of a plant expansion project that added approximately 40 percent more floor space to our facility. The addition of the Novaflex is the start of filling the new floor space with additional manufacturing capacity and capability. The new press not only substantially increased our printing capacity, it entered us into the ten-color printing market and the truly high-speed printing arena."
Global Packaging expects to double its current sales within the next five to seven years. Frost contends, "We are excellent at servicing the needs of our customers. We have established ourselves as providers of consistently outstanding product packaging and have created a niche servicing the unique and demanding needs of the private-label manufacturer. The consumer product packaging market, especially the private-label segment is growing rapidly, and we are well positioned to grow with it."
For this converter, there is only one direction in which to grow: Globally!
---
---
CONVERTER INFO:
Global Packaging
209 Brower Ave.
Oaks, PA 19456
610/666-1608; glopkg.com

SUPPLIER INFO:
Windmoeller & Hoelscher—whcorp.com
Paper Converting Machine Co. —pcmc.com
Advanced Vision Technology—avt.com
Enercon Industries—enerconind.com
Dusenberry Worldwide—dusenberry.com
Ashe Converting Equipment—ashe.co.uk
Schiavi—bobstgroup.com
Flint Ink—flintink.com
Sun Chemical—sunchemical.com
Southern Graphics—215/843-2243
---
---