Published: May 31, 2005, By Stanley Sacharow, Contributing Editor
Flexible Packaging
The empowerment of women and a culture that prizes education, science, and rationality are the major factors for India's role in the global economy. An ancient Sanskrit saying notes, "In a country where women are empowered, the gods are there to make the people happy and feel contented."

India is booming and nowhere is this more evident than at Flex Industries Ltd., the nation's largest flex-pack converter. Located in Noida, a suburb adjacent to New Delhi, the company is spread out over 70 acres with production facilities for every part of the packaging supply chain. An allied facility in Malanpur (near Gwalior) is even bigger with 125 acres.
Completely dedicated to flexible packaging, the company manufactures high quality PET chips/resins; biaxially oriented polyester films; biaxially oriented polypropylene (BOPP) films; cast PP films in plain, chemically coated, and high-barrier metallized forms; pouches; inks; chemicals; and even converting equipment and packaging machines. No other flex-pack operation in the world is as widely vertically integrated!

In an exclusive PFFC visit to all the Flex facilities in Noida, I saw its three 7.2-m-wide polyester film lines from Dornier, the first production of retort pouch stock slated for the Indian Army, a newly developed membrane slider pouch, innovative holographic designs, and the framework of several vertical form-fill-seal machines.
Pradeep Tyle, Flex Industries' energetic and personable senior president, noted, "We are fully committed to customer satisfaction and dedicated to fulfilling all aspects of the packaging supply chain with the best quality possible."

In-House Engineering
The Flex Group ($250 million) is the corporate entity for the many facilities comprising the packaging operation. Flex Industries Ltd. ($175 million) is the flexible converting operation located in Noida. Operating from a 95,000-sq-m production campus, the plant has printing, laminating, extrusion, and a wide range of pouchmaking equipment. More than 35% of production is slated for export to a worldwide list of multi-nationals.

The printing operation consists of seven rotogravure presses: a ten-color Schiavi, an eight-color Rotomec, two eight-color Sung An machines, and two eight-color and one four-color Rotoflex. The latest addition, a ten-color Schiavi, is state of the art.

The design and efficiency of the company's internally designed Rotoflex presses appear quite efficient with complete controlled registration and complete web viewing. These presses are manufactured in one of the Flex group companies, Flex Engineering Ltd. The Rotoflex Super 1000 is a modular-construction machine with each printing station a complete entity in itself.

Metallizing, Laminating, and More
Ten laminators produce multilayer flexible compositor. These are four Nordmeccanica laminators and six Flex Engineering-designed laminators. Polyethylene (PE) blown film extrusion is accomplished with a Riefenhauser extruder and Indian-made Windmoeller & Hoelscher extruder. A variety of Titan and Flex slitters complete the operation. One more slitter is being added.

The plant's pouching operation is extremely well organized and produces all types of preformed pouches on Nishibe equipment. Varieties manufactured include standup, center-sealed, three-side seal, gusset pouches, and bags.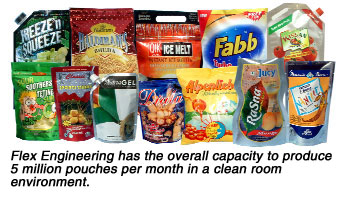 There are reclosable zipper pouches for powders and granules and reclosable cap and pouring-spout pouches for liquids. Carrier bags and a fairly extensive tattoo (pressure-sensitive transfer label) operation are present.

A unique facility is a clean room where slider bags are produced in a dust-free environment. This room also will be used to produce medical packaging as soon as this market comes onstream for Flex.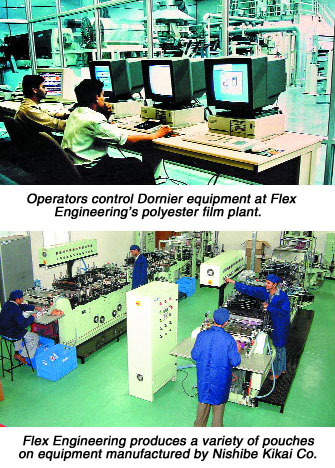 Additional capabilities allow a variety of holographic designs to be printed on flexible package substrates. Representative materials produced include PET/adhesive/foil/PE, OPP/OPP, MPET/BOPP, paper/PE/foil/PE, and paper/CPP.

Foil suppliers include Hindalco Industries and India Foils Ltd. Star Paper Mills supplies paper.

There are presently two General metallizers. The first one was installed in 2002 with a capacity of 6,000 tons/yr. The second metallizer was added in September 2003. Substrates metallized include PET, BOPP, and CPP, with more than 50% of the volume consisting of PET. Both are equipped to do high-barrier metallizing with plasma treatment.

Flex Industries' says its metallizers are among the finest in India, which has 50 total metallizers.

Award-Winning Products
Among the newer developments in the converting product mix is a fully approved, three-side seal retort pouch designed for the Indian Armed Forces. The pouch consists of a PET/oriented nylon/foil/CPP construction. Flex Industries reports it is the only company in India to have DFRL (Defense Food Research Laboratory) approval.

There is overall capacity to produce 5 million pouches/mo—enough volume to expand into India's rapidly growing consumer goods markets. Jeevraj Pillai, senior general manager of production, noted, "Our retort pouches meet all international standards, and we are fully committed to becoming a major source of retort pouch stock for our worldwide customer base."

An additional development that has raised substantial international interest is the recent introduction of a hologrammed, metallized slider pouch with diaphragm. First introduced in April 2003, the pouch consists of a PET/ink/metallized hologram/adhesive/PE composite integrated with slider and diaphragm to prevent spoilage and tampering.

The manufacturing process consists of reverse printing PET with a transparent lacquer, coating, curing, and embossing for the holographic effect. Then the substrate is metallized and laminated with reverse-printed holography. Finally, a PE laminate layer is added for heat sealing.

These pouches are produced on equipment located in the clean room, ensuring a virtually dust-free product. The product was the winner of the Assn. of Industrial Metallizers, Coaters & Laminators (AIMCAL) award for technical excellence in the decorative/display category (see "Mouse Roars BUY ME!," Arpil 2004). More recently, one more product, a whiskey carton package, won awards from the Flexible Packaging Assn. and AIMCAL.

Both Amit Ray, president of the Converting Div. and a seasoned ex-Alcan executive, stressed his converting divisions' versatility in providing flexible answers to its clients' requirements.

This was well illustrated by the design of a handled, spouted, large-size 2.5-kg food service bag for Hindustan Lever ketchup. Ergonomically perfect and esthetically pleasing, the unit firmly illustrates exactly how flexible packaging can take over the more traditional rigid markets. The material is reverse-printed PET/nucreel/foil/adhesive/low density PE.

In-House Ink Division
Inks and adhesives are organized under the FCL Technologies and Products Ltd. ($12 million) banner. The firm is completely self-reliant in all the inks, adhesives, and various related chemicals required for its finished packaging products. Additional adhesives are supplied by Rohm and Haas and Henkel.

This division is a $7 million manufacturing facility in Noida (est. 1994) with ongoing technology transfer agreements with US-based Color Converting Industries and Sunkyong Industries Ltd. (now SK Chemicals) in Korea.

A wide variety of printing inks and synthetic resin adhesives are made in-house as well as coatings for applications ranging from holography to ultraviolet. About 40% of production is utilized in-house, with the remaining 60% sold to outside converters.

Vice President S.K. Dang told me, "Our basic focus in R&D is on the development of holographic coatings and urethane lamination inks. We see a great future for these products." More than 50% of all Flex production is exported to 75-plus nations. Pradeep Tyle stressed that "We plan to shortly become a major global force in flex-pack converting, with a manufacturing base outside the country. Our Dubai plant is the first step in this direction."

With India's growth rate expanding rapidly and an outward-looking philosophy, it seems likely that Flex Industries Ltd. will be in the forefront of the long overdue international recognition of India's position in the worldwide converting community.
---
---
…and THEN There's Film!
Flex Industries Ltd. is the largest supplier of PET, OPP, CPP, and metallized films in India. The firm starts with the fully integrated manufacturing facility of PET chips and produces a wide range of plastic films that find use in printing, packaging, lamination, metallizing, hot stamping, electrical insulation, holography, etc.
Shown above is one of three 7.2-m-wide Dornier PET lines in the Noida facility, each capable of producing 18,000 tons/yr film in the thickness range of 9–50 microns.

Two OPP lines, one from Brueckner and the other from DMT, are capable of producing more than 30,000 tons/yr of OPP films. One Gruppo Colines (Italy) line manufactures CPP in Noida at a rate of 6,000 tons/yr.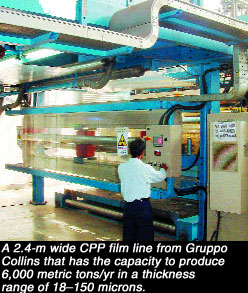 To reach out to customers in the Middle East, Europe, and US, Flex has set up a polyester film unit in Jebel Ali, Dubai, UAE. This is a unique manufacturing facility, the only one of its kind in the Gulf. The facilities include a Dornier polyester film line with a capacity to produce 20,000 metric tons/yr in the thickness range of 8–50 microns. A state-of-the-art, 2.5-m-wide metallizer imported from Galileo, with a capacity of 6,000 metric tons/yr, doing high-barrier plasma metallizing, also is in operation. A cylinder engraving plant is coming with a capacity to produce 7,500 cylinders/yr.
Flex OPP, PET, CPP, and metallized films are used in a wide variety of applications on a global basis. These films are the backbone of many important contracting operations in Europe, Asia, Latin America, and the US. A US office, located in North Carolina, handles much North American business.

Pradeep Tyle says, "Flex lives by its service. There was a customer in North America who had a small problem. A Flex technician was at the customer's site to attend to the problem within 72 hours from the time the customer informed us. He was so enthused by the response that he sent the technician for a site-seeing trip before taking him to the plant to have the problem rectified!"
---
---
CONVERTER INFO:
Flex Industries Ltd.
A-1, Sector-60, Noida 201301, India
+91-120-2580500; flexfilm.com

SUPPLIER INFO:
Lindauer Dornier GmbH—lindauer-dornier.com
Schiavi (a member of the Bobst Group)—bobstgroup.com
Rotomec (a member of the Bobst Group)—bobstgroup.com
Sung An Machinery Co.—sungan.net
Rotoflex Intl.—rotoflex.com
Nordmeccanica NA—nordmeccanica.com
Reifenhauser Inc.—reifenhauserinc.com
Windmoeller & Hoelscher—whcorp.com
Titan (a member of the Bobst Group)—bobst.com
Nishibe Kikai Co. Ltd.—nishibe.co.jp
Hindalco Industries—hindalco.com
India Foils Ltd.—+91 24367131; fax: +91 24367124
Star Paper Mills—starpapers.com
General (a member of the Bobst Group)—bobstgroup.com
Rohm and Haas—rohmhaas.com
Henkel—henkel.com
Color Converting Industries—colorconverting.com
SK Chemicals—skchemicals.com
Brueckner Maschinenbau GmbH—brueckner.com
DMT Americas—biax.com
Gruppo Colines—colines.it
Galileo Vacuum Systems—galileovacuum.com
---
---
Stanley Sacharow has been in the flexible packaging industry for more than 35 years. His company, The Packaging Group, is an organizer of targeted conferences and a consultant to the international packaging/converting industry. He is also the author of PFFC's Package Converting column column. Contact him at 732/636-0885; This email address is being protected from spambots. You need JavaScript enabled to view it..
---