Published: February 29, 2004, By Claudia Hine, Managing Editor
Technology and innovation earn high honors in the Flexible Packaging Association's flex-pack competition.
In its 2004 Flexible Packaging Achievement Awards competition, the Flexible Packaging Association (FPA) honors packages incorporating "first-of-their-kind" technologies that either have received or are awaiting patents for their breakthrough processes and/or structures.
Out of a record-setting 126 entries, 28 packages earn 36 awards, and two packages receive the coveted Highest Achievement Award.
Unit Dose Delivery Device
Technologically driven packages in the healthcare industry offer critical new protection for patients, while delivering effectiveness and security for healthcare providers. One such package — the DelPouch Single Dose Frangible Applicator from Cardinal Health — earns Pechiney Plastic Packaging, Neenah, WI, a Highest Achievement Award in the Packaging Excellence category.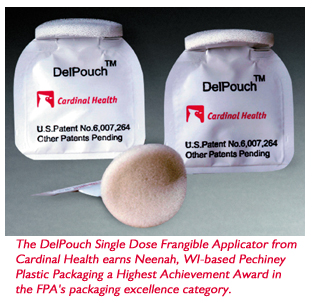 This patented technology offers an innovative method of delivering ointments and creams in a single-dose flexible package. The DelPouch lamination incorporates aluminum foil, a high-barrier sealant film, and a buried layer of PET to produce a structure that yields excellent oxygen and moisture properties.
The use of frangible sealant technology is the backbone of the DelPouch concept as it allows Cardinal Health to seal three of the four seals at high temperatures. When the package is compressed, it fractures the weaker seal and allows the ointment or cream within the package to escape into the foam applicator pad for a single-dose application. Additionally, the frangible seal, coupled with the foam applicator, delivers the pouch's contents in a sanitary manner, without the risk of contamination.
Tiny Pouch, Gigantic Results
Technology plays a vital role in the futuristic look of new flexible packages for consumer goods such as chocolates. The stunning good looks of the Toblerone Tiny Stand-Up Pouch are achieved through a revolutionary in-line demetallization process that earns Amcor Flexibles, Gent, Belgium, a Highest Achievement Award as well as Gold Awards for Technical Innovation, Printing Achievement, and Environmental Achievement.
Tobleron Tiny chocolates are sold in stand-up pouches made from Amcor DeMetXP demetallized film that features several highly transparent windows. In order to achieve the bag's eye-catching golden metallic look and triangular clear windows, Amcor utilizes the in-line demetallization process during the gravure printing process, which is both efficient and environmentally friendly. During demetallization, the metal layer is not removed from the substrate metal, but rather the demetallizing agent reacts chemically with the metallic layer to create a transparent window. Since the metal layer is not washed away, this new process eliminates the need for dirty wastewater and reduces waste material.
Protecting the Troops
An innovative M-16 Rifle Preservation Bag (P/N HPV81503-M-16) for the US Marine Corps earns Heritage Packaging, Fairport, NY, and Valeron Strength Films, Houston, TX, Gold Awards in both Packaging Excellence and Technical Innovation.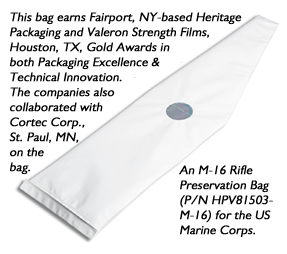 Collaborating with Cortec Corp., St. Paul, MN, the companies combined their design, converting, laminating, and film production expertise to produce a patent-pending bag that features a reusable closure and serial number window and provides improved anti-corrosion protection, enhanced serial number tracking, and considerable waste reduction, while significantly increasing manual packaging speed.
The durable, user-friendly bag is made from a new laminated structure called Corrlam VpCI Barrier Laminate, said to offer unequaled anti-corrosion protection. An outer layer of Valeron film provides enhanced puncture- and abrasion-resistance, while the Cortec VpCI 126 sealant layer provides anti-corrosion protection.
For more information on all the winning entries, contact FPA; flexpack.org.
---