Published: February 29, 2004, By Yolanda Simonsis, Associate Publisher/Editor
A metallized bag is nothing new on supermarket shelves.
But when it was introduced to the bread aisle, it opened a whole new market to metallization, thus bagging the Peter Rigney of the Year Award (named for PFFC's former publisher) from the Association of Industrial Metallizers, Coaters, and Laminators (AIMCAL). With positioning statements on the bag that promote benefits in keeping Dempster's bread fresher longer, no doubt consumers feel this new entry to the shopping cart is the breadwinner in their families.
Held March 10–14 at the Hyatt Grand Champions in Indian Wells, CA, AIMCAL presented Celplast Metallized Products with highest honors for its Cellofoil metallized bag for Dempster's brand white bread. Comprised of a low-density polyethylene film from Leco Industries, Saint-Laurent, QC, Canada, the stock is converted by Allied Halo Industries for Canada Bread Co., Etobicoke, ON. Toronto-based Corporate Visuals designed the surface-printed graphics. Canada Bread Co. claims sales have significantly surpassed expectations. Even better, observed one judge, the bag is no wimp in standing up to twisting and wrinkling while in use, exhibiting no flake off.
Hole-in-One Favorite
A marketing award in the Packaging: Nonfood category goes to a debossed, holographic box for Power Distance Gold Balls from Nike, Beaverton, OR. Unifoil, Fairfield, MA, acrylic-coats a custom radius pattern on 0.5-mil polyester/18-pt coated-one-side (C1S) solid bleached sulfate (SBS) from International Paper, Pittsburgh, PA. Holosource, Livonia, MI, is the metallizer, and Shorewood Packaging, Newport News, VA, acts as contract packager.
An optically registered radial holographic pattern surrounds a debossed golf ball at the center of the top panel and travels across and down onto the side panels. Unifoil says the challenge of this package is in the registration of the image to print throughout the production line. With the combination of polyester and 18-pt board, score lines remain crack free while an ultraviolet topcoat provides scratch resistance on packages color-coded for different ball types. A three-dimensional, holographic, shadow-box effect communicates rotation, movement, and drama, setting the Nike brand apart from similar products.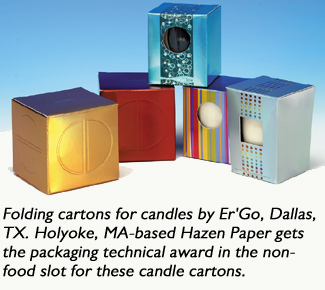 Cartons Light Up
Folding cartons for candles from Er'Go, Dallas, TX, have their own understated glow meriting a technical award in the Packaging: Nonfood category for Hazen Paper, Holyoke, MA. Hazen laminates 20-pt SBS from MeadWestvaco, New York, NY, to variously colored 92-ga, rainbow-patterned polyester with an Ultracure acrylic coating. The 92-ga polyester/20-pt board construction protects the glass-encased aromatic candles; its also maintains a presentable shelf appearance by resisting cracks at scores. Day Manufacturing, Sherman, TX, acts as contract packager.
Star Gazing
Two more optically registered holographic patterns from Unifoil were acknowledged in the Packaging: Healthcare, Cosmetics and Toiletries category; one for technical excellence, the other for marketing.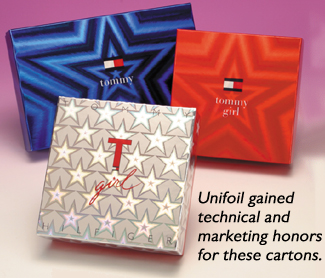 The Tommy Hilfiger brand fragrances from Estee Lauder, New York, NY, merited the marketing award for holiday cartons featuring an optically registered large holographic star and multistar designs on Unilustre material using 80#, C1S litho paper from MeadWestvaco, Covington, VA. Metallization is provided by both Crown Roll Leaf, Paterson, NJ, and Toray Plastics (America), North Kingstonwn, RI. The attention-grabbing star images capture the eye, simulating movement and subtle color shifting as the consumer moves past the product. The holographic metallized paper also machined well in process without exhibiting curl while gluing easily.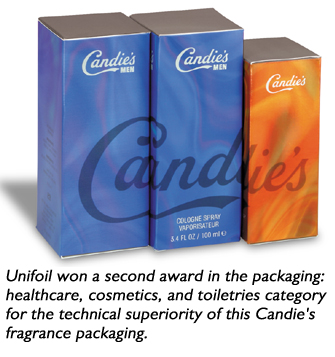 Sweetening the Bottom Line
The carton for Candie's, New York, NY, won a second award for Unifoil in the Packaging: Healthcare, Cosmetics and Toiletries category for technical superiority. The new carton sports an optically registered hologram on a one-piece blank that replaces an embossed heavy-gauge, clear, tinted Roland Film. The older package required difficult processing, including scoring, gluing, and wrapping the film around the carton.
This replacement carton simplifies the process while reducing the cost of production. Unifoil applies an acrylic matte-coated, tinted Candie's moiré pattern to 0.5-mil polyester and laminates it to the coated side of 20-pt, C1S SBS from JS/CCA, Brewton, AL. Crown Roll Leaf and Toray Plastics provide metallization with Hub Folding Box, Mansfield, MA, contributing design and contract packaging services.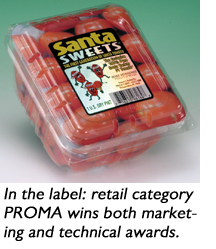 Produce [Aisle] Results
In the Label: Retail category, PROMA Technologies, Franklin, MA, wins both marketing and technical awards. PROMA merited the marketing award for a pressure-sensitive holographic label applied to polystyrene containers for Santa Sweets brand grape tomatoes from Ag-Mart Produce, Plant City, FL. Substrate is from Connemara Converting, Bensenville, IL, with metallization provided by PROMA. Spinnaker Coating, Troy, OH, supplies the p-s coated label construction to Consolidated Label, Longwood, FL, for flexo printing in five colors plus UV varnish, die-cutting, and contract packaging.
Ag-Mart boasts it's the first time for a holographic label to enter the produce aisle and to generate so much enthusiasm. Ag-Mart executive VP Robert Meade explains HoloPRISM holographic paper was a lower cost alternative to lenticular technology that still created eye-catching movement and shimmer. Judges noted the product brought metallization to a new market segment and created for consumers a memorable identification for repeat purchasing.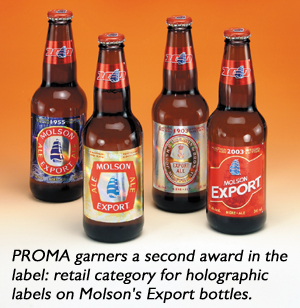 History in the Making
The second award for PROMA in the Label: Retail category is for Molson's Export brand, featuring four holographic labels commemorating the centennial of the famous beer maker from label graphics during the years 1903, 1955, 1962, and 2003. Adapting the graphics to take advantage of the effect of HoloPRISM standard pattern #752, the designs (provided by Pigeon*Branding+Design, Oakville, ON, Canada) generate a contemporary feel to historic artwork. Construction comprises 50# partial wet-strength paper with a water-based top coating. Inland Printing, LaCrosse, WI, prints, coats, embosses, and supplies the labels in mixed bundles to increase the probability for each 12-pack to include all four designs. Judges also noted the smooth bubble- and wrinkle-free appearance of the label that still permitted easy removal during the cleaning process, a mandate of Canadian recyclability requirements.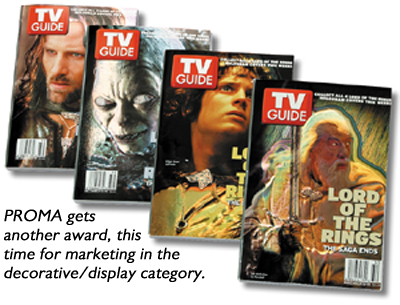 Ringer Holographic Cover
TV Guide (Radnor, PA) produces another winning holographic cover—this time featuring characters from Lord of the Rings—confirming this technique builds sales. Graduating to more sophisticated graphics, this collectible generation of covers garnered another marketing award for PROMA in the Decorative/Display category. First steps in producing the metallized holographic paper involved embossing lacquer-coated HoloPRISM paper with custom holographic images designed to enhance mystical character qualities. Metallization followed with an application of printing primer. Rolls were then slit, sheeted, and printed to register with the holographic images. Opaque white ink, print graphics, and the holographic layer work together to create unique effects.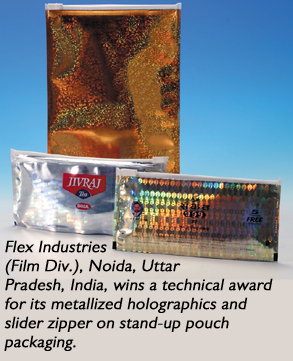 Stand-Up Goes Mainstream
The stand-up pouch gets a facelift with metallized holographics and a slider zipper from Flex Industries (Film Div.), Noida, Uttar Pradesh, India, deeming a technical award in the Decorative/Display category. Flex Industries is banking these stand-up pouches will make even greater inroads for use by adding a reclosable feature. Other value-added features include shelf appeal, tamper-evidence, and anti-counterfeiting potential.
Flex Industries multitasks with this application, serving as substrate supplier, designer, metallizer, and converter. Structure comprises biaxially oriented polyethylene terephthalate/polyethylene. Transparent inks complement the holographic effect. First-time pouch use requires the consumer to break a tamper-evident film diaphragm to access the product. Special attention to detail earned the company high marks for the absence of distortion in the gusset area despite sealing through multiple material layers.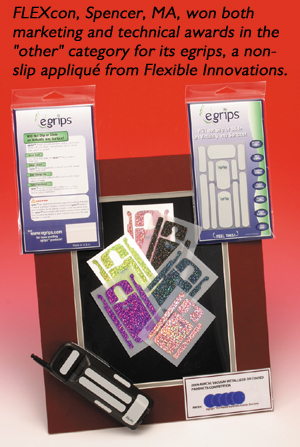 Gripping Power
In the Other category, FLEXcon, Spencer, MA, won both marketing and technical awards for egrips, a nonslip appliqué from Flexible Innovations, Fort Worth, TX. Meant to prevent cell phones and other electronic devices from slipping out of hands or off surfaces, this product creates a new use for metallization. 3 minimum deposit casino The structure consists of a gloss-top-coated clear, 1-mil polyester overlaminate, supplied by FLEXcon, using base substrate from Dunmore, Newtown, PA. Flexible Innovations digitally prints the polyester on demand, employing a digital offset press from H.P. Indigo, San Jose, CA. The construction is laminated to a 2-mil tinted holographic or metallized film, with Spectratek, Los Angeles, CA, performing metallization. The laminate is coated with a permanent/removable adhesive and backed with a 3-mil matte polyester release liner. A clear elastomer overlaminate follows to create a decorative, nonslip surface. The multilayer structure comes in various colors and holographic patterns and is custom laser cut for cell phones, laptops, CD players, etc. When users tire of a pattern, they can replace it with a new one.
---
Hosted by
PFFC
, the judges included Panos Kinigakis, CPP, fellow, Kraft Foods; Dean Lindsay, principal, dean LINDSAY design; Yolanda Simsonsis, associate publisher/editor, PFFC; Mark Spaulding, editor-in-chief,
Converting
magazine; Bob Swientek, editor-in-chief,
BrandPackaging
magazine; and AIMCAL Awards Committee chair Steve Sedlak, sales manager Wacker Ceramics, Wacker Chemical, Adrian, MI, USA. More information is available from AIMCAL at
aimcal.org
.
---