Published: February 14, 2013
PAWCATUCK, CT | A new Davis-Standard cast film line is supporting increased production of disposable films for Cepalgo Films of Aparecida de Goiania, Goiás, Brazil. The machine is the company's first Davis-Standard purchase. It is capable of producing dry and wet embossed films as well as PE-coating nonwovens used in diapers, hygienic absorbent products, and other medical care applications.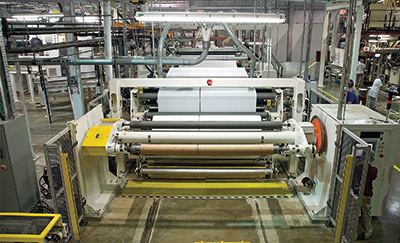 "We have experienced substantial growth in the disposable films market. Our technology as well as our centralized location has enabled us to serve customers, large and small, throughout Brazil," said Eduardo Scodro, director of Cepalgo. "The addition of the Davis-Standard line has supported this ambitious area of business. The line is performing exceptionally well, achieving all of our processing specifications. Davis-Standard has addressed every demand and has given us reassurance throughout the process."
According to Scodro, the Brazilian market for disposable products continues to expand. This includes more sophisticated films involving laminates, different geometries, and more complex printing requirements. Technology to address these requirements was an integral part of Cepalgo's decision to select Davis-Standard as the equipment vendor. Davis-Standard's market strength, equipment productivity, flexibility, and quality were key elements in their evaluation. Cepalgo also appreciates Davis-Standards commitment to on-time delivery and equipment customization as needed.
"Davis-Standard's technical and assembly teams have done an exceptional job," added Scodro, "The delivery and start-up process went well, and we have been especially pleased with the professionalism of their local representation in Brazil."
Davis-Standard supplies mono and co-extruded cast film systems with wet or dry embossing capabilities depending on product. Repeatable embossing patterns and low-tension capabilities provide excellent winding performance. In-line slitting down to 3 in. (76 mm) and tapeless transfers are possible with Davis-Standard's modular winding systems. Specialty lines can be equipped with coating or lamination of lightweight nonwoven substrates. Line sizes ranging from finished net widths of 82–132 in. (2.1–3.35 meters) are available as well as core diameters of 3 and 6 in. (76 and 152 mm). Typical line speeds range from 600–1,475 fpm (180–475 mpm) depending on extrusion package, formulation, film properties, embossing method and winding options. Product applications include diapers, protective and masking films, disposable garments and bed sheets, pouches, PP photo protective sleeves, shower curtains, and tablecloths.
This email address is being protected from spambots. You need JavaScript enabled to view it.