Published: September 07, 2023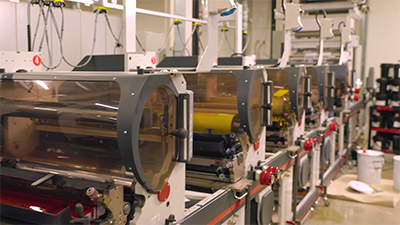 As a former race car driver, Massimo Raffaele was used to making bold moves. After trading in his race car for a delivery truck, Raffaele began learning about the printing industry through his work transporting and delivering packaging materials throughout his native Italy. Through this work, he found an opportunity to fill a gap in the market for customers seeking high-quality flexible packaging in smaller quantities, and with faster delivery times than typically offered by existing industry suppliers.
Raffaele set out on a mission to become one of Europe's first flexible film converters to offer all-UV LED curing in a narrow to mid-web format, and he enlisted the expertise of Antonio La Franceschina to bring his new venture to life. In 2005, the partners founded ACM Plastics and began by offering laminating and reel-cutting services.
It was, as they say, off to the races. They soon transitioned to printing, and after years of printing on a 7-color Omet VariFlex 530 with conventional (mercury) UV curing press, Raffaele and La Franceschina sought ways to eliminate some of the speed bottlenecks with traditional UV printing, like excessive heat buildup from the mercury UV lamps, which required the press to run slower and the printed rolls to cool down in a storage locker before lamination.
With sights set on the food and pharma markets, the decision was made to move from traditional UV to full "food safe" UV LED curing, working closely with Baldwin Technology company AMS Spectral UV, which retrofitted the press UV stations with its XP Series LED UV technology.
Combining the Omet and AMS Spectral technologies with Flint Group's EkoCure Ancora Dual Cure inks, ACM proved that UV LED could dramatically improve the printing process and make narrow web food-grade cured packaging a reality.
The results of the retrofitted AMS Spectral UV were impressive.
The drying process was completely transformed. By speeding up drying times on film, the entire printing process became more efficient and flexible, which further resulted in significantly reduced delivery times. Also, it eliminated the primer step and any heat to the press, so ACM was able to print on a wider variety of substrates at faster speeds without worrying about film shrinkage or wait times.
Printing quality reached new heights through bold and shiny colors, and the homogeneity of performance over the entire range of the printable material improved ink anchoring and eliminated delamination problems.
ACM realized significant environmental benefits which amplified its sustainability message. UV LED curing has reduced ACM's energy costs and, in lock step, its carbon footprint by an average of 50 percent versus using mercury lamps on all its presses. Along with 100 percent recyclable packaging and fully recyclable PET films, ACM offers a more sustainable flexible package thanks to the use of solventless adhesives.
Today ACM has transitioned completely to UV LED printing, with no remaining traditional UV lamps, and leads the world among AMS Spectral UV's packaging customers for the number of LED lamp units in operation in a single facility. The project began with 27 installs and has continued with an additional 17 coming online, testament to the ongoing investment in technology,
"We are ready to face the challenge of the transition from rigid to flexible packaging," concluded La Franceschina. "The need for bright colors, eco-sustainable solutions, high-speed production, guaranteed dosage, and waste reduction are only growing. There is only one packaging method to respond to each of these needs: the flexible one."
For more, visit baldwintech.com or bwforsyth.com.