Published: February 20, 2023
By Louise Sullivan, Sustainability Director, Avery Dennison Label and Packaging Materials
Sustainability has evolved from being a trend to how companies run their business in the label and packaging industry over the last few years. In addition to landfills beginning to pile up and governments setting stricter targets for recycling and diversion goals, sustainability is smart business.
Label and packaging converters and end-users are expecting more from their suppliers in this regard. They want environmentally responsible products that support them with more substantial, longer-lasting growth and better output. To increase the buy-in for environmentally-friendly label products and meet end-users' goals label products should be sustainable and improve efficiency and productivity.
To create sustainable packaging that supports essential audiences, we must adopt label technologies that reflect a whole system's approach and work in harmony with the existing recycling stream. It's critical to focus on enabling the reduction of resource and energy use in plastic production, maximizing the potential of waste recovery and facilitating recycling.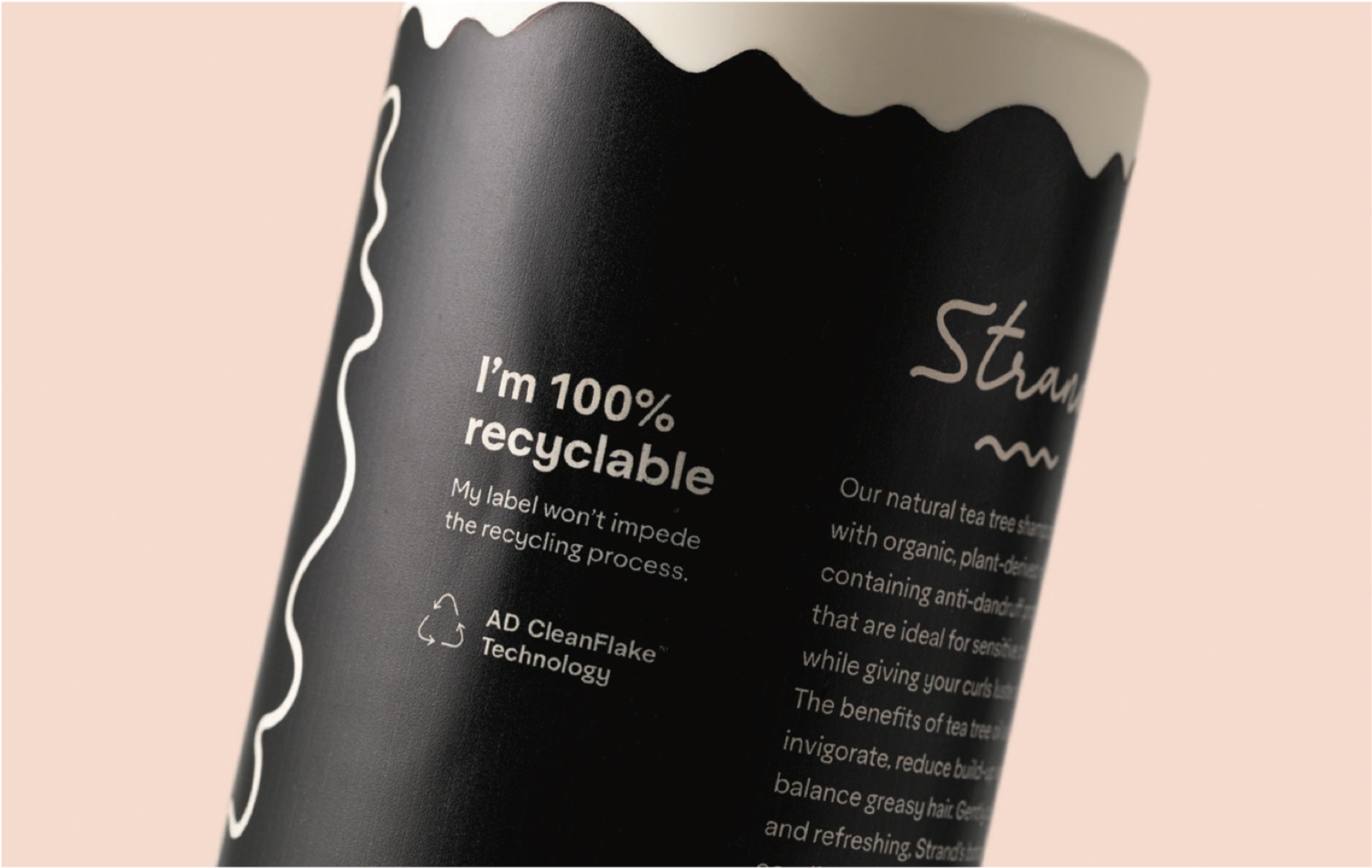 Innovation with Current Products
Enhancing current products is a vital step in advancing the circular packaging economy without compromising performance. One example is AD CleanFlakeTM technology, engineered to enable the recycling of PET and HDPE packaging. It also helps brands meet sustainability targets, comply with regulations and advance circularity by increasing the availability of recycled plastic. During PET recycling, the adhesive deactivates to allow both the label and adhesive to separate cleanly, leaving the plastic free of contamination. During colored HDPE recycling, the label stays attached, but does not compromise the resulting plastic pellets.
Linerless Labels
A sustainable innovation helping productivity is direct thermal blank linerless labels. Direct Thermal Linerless labels don't use a release liner. A silicone coating on the facestock means self-wound labels won't stick to those underneath, eliminating the need for liner and matrix. Without liners, there is no liner waste, no liner disposal costs and no safety risks to workers due to liner waste on the shop floor. Removing the liners can allow up to 50 percent more labels per roll. With more labels per roll, converters benefit from fewer changeovers and higher productivity.
Recycled Content Materials
Another way for converters to enhance the sustainability benefits of their label is by choosing materials made with recycled content. More and more options are becoming available with recycled content including facestocks, overlaminates and liners. Today, converters can choose everything from direct thermal papers to MDO film facestocks with a range of PCW material included. Sustainability also matters to the wine and spirits industry. Many brands are serving up sustainability with labels using post-consumer waste material face stocks without taking away from the performance or the shelf appeal brands require. In addition, labels created using hemp fiber, stone, cotton or organic waste give brands a compelling story and consumers another reason to feel good about their favorite beverage.
To take it a step further, recycled polyethylene terephthalate (rPET) is also a valuable and sustainable material that can be recycled multiple times into new packaging and benefit end users. rPET is used for both recycled content overlaminates as well
as recycled content liners. Even better, these materials allow converters to help their customers meet sustainability targets by using recycled content — all without compromising on converting performance or visual aspects.
Conclusion
The next decade is critical to our industry and the world. Working together for solutions is also the goal of the U.S. Plastics Pact, a group of 110 businesses, retailers, not-for-profit organizations, government agencies and research institutions across the plastics value chain. As activators, we too are rethinking products, packaging and business models with the hope of bringing more national initiatives and innovative solutions to achieve higher sustainability
About the Author
Louise Sullivan is Sustainability Director at Avery Dennison, where sustainability is a core value: "It is built into our product design, operations and culture, and the decisions we make every day. We innovate not only to reduce the environmental and social impact but to go further and improve the planet and the industries we serve. We're proud to do our part in helping the world move toward a regenerative future where we enable recyclability, circularity and productivity."