Published: November 08, 2019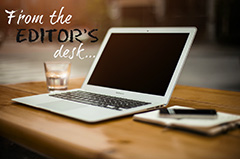 While at the AIMCAL R2R conference this past October in Myrtle Beach, S.C., I finally had the chance to sit down and enjoy a few sessions provided by industry experts. One of them being "The Flexible Packaging Growth and Market Trends" presented by Vice President of Global Application and Innovation Development for ProAmpac, Sal Pellingra,
Indeed, the estimated market size for flexible packaging in the U.S. and Canada by the year 2023 is $44 billion at a compound annual growth rate (CAGR) of 3.16 percent from 2018 to 2023, with key drivers being: the increasing demand for consumer friendly packages, improved product protection barriers from moisture and air and perceived cost savings. However, the U.S. and Canadian market falls second to the Asian market whose estimated market size by 2023 is $49 billion with a CAGR of 6 percent from 2018 to 2023.
In his presentation, Pellingra touched on five of the seven key consumer research findings that make functional packaging worth paying attention to:
Freshness- packaging that provides a secure seal to ensure product last longer.
Ease of use- packaging that does not require the use of scissors or other tools to open and can easily reseal.
Sustainability - packaging that minimizes or eliminates waste.
Storability - packaging that provides adequate storage and protects contents inside.
Convenience - packaging offers on-the-go and single size.
Other trends driving the market include:
eCommerce - Flexible packaging and pouches are becoming more important to save weight and space needed to design for more stringent distribution. This is opening up more opportunity for flexible packaging.
Food waste - An excessive 40 percent of food produced in the U.S. is reportedly being wasted. That's 133 billion lbs of food wasted per year, $161 billion of uneaten food at retailers, restaurants and homes annually. This can be harmful for the environment being that food makes up to 20 percent of landfill weight, it is the single largest municipal waste source, and the methane released by food in a greenhouse gas 20 times more powerful than carbon dioxide.
Sustainability - Sustainability requires barrier solutions that do not interfere with recycling.
Diving into additional industry trends within the November issue of PFFC, The Flexible Packaging Association's (FPA) talks about its 2019 State of the Flexible Packaging Industry Report which provides industry converters, suppliers, investors and analysts with insight into the performance of the U.S. flexible packaging industry over the past year. In this issue of PFFC you will also find how strong relationships with suppliers of substrates and associated suppliers result in better converting efficiency and less waste to improving the bottom line, and the seven myths of heat transfer rolls.