Published: September 16, 2019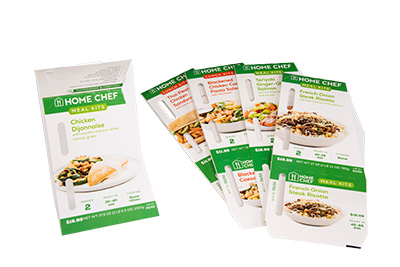 Packaging design is always evolving. Consumer preferences change and new technologies emerge. To stay relevant, it's crucial to stay on top of the latest trends, and to help industry professions, the Paperboard Packaging Council (PPC) has shared four design trends the association observed during the judging of its 76th annual North American Paperboard Packaging Competition which include:

Converters taking full advantage of digital - PPC launched a digital printing and converting category in the 2018 competition, and this year's event saw more digital entries than ever before, showcasing the expanded use of digital capacities.
"Digital print and cutting is being used much more widely, and not just for personalization, but also to add speed and flexibility to the supply chain," said Judge Tony Hitchin, general manager of Pro Carton.
Zumbiel Packaging submitted one such digital entry, folding carton sleeves for Home Chef's fresh, refrigerated, ready-to-cook meal kits. Home Chef offers seasonal menu offerings, which means that exact ingredients and nutritional facts are not available well in advance.
Home Chef's need for flexibility lent itself perfectly to Zumbiel's digital printing and workflows. Zumbiel receives 24 new graphic files for various meal kits each week. They then print, cut and glue those 24 unique SKUs in 24-48 hours. The filled cartons hit store shelves nationwide no later than two weeks after Zumbiel receives the art.
Beverage packaging goes green - The beverage market is by far the largest end user of folding cartons in the U.S., with an estimated 23 percent (1.11 million tons) of total carton shipments in 2018.
That said, the judges in PPC's competition were reportedly pleased to see great strides in sustainability from the beverage space, specifically in terms of replacing plastic with renewable paperboard. There was a significant move away from plastic hi-cones and shrink-wrap to highly decorated carton-based multipack solutions for both bottles and canned drinks. Not only does this move favor a more environmentally-friendly substrate, it also allows for the use of high-end finishings and design techniques unique to paperboard.
Virtual window and other new techniques - One new design concept for 2019 was the virtual window. PaperWorks Industries, Inc. added this feature to a Tampax Pearl carton, substituting a plastic window for a descriptive graphic of the product inside. Designed to appear as though it were a window on the pack, the graphics include appropriate shadowing and depth-of-field.
Other interesting techniques included intricate laser die cutting that eliminates the need for printing; gradient glitter that either changed in color or intensity from top to bottom of the carton; and innovative new tamper resistant designs.
"I noticed an overall increase in the use of finishing techniques," said Judge Nona Woolbright, Ph.D., associate professor of graphic communications at Clemson University. "When these applications were added to beautifully designed and exciting pieces, the overall visuals were stunning."
An industry dedicated to advancement - While most of the packaging entered is made for customers, PPC's competition does feature a self-promotion category. These are the boxes or samples that member companies send to prospects as marketing tools—and they generally showcase all the high-end, value-added converting techniques and capacities the converter has to offer.
This year, the quality of the promotional packs was reportedly "sensational, with no expense spared" to show the wide range of print and special effect capabilities. From velvety smooth coatings to unique structures, the self-promotional entries showed that converters have been investing in the latest technologies and that the industry is dedicated to advancement.
About the North American Paperboard Packaging Competition

Administered and hosted by PPC, and judged by a jury of industry professionals, the North American Paperboard Packaging Competition is the premier competition for carton manufacturers involved in the concept, design, print, performance and shelf appeal of paperboard packaging.
PPC's carton competition recognizes excellence throughout the entire converting process. Not only do the judges examine carton blanks as well as finished cartons loaded with product, they review detailed write-ups that provide insights into each carton's design, board type, distribution and more.
Cartons may be awarded prizes in the General Category, Innovation Category (for new and game-changing solutions) and Eco Category (for cartons that replaced a less sustainable substrate, decreased waste, etc.). Top awards include Paperboard Package of the Year, Folding Carton of the Year, Rigid Box of the Year, the Innovation Award and the Eco Award.
In 2018, a Digital Category and top award were introduced into the competition. There entries are rated on how digital technology was used in manufacturing and how this enhanced the end-user experience or increased product sales.
The winners of the 2019 North American Paperboard Packaging Competition will be announced at PPC's upcoming Fall Meeting, October 23-25 in Minneapolis. For more information about the competition, visit paperbox.org/cc.