Published: November 27, 2018
Flexible packaging is the most economical method to package, preserve and distribute food, beverages, other consumables, pharmaceuticals and other products that need extended shelf life. It can be designed with barrier properties tailored to fit the products being packaged and their end-users, whereas other barrier packaging formats generally provide a one-size-fits-all approach.
Flexible packaging can now be made in a wide variety of innovative shapes, sizes and appearances, and can include components, such as handles; and opening and reclosing features, such as zips and spouts.
The global flexible packaging market size was valued at USD 221.82 billion in 2016. It is expected to expand at a CAGR of nearly 4.7% during the forecast period. Growing food requirement on account of the increasing population in the Asia Pacific, particularly in India and China, is one of the key trends bolstering market growth.
The packaged food market in the U.S. and Europe has grown tremendously in recent years. Development of production technologies, use of case-ready packaging, and improved packaging practices are anticipated to work in favor of the market. Also, advancements on processing technologies in the food sector in the U.S. and countries of the European Union is estimated to augment further the packaged foods market, which in turn is escalating the demand for flexible packaging.
The global packaging industry is facing mounting economic pressures to reduce non-renewable waste, as more and more nations move to limit the commercial use of oil-based products. America is no exception, and the 'hot-button' action today is to focus on this emerging market for 'socially responsible' packaging. In recent times, technological advancements, especially in the area of Bio-derived and Bio-degradable, are transforming the conventional idea of what flexible packaging represent.
Real-Life Case Studies Reflecting the Rise of Bio-Derived and Bio-Degradable Technologies in The Flexible Packaging Market.
In the past few years, a number of new product launches involving bio-based plastic packaging have taken place. The proliferation of bio-based plastic films continues with polylactic acid (PLA), polyhydroxyalkanoates (PHA) and poly-trimethylene terephthalate (PTMT) showing the most promise on the truly materials side of the equation, and thermoplastic starch (TPS) films on the petroleum replacement side.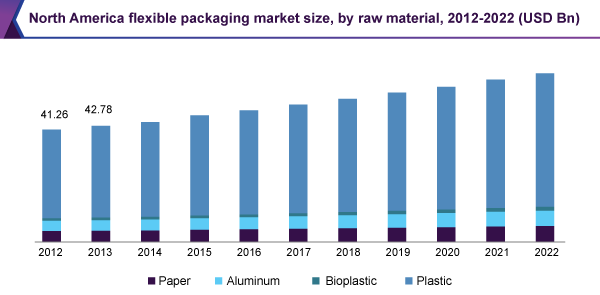 Brazil's Braschem Green PE has made significant strides on the latter, with much of the PE consumed in Brazil coming from locally grown sugar cane raw materials. Braschem is having some success outside of its region as well, with the large US-based bakery Bimbo Bakeries USA recently switching its Eureka! Organic Bread bags from petroleum-based PE to Braschem's sugarcane-based materials. While these bags are only 36% bio-based, this represents a significant change, especially in a package that is usually considered very low cost.
Bemis Company, Inc. has launched Encore ultra-clear recyclable film, a technology that combines readily recyclable material with shelf-appealing transparency, designed to help CPGs attract today's consumers while achieving the sustainability goals of their businesses.
"CPGs can feel confident with Encore ultra-clear recyclable film. It can provide the clarity and transparency shoppers demand, and still run on most standard existing manufacturing equipment," explains John Wilson, market manager.
Compared to prior offerings, this new Bemis technology provides the advantages of a standard stand-up pouch, with the added benefit of improved recyclability. It can also incorporate convenience features, such as press-to-close zippers. Encore ultra-clear recyclable film is made of polyethylene and is designed to be recycled through existing How2Recycle store drop-offs. This technology offers benefits of low haze, good stiffness and high gloss. The film is currently available across multiple markets, including dish detergent pods, pet food and treats, confection items and more.
Also, Taghleef Industries, Inc., has created a new generation of biodegradable films under the Nativia name. The films are made from PLA bio-based resins that replace plastics like polypropylene and polyethylene and can be used in heat sealable, biodegradable forms for bakery, snack and confectionery products, among other items.
The green path less traveled towards sustainable food packaging has become increasingly crowded. Israeli-based Polysack has manufactured flexible packaging since 1974, though their food focus is limited to candy wrappers and beverage labels. Tadbik, another flexible packaging producer, uses socially responsible materials, though not 100% recyclable.
Beyond Israel, NatureWorks created its Ingeo based solutions to reduce the noise levels that have incited backlash over compostable options in the past, such as Pepsi's "too noisy" biodegradable snack bags. NatureWorks' single, $150 million round of funding far exceeds TIPA's $12 million total: TIPA has raised three rounds of funding, the latest one being $10 million.
Other companies, such as Bemis and Innovia Films, are direct competition in flexible packaging, though TIPA collaborates with Innovia on certain materials. The plethora of sustainable rigid packaging companies further crowds the green space. The competitive green space also indicates a demand for sustainable options. In one study, 89% of consumers said they would prefer to buy products in packages they can recycle.
How Bio-derived and Bio-degradable technological trends are advancing the Flexible Packaging Market
Sustainability:
Shifting demographics and consumer preferences are driving the demand for more sustainable solutions, in packaging and far beyond. Negative publicity around ocean gyres and plastic-filled beaches only add to the urgency to increase recyclability, curbside collection, sorting capabilities and finally innovation to increase demand for recyclable materials.
Rigid-to-flexible conversion, with its huge sustainability benefits, has been a trend for some time now. Add to all of these the opportunities resulting from more cost-effective and technologically feasible recyclable packaging solutions available today, and sustainability is at the top of everyone's list.
We are at a unique point in the history of flexible packaging. According to the New Plastics Economy, major brand owners and retailers including Danone, Mars, PepsiCo and Coca-Cola, and Walmart are working towards goals around all reusable, recyclable or compostable packaging, and these initiatives are speeding the shift to recyclable flexible packaging.
E-commerce:
Growth in e-commerce flexible packaging related to application customization. The primary drivers such as "frustration free" packaging and "ships in own container" enhance the consumer experience and they're going to drive flexible into applications where it has not historically been.
We're seeing things like using shrink wrap over a primary packaging box instead of a second box, and products traditionally packaged in clam shells and a secondary shipping box transitioning to an easy-open, abuse-resistant, and tamper-evident pouch or another primary package format.
The sustainability benefits of lighter weight flexible packaging will also come into play in e-commerce. Converting to flexible packaging can reduce material costs, shipping costs and ease logistical challenges. These take cost out of the supply chain for the retailer and the shipper and may, in turn, lower the retail price for the consumer. Products which needed to be merchandized for the retail environment don't have the same requirement when sold online, which allows for different package formats and branding.
Rigid to flexible conversion:
We have seen continued growth in stand-up pouches as a replacement for rigid containers to reduce material content.
Conclusion
Most of the current packaging solutions fall within a linear economy model which entails "take, make, and waste." The foundation of sustainable or biodegradable flexible packaging lies in making a big leap towards a circular economy model: "take, make, restore/recover and remake."
Many large corporations have proven willing to pay that price. In particular, Schifter noted that efforts such as Coca-Cola's PlantBottle, on its way towards being 100% plant-based, and Procter & Gamble's sugarcane-derived plastic bottles reveal a growing market for bio-based flexible packaging.
Most companies don't operate on the Coca-Cola budget. While these big names have the wallets to invest in environmentally-friendly solutions, smaller businesses would never be able to afford TIPA's or any other bio-based technologies. Wallets of most small-scale production businesses are lean, and they must look out for their own.
About the Author
Taylor Welsh is a writer/programmer for AX Control, a Speedtronic reseller located in Fuquay Varina, North Carolina. Taylor has a degree in industrial engineering.
--
References
Biopolymers: Potential Biodegradable Packaging Material for Food Industry. (2014). Polymers for Packaging Applications, 153-171. doi:10.1201/b17388-10
Flexible Packaging Market Size, Share & Trends Analysis Report by Raw Material (Paper, Aluminum Foil, Plastics, Bioplastics), By Application (F&B, Pharmaceutical, Cosmetics), And Segment Forecasts, 2012 - 2022. (n.d.). Retrieved from https://www.grandviewresearch.com/industry-analysis/global-flexible-packaging-market
How TIPA's 100% biodegradable packaging plans to solve the food waste problem. (2015, July 01). Retrieved from https://www.geektime.com/2015/06/21/how-tipas-100-biodegradable-packaging-plans-to-solve-the-food-waste-problem/
The Future of Global Flexible Packaging. (n.d.). Retrieved from https://www.smitherspira.com/resources/2015/september/insight-four-key-trends-driving-flexible-packaging
Williams, H. (n.d.). How orange peel is inspiring a new alternative to plastic packaging. Retrieved from https://www.biobasedworldnews.com/clever-orange-peel-design-for-plant-based-packaging-imitates-nature-and-acts-as-compost-for-future-growth