Published: June 28, 2018
DERBY, UK | SP Thermoforming, the North American brand of UK-based Riverside Medical Packaging, has introduced a line of flexible and rigid blister thermoforming machines featuring what the company says is potentially a game-changing concept: carousel design. A departure from linear, meters-long, chain-pulled thermoformers, the SP Series performs all necessary functions via a rotating drum through its radial workstations.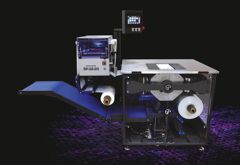 The SP Series is suitable for pharmaceutical, medical device, and food applications, and can form both rigid and flexible/soft blisters. In the US, Mexico, and Puerto Rico, SP Thermoformers and local support are available through BTS International a packaging machinery sales and consulting firm headquartered in Franklin Lakes, NJ.
The Series reportedly offers a number of benefits. The carousel design is said to reduce each machine's overall footprint, and the design also serves to significantly reduce the amount of labor needed to operate the machines. Another benefit is cost, says the company, noting that compared to similar in-class machines, SP thermoformers are approximately 30% less expensive on average. Operating costs for the SP Series are also reportedly kept at a minimum, with factors including single-phase, low-energy consumption, and easy repositioning. No water cooling is necessary. Simple tooling design helps lead to quick changeover, while simplified loading geometry allows for efficient and cost-effective automation.
Other important SP Series benefits include the elimination of gripper chains and trim, resulting in reduced maintenance, contamination, and downtime. In addition, products packaged via the SP Series are placed directly into the actual mold that creates the form and remain until the packaging process is complete; this eliminates the unwanted nuisance of product edges getting trapped in the seal.
The SP Thermoformer portfolio comprises eight machines, the largest of which can handle web widths to 620 mm, indexes to 250 mm, and forming depths to 100 mm. The entire series is capable of handling variable web widths on a single machine.
The company says the SP-32/20 is among the most popular in the new line of thermoformers. It handles web widths to 320 mm, indexes to 200 mm, and forming depths to 80 mm. The machine can produce up to 34 cycles/min and offers a host of standard features including airflex form and seal bellows with pressure control, as well as stepper motors for indexed drive, lockable form and seal heads, cross cut, and positive discharge mechanism.
This email address is being protected from spambots. You need JavaScript enabled to view it.