Published: May 30, 2018
OAKBROOK TERRANCE, IL | The Institute of Packaging Professionals (IoPP) has announced the 21 winners in its 2018 AmeriStar Package Awards Competition. Judges considered more than 70 packages for nine category awards, four student awards, and AmeriStar's top three awards.
A roster of 16 judges from various segments of the packaging industry evaluated this year's entries in person, examining package innovation, product protection, economics, performance, marketing, and environmental impact.
Here are details on a few of the awards of special interest to converters. To see all the winners, visit www.iopp.org/ameristar.
Category: Food, Shelf-Stable
Granola Goes Nuts — PepsiCo and Printpack USA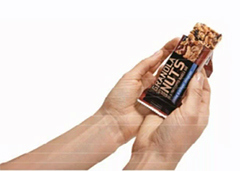 This horizontal flow wrapper features a cross-directional, laser-scored pull strip opening feature for a mess-free, on-the-go eating experience. The wrapper is 100-gauge metallized polypropylene, with a precision-scored channel directly above the metallized layer. Carbon dioxide lasers are applied within a 2-micron tolerance, a significant development that allows for preservation of the barrier properties.
Pattern-applied cold seal adhesive and unique radial scoring create the pull-tab feature at the fin seal, giving the consumer an easy starting point to open the package and maintaining product shelf life integrity. Despite the material's inherent tendency to crack and tear in the machine direction, six individual score lines control control tearing in the cross direction.
Category: Food, Shelf-Stable
Mentos Pure Fresh Gum Wallet — Perfetti Van Melle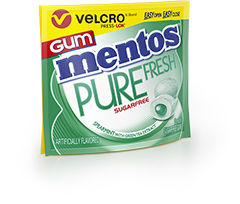 With a VELCRO Brand PRESS-LOK closure and AMCOR Flexibles PushPop technology, this double-gusseted wallet pack is not only eye-catching but also offers a flexible, on-the-go alternative to a rigid primary container.
A noteworthy feature of the Gum Wallet is its application of a pre-cut zipper in registration, allowing for better seal quality and aesthetics on the side of the package. The Gum Wallet's shape allows the product to flow into the top portion of the pouch, creating a uniform shape unlike a standard doy bag. This uniform shape allows the packages to be precisely packed into a showbox and displayed flat at the checkout lane. From a design perspective, the Gum Wallet's hidden fin seal enables graphics and text to be displayed on the front and back sides, without a fin/lap seal interruption. From a production standpoint, this package was designed to use materials allowing for high vertical form/fill/seal speeds while maintaining aesthetics quality seen in pre-made pouches.
Category: Medical Device
Euphora Packaging — Medtronic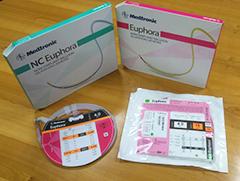 Medtronic has observed the user environment to develop this packaging for the Next Generation Balloon Angioplasty medical device under the SC Euphora and NC Euphora product family. These angioplasty balloon catheters are used to support widening of a blocked or narrowed blood vessel in the coronary arteries. The pull-shelf carton "chamfered design" makes it easy to remove from shelving areas by way of a new fold-over lip glued in place at the opening section of the shelf carton to provide a smooth user-facing carton edge. This feature is not found on the standard industry carton design, which typically has an exposed board edge that can be sharp to the touch, leading to paper cuts on users' hands or ripped gloves.
In addition, a thumb notch in the Tyvek layer allows the end user to easily determine the correct opening point of the sterile pouch in dim lighting. Also lending assistance is a printed "opening" symbol on the Tyvek layer to give the end-user a visual indicator where the sterile pouch should be opened.