Published: May 21, 2018
LINCOLN, RI | Windmoeller & Hoelscher reports the Sigma Plastics Group has placed an order for blown film lines from W&H for Republic Bags of Houston, TX, and McNeeley Plastics of Clinton, MS, and completed an installation at ISOFlex Packaging in Washington, IN.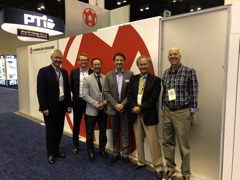 "Sigma Plastics Group and W&H have been business partners for roughly 15 years," says Alfred Teo, CEO of Sigma Plastics Group. "We value the first-class film quality and reliable machinery, as well as the excellent and dependable after-sales service and spare parts."
Six OPTIMEX FFS lines will be up and running at Republic Bags by the end of summer 2018. This significant investment marks Sigma Plastic Group's first foray into the f/f/s sack film market. The lines will help keep up with the growing resin export demands brought on by new crackers being built in the area. The lines produce multicolor printed, gusseted PE film ready for f/f/s packing. Sigma estimates approximately 45 million lbs of annual capacity from these lines.
Meanwhile, McNeeley Plastics has ordered two additional VAREX II blown film extrusion lines, for a total of six in that plant. The 63-in., three-layer line has a dual FILMATIC S (http://www.whcorp.com/us/home/extrusion/film-production/film-winders/filmatic-n/) winder with reverse wind capability. The second line has five layers and is equipped with the TURBOCLEAN resin purging and quick-changeover system along with a FILMATIC S winder with reverse-wind capability. This investment will support McNeely's expanding business in converter-grade films.
Last week, a five-layer VAREX II line started at Sigma's ISOFlex plant in Washington, IN. President David McKinney, CO-COO of ISOFlex, says the installation went extremely well and the line was producing high quality product within only a few hours of powering the line. This is ISOFlex's third VAREX in that facility.
To date, more than 40 W&H lines are running at various Sigma Plastics Group plants.
This email address is being protected from spambots. You need JavaScript enabled to view it.