Published: May 09, 2018
WAYNE, PA | Colorite, a Tekni-Plex business unit specializing in custom medical-grade compounds, says recent regulatory and market drivers, including cost pressures, are generating a material choice debate about polyvinyl chloride (PVC), thermoplastic elastomer (TPE), and rubber materials.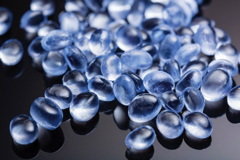 The company's Cellene line of TPEs is suitable for a wide variety of uses in medical devices, packaging, and other regulated markets. Cellene compounds are formulated to be silicone, latex, phthalate, halogen, and PVC-free using FDA-compliant raw materials to meet USP Class VI and ISO 10993 standards.
Colorite says many companies are trying to proactively address new regulatory dynamics, both in the US and in many other global regions, and pressure is being applied by healthcare systems that are already implementing strategic initiatives for phthalate-free patient environments. TPEs are being viewed as a replacement for PVC in applications where phthalate- or plasticizer-free materials are desired. Globally, IV therapy producers are among the first in the medical device industry to transition from PVC to TPE materials.
TPEs also are replacing thermoset rubbers (silicone, polyisoprene, and butyl rubber) used in elastomeric medical applications such as septa, stoppers, and syringe plungers. The drivers for rubber replacement are improved processing, cost effectiveness, and low extractables.
More recently TPEs also have been used to improve ergonomics, protection, and/or function, says Colorite. TPEs are said to be ideal for overmolding, which provides a softer touch and improved ergonomics (such as grip) for a variety of surgical tools and devices. Company says this can improve instrument control and fatigue reduction during long procedures for medical professionals
This email address is being protected from spambots. You need JavaScript enabled to view it.