Published: May 03, 2018
CARY, NC | The Association of the Nonwoven Fabrics Industry (INDA) has announced the finalists for INDA's 2018 World of Wipes Innovation Award, including wipes that can help protect firefighters against cancer-causing carcinogens, a refillable tote wipe system, and sustainably produced cleaning wipes made entirely from plant starches. The winner will be selected by attendees at WOW 2018, the World of Wipes international conference to be held June 5–8, at the Sheraton Grand in Chicago, IL. INDA expects 500 senior-level participants from every area of the wipes segment at this year's event, which will feature emerging technologies, new applications, and market insights for engineering new business growth.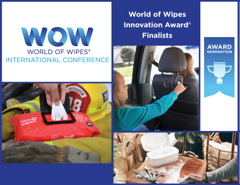 The three finalists vying for the award are Diamond Wipes International's Hero Wipes; National Wiper Alliance's Rhino Wipe Tote System; and Solugen's Ode to Clean Wipes.
Hero Wipes are specially formulated to remove toxic, cancer-causing carcinogens from firefighters' skin after they exit a fire. These wipes are used on-site to decontaminate and clean the vulnerable skin of firefighters. A patent-pending balanced blend of ingredients isolates harmful chemical compounds and traps them in the tough and strong wipe. Third-party testing reportedly shows that Hero Wipes remove 98% of the toxic flame-retardant TCEP and 83% of the carcinogen Benzopyrene, a component found in soot.
Rhino Wipe Tote System features a carry handle and built-in adjustable straps to attach the water repellent container to surfaces (such as the back of a car headrest) for easy dispensing of Rhino wipes. The reusable wipes are said to be able to be rinsed and reused multiple times and to be binder-, silicone-, and solvent-free. The patented packaging system offers portability for on-the-go uses and convenience.
Ode to Clean Wipes are reported to be the first wipes in which the substrate and the cleaning solution (Bioperoxide) are made entirely from plant starch. The young start-up company has developed an enzymatic process that it says is a less expensive and more efficient way to convert plant sugars into high-purity hydrogen peroxide for use in various industries starting with these green cleaning wipes.
The World of Wipes Innovation Award recognizes the winning product that both expands the use of nonwovens and demonstrates creativity, novelty, uniqueness, and technical sophistication. Nominated products represent the entire nonwoven wipes value chain.
The award finalists will make their presentations on June 6, and INDA president Dave Rousse will announce the winner on June 8. WOW attendees hold an important one-third of the vote in their hands. The INDA Technical Advisory Board and the WOW Conference Planning Committee have equal one-third votes in determining the winner.
This email address is being protected from spambots. You need JavaScript enabled to view it.