Published: March 07, 2018
VIENNA, AUSTRIA | Constantia Flexibles Group is making a single-digit million euro investment in its toppers plant—Constantia ColorCap—in Rybnik, southern Poland, to cater for growing demand in the dairy industry.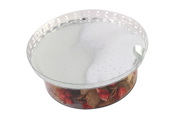 The topper is a plastic snap-on filled with granola, cereal, or chocolate dragees and sealed with a die-cut lid. The topper is applied on the top of a cup, e.g., filled with yogurt, and represents what company says is a convenient chamber system to split goods and above all meets today's modern consumer lifestyle of convenience and snacks on the go.
The investment in plant infrastructure and new machinery for long runs will almost double the annual capacity. The expansion is expected to be completed in the first quarter of 2019. "This investment cements Constantia ColorCap's leading position for toppers production in Poland, as well as our Group's standing in the innovative European market," says Stefan Grote, EVP of Constantia Flexibles' Food division. "The extra capacity will also open up new product areas such as pet food, liquid food, and ice cream."
The company says that after the expansion, it will have further improved its health and safety, as well as hygiene standards, thus ensuring sterile conditions for food production and meeting internationally recognized BRC certifications.
This email address is being protected from spambots. You need JavaScript enabled to view it.